Do you enjoy the aggressive motocross Enduro races? Then this review is a must for you. You need protective gear such as chest protectors to protect your body parts when you face accidents. You will find some forms of chest protectors that are specially made for Enduro rides or dirt bikes races. It is easy to get confused, you may find it difficult to choose one of the best motocross chest protectors for yourself.
However, we have come up with this excellent dirt bike chest protector reviews to answer your queries.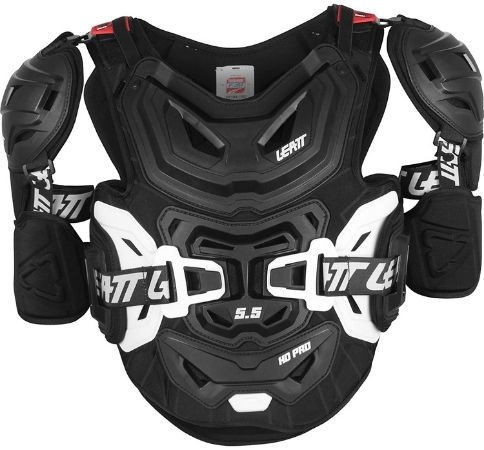 Leatt Brace Chest-and-Back-Protectors
This product becomes the best chest protector for Enduro with its outstanding quality and performance. It is the best motocross chest protector that is optimized for better results, it blends the good qualities of a chest protector along with comfort.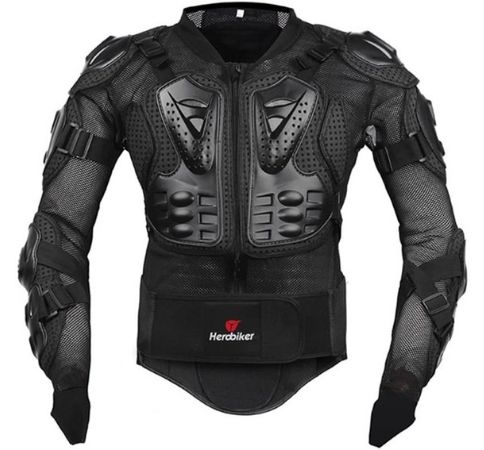 HEROBIKER Full Body Armor Protector
Among all the motocross body armor reviews, this one comes with the most decent features within a super reasonable price. This jacket offers durability and comfort and a perfect choice when you are short on budget.
best dirt bike chest protector for trail riding
In case of motocross racing, injuries are common things to expect. If you are a racer, injuries can end your career or destroy your bike. Now what you can do is to take precautions to lessen the damages of the crash by using certain items; those can be hand-guards, chest-guards, etc.
Chest-guards are the best protectors for shielding your chest during a crash or fall while racing. You can use these for both MX and off-road racing. These are sturdy, strong and specially designed and made to provide proper support. Moreover, the best dirt bike body armors are the superior protection for your upper body.
Chest-guards protect your upper body from roost, dirt, stone and other objects that might come flying while riding the bike. Thus, to prevent permanent or temporary organ damage, chest protectors can play a vital role in motocross racing. Besides, like all other protectors, chest protectors are available in different sizes and offer a range of prices. You will also find attractive colors suitable for Enduro riding or motocross races.
1. Leatt Brace 4.5 Chest Protector Review
This chest protector by Leatt Brace is one of the best motocross chest protectors in the market because it is CE certified, which means it is approved by professionals. It has enough area for comfortable breathing and airflow. With its powerful outer shell, it ensures perfect safety for your upper body. Undoubtedly, it is the great Enduro chest protector that offers superior protection to the chest, shoulder, back and other parts of the riders.
Why Will You Like This Product?
This product fits with most of the neck braces, so you don't have to worry about that. Also, it ensures maximum protection. Even though it is quite expensive, you won't regret getting one.
2. Leatt 5.5 Pro HD Chest Protector Review
Like other Leatt products, this one can also withstand heavy impacts. It has 47 ventilation slots, that provide maximum cooling so that you don't feel suffocated wearing it. You can easily wear it over or under the jersey. Moreover, it is equipped with a BraceOn strap system that grantees flexible movements.
Why Will You Like This Product?
This chest protector is recommended by professionals and used by a lot of regular racers. It ensures both safety and comfort also provides 360-degree full-body protection.
3. Webetop Adults Dirt Bike Body Chest Protector Review
A good motorcycle chest protector provides the best protection while providing a comfortable and durable build. This chest protector by Webetop is the perfect example of that. It is made with materials that let you breathe freely and provides ultimate protection. It also comes with an adjustable shoulder and a waist strap. You can use this product for skiing, skateboarding, cycling, etc.
Why Will You Like This Product?
First of all, this product is a multi-purpose dirt-bike chest protector. Also, it is designed to provide decent protection while being easily adjustable. In this price range, this is the most suitable option.
4. A.B Crew Motorcycle Body Armor Chest Protector Review
This chest protector is one of the topnotch products made by A.B Crew. Even though it is lightweight, it can provide surprisingly better protection and safety. It also fits with most of the renowned neck braces and wearable both over and under the jersey.For its great quality features, without any doubt, it becomes one of the best motocross chest protectors.
Why Will You Like This Product?
If you want a chest protector that requires less time to put on or take off, this product is the one. It provides enough room to breathe and comes with a user-friendly buckle system.
Best Roost Deflector Reviews
A roost deflector is one kind of chest protector that deflects roost (rocks, dirt, mud, and debris) thrown from the riders' tires. These roost deflectors aren't used for anti-crash purposes. It is used for blocking the roost and keeping the riders' upper bodies cool and safe. It also allows a free range of motion on the riders' bikes.
5. Fox Racing Red R3 Roost Deflector Review
Fox Racing R3 Roost Deflector is an ideal choice for deflecting roost as it ensures greater protection for motocross, bicycles or trail riding. It provides a body-hugging race-form fit and low profile shoulder cups which allow the drivers to wear it over or under his/her jersey and also comes at a reasonable price.
Why Will You Like This Product?
Fox Racing Red R3 Roost deflector not only ensures greater quality and protection for the riders, but also looks great and fits well, which again comes at a very reasonable price.
6. Leatt Brace Leatt Fusion 3.0 Vest Review
The Leatt brace fusion combines neck, chest, back, flanks and shoulder protection in one piece of body armor which is used as personal protective equipment and impact protection. It provides a 3D design that is easy to adjust and offers a perfect and comfy fit. Hard-shell material and 3DF air-fit soft ventilated impact foam absorbs energy and dampens the hard knocks.
Why will you like this product?
It's the best motocross roost deflector that ensures the safety of the riders' upper bodies with its hard shell material and 3DF airlift soft ventilated impact mechanism.
7. EVS Sports Men's REVO 5 Roost Deflector Review
The Revo 5 is great for front & back body protection which comes in a sleek under-the-jersey design. It has flow Vents that provide additional air circulation to regulate temperature. Modular design and Race Collar provide a variety of configurations with the integrated loop straps that ensure the race collars' similar positioning during use. High-impact tested polymer provides optimum protection which is adjustable and fully fits to protect riders of all sizes.
Why will you like this product?
The Revo 5 roost deflector ensures full upper-body protection with a modern roost deflecting mechanism that comes at a reasonable price and offers an excellent fit.
8. Alpinestars A-1 - Roost Protector Review
The Alpinestars A-1 is great because it has unique premium features such as ultra-light and comfortable strap vest design which is constructed with a poly-material blend. Thus, it makes it lightweight and ensures excellent mobility. It is perfect at deflecting dirt and stones from other riders. Moreover, in trail riding, it prevents the riders from getting scratched from branches and other objects.
Why will you like this product?
These A-1 roost reflectors not only protect the riders from deflected roost but also look great, durable, easy to fit under a jersey and very comfortable at the same time.
9. Fox Racing Protector Proframe LC Roost Review
Fox Racing Protector Proframe has a slim and elegant full-body coverage that is 100% compatible with the neck. It can be adjusted with all body types. The race frame-inspired integrated buckle system and the removable rear panel guarantees that the protection mechanism runs smoothly. Besides, it protects the drivers from injuries caused by deflected roost from other vehicles, dirt or flanks.
Why will you like this product?
The lightweight Fox Racing Proframe protectors offer a snug fit with no obstruction to riding. It's not expensive, plus protects the rider's chest with its awesome features.
Full-Body Armor Protector Reviews
A full body armor protector is a kind of protective clothing that is designed to absorb or deflect any physical attacks. These body protectors are generally used by military personnel, security services (private security guards or bodyguards), law enforcement agencies (Police), motor vehicle riders and even normal civilians. A full-body armor ensures safety by giving full-body protection to the users' arms, head, torso, chest, legs, shins or limbs while driving or in danger of being attacked with weapons.
10. Fox Racing Titan Sport Protective MTB Jacket Review
This sports jacket is great for riding in the woods, deserts or mountain biking as it offers full back and spine protection by covering the shoulders, elbows, and forearms. It protects serious riders with its improved plastic plating protectors which makes it exceptionally breathable too. It gives full under-jersey coverage that offers a precise and bunch-free fit with a central zipper makes it easy to use.
Why will you like this product?
These jackets are highly recommended for cool protection, looks great and comfortable to ride in.
11. Leatt Brace 5.5 Body Protector Review
This Leatt body protector ensures the maximum level of full-body protection by offering chest, back, elbow, shoulder and flank protection. The High-Density polyethylene provides impact protection and stone deflection too. New features such as 'Moisture-Cool' mesh base layer and 'Air-Mesh' wicking fabrics keep the body cool on hot days and these are also compatible with neck braces.
Why will you like this product?
This body protector is a perfect example of the best motocross body armors for dirt bikers. These are unique as they come with adjustable neck braces and the durable protective shields give full protection to the riders.
12. GuTe Motorcycle Full Body Armor Review
GuTe protective jacket is a tough armor designed with EVA shields and PE plastic for superior protection during impact. Its interlining is made of really comfortable mesh fabric and lightweight also keeps the body cool. The adjustable velcro around the kidneys and abdominal area gives added protection and lower back support. The fabric of these protective jackets is breathable, reduces sweat accumulation or bacteria growth.
Why will you like this product?
These fairly lightweight and adjustable armors are very comfortable under hot weather and fit the riders well.
13. HEROBIKER Motorcycle Full Body Armor Jacket Review
The Herobiker body armor jackets are used for motorcycle or bicycle riding, skiing and rollerblading, and other entertainment conservation projects. It has an articulated back protector that protects the back and chest and increases mobility. The adjustable straps throughout the arms and shoulders make it easy to use. These vests are great when it comes to heat dissipation.
Why will you like this product?
This is a great motorcycle full body armor protector that ensures decent protection which can be worn alone or under jackets. Good adjustability, breathability, and durability make it a really good product for the price.
14. OHMOTOR Motorcycle Body Protector Review
This is a durable and ergonomic armor that can be used for motorcycle, bike riding, skiing and skating, and other entertainment conservation projects. This kind of protective gear is perfect for the effective protection of the riders. It has a breathable mesh that can protect the shoulders, elbows, chest, back and other important parts of the body. These are easy to clean too.
Why will you like this product?
The OHMOTOR motorcycle body protector looks sharp and feels sturdy. Moreover, it ensures decent body protection and comes at a good price.
What To Look For In A Motocross Chest Protector?
Safety is one of the main reasons why riders purchase chest protectors. Your chest is the storehouse of most of your vital internal organs. It needs to be protected from all sorts of impacts and roost during motocross rides.
So, when you're buying a motocross chest protector, the first and foremost thing you ought to be paying the utmost attention is its safety measures. Make sure the chest protector you're buying is certified by CE, which will guarantee that it is capable of protecting you from roost and impact.
The next thing to consider is the ventilation. This is a key factor, because if you can't breathe properly, your brain, your central nervous system, and other vital body parts will not be able to function properly, which can lead to accidents if you're riding at high speed. Look for a chest protector that has the maximum number of ventilation slots so that you get the maximum level of airflow through your chest protector.
And last but not even close to the least important factor to consider is the number of layers your motocross chest protector has. These layers will serve their purpose of providing you with comfort and protection.
Benefits Of Chest Protectors
Let's face it, chest protectors were invented for a reason, so they must have some benefits of their own, right? They are a compact protective armor for all the important organs of your body that tend to get exposed to the worst of roost and collision when you're riding.
Another reason why I prefer chest protectors over any other option is that they are lightweight and they look much cooler than full-body armors or roost deflectors. Some chest protectors even have an extra layer of moccasin or memory foam inside of them to keep your body warm and cozy when you're riding in extreme freezing temperatures.
Plus, if you have previous injuries, there are ones with neck braces made by Leatt that will hold your neck in place even when you're taking the roughest routes. The neck brace in the Enduro chest protector keeps your spine aligned with your body and prevents it from getting injured, which in the long run saves you the trouble and the time, not to mention the money of visiting a chiropractor.
Chest Protector Vs Roost Deflector
Many people argue that roost deflectors can do the job of chest protectors, so why pay the extra bucks? Well, to some extent, they do have a point. But the function of a chest protector is not only to simply fend off the roost. Roost is the little pieces of debris that fly off from the road as your bike's wheels hit it, and the debris comes shooting at you, kind of like the splinters of a grenade when it explodes.
But since these little pieces of debris don't have any driving force of their own pushing them towards you like the splinters of a grenade, they have much less impact and can be deflected with a helmet or even a pair of goggles. Which on the contrary puts the necessity of roost deflectors at the question. But they too have their uses. So what is the use of a chest protector? Well, what a chest protector does is, make sure that your torso is well protected and your spine is aligned with the rest of your body while you go riding across rocky and muddy surfaces. The chest protector absorbs most of the impact while you are on the go.
Chest Protector Vs Full Body Armor
If you can afford it, of course, a full-body armor is a better option in case of hardcore riding. But when it comes to practical use, a lightweight chest protector will appear to be much handier and compact than full body armor. Plus, full-body armors tend to slide off to the side when it gets a sudden blow or impact when you fall off or skid.
But a chest protector is designed to sit in place and give your body a compact, if not contour fit. The neck and spine braces not only hold your body in place but also holds on to the torso and is unmovable by most impacts. Another reason why I prefer chest protectors over full-body armors is that chest protectors are much more lightweight. Motocross is all about the speed, and so if my protective outfit is weighing me down I would take that as a major setback and so will my bike.
Read more:
Best dirt bike handguards review
Frequently Asked Questions:
What Is A Motocross Chest Protector?
Motocross chest protectors are used for upper-body protection. If you crash your bike during a race, the chest protector can protect your upper body from injuries. The best motocross chest protectors are designed to provide safety as well as comfort while racing. As it covers the upper portion of your body, it ensures safety for both your internal organs and your rib. If you are a regular motocross racer, chest protectors are a must for you. Besides, they are pretty stylish too. But chest protectors don't protect your shoulder or hands. If you want protection for your shoulder and hands, then you can either get a full-body armor or elbow guards.
What Is Roost Protection?
Roost is the little pieces of debris that fly off from the road as your bike's wheels hit it. The gear that protects the roost is called the roost guard. Roost guard is a thin layer of protective gear that you can wear under your jersey. It protects you from roost and gives you a comfortable fit. It also allows you to breathe freely and cools you down in hot weather. Unlike chest protectors, it lets you move your shoulders freely. If you don't want a heavy-weight gear like chest protector, you can use a roost guard as it is better to put on something than putting on nothing.
When To Use Full-Body Armor In Motocross?
In motocross, full-body armors are the best option for the protection of the upper body. These come with impact-resistant pads and covers your upper body fully. Because of being durable, safety is guaranteed. It is more like the safer version of a chest protector. If you are not sure if the chest protector can provide enough safety, you can choose to get a full-body armor.
What Equipment Do You Need For Motocross?
For motocross, you need these following equipment-
Helmet.
Dirt –bike boots.
Dirt-bike goggles.
Dirt-bike jersey, pant, gloves.
Knee braces and elbow guards.
Neck Brace.
Chest protector or body armor.
Handguards.
How Should A Chest Protector Fit?
A chest protector is supposed to protect your chest and back. It doesn't provide protection for your shoulder and your hands like full-body armor. So, when you try on a chest protector, it should cover your chest and back entirely. The bottom part of the chest protector should go right between the bottom of your ribcage and your bellybutton. Other than these, while you are wearing it, if it doesn't feel tight and if you can breathe properly, that is when you know it fits properly.
Our comprehensive analysis of chest protectors will help you out when you are looking for the best motocross chest protectors. This article contains dirt bike body armor reviews, best chest protector for Enduro racing along with roost deflector suggestions. So don't look back and find the best motocross chest protector that fits your requirements.