Teenage years are the gateway to adulthood. The kids start to act like adults and behave like adults. They like to spend time with friends and get out of the house at this time. For their personal transportation, they'll need a gadget. What could be better than an electric scooter for hop-on?
A battery-operated scooter for a teenager is incredibly trendy at the moment. It offers extensive features that will blow the minds of teens. Do you think about the price? They are affordable too.
Since there are many options, it is difficult for parents to know which options will be the best electric scooter for teens. Thanks to my extensive research, here is a list of the Best electric scooter for teenager in no particular order. So choose wisely.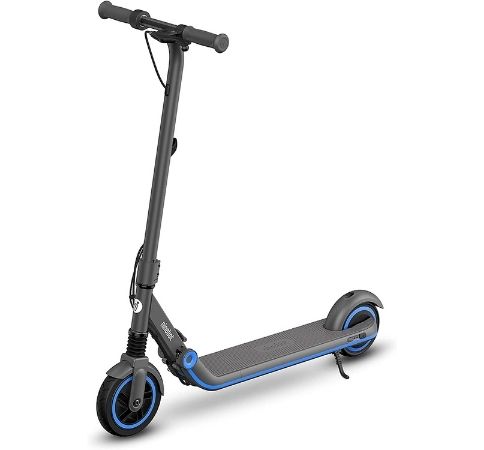 Segway Ninebot ZING E10 Electric Scooter
No doubt, the Segway Ninebot ZING E10 is the best pick, according to our analysis. It comes with a 150-watt motor which provides a sufficient boost to the scooter.
Also, the braking system is imposing. It can go at a speed of 10 miles per hour.
The folding system is also very innovative and doesn't cost as much. Overall, it's the best one you can get.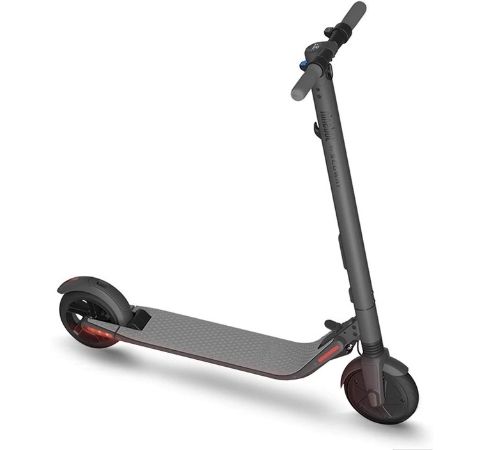 Segway Ninebot ES2 Electric Kick Scooter
The best choice award goes to the Segway Ninebot ES2 Electric Kick Scooter. It is a premium electric scooter that is jam-packed with user-friendly features. It got a dedicated app, Bluetooth connectivity, cruise control, dual suspension system, and lots of other functionality.
The range and the speed is also praisable. The 300-watt motor is powerful and quiet. It's also easily foldable.
In summary, if you have money to spend, you should go ahead and get this one.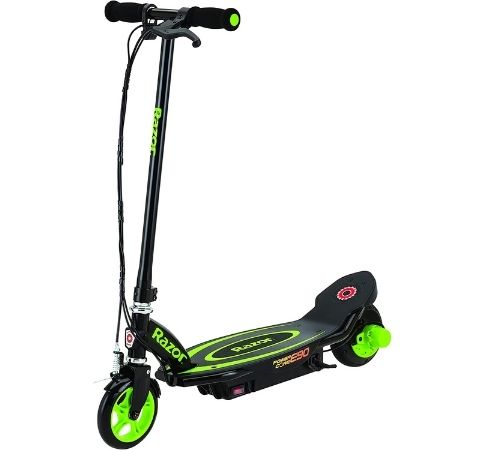 Razor Power Core E90 Electric Scooter
As a budget pick, the Razor Power Core E90 Electric Scooter is highly recommended. It has an extended run time of 80 minutes and can cover 13 miles.
Apart from that, it has a hand-operated brake to keep the teenagers safe. The body of the scooter is well constructed.
The battery of the scooter is removable, so don't get anxious if the battery runs out.
All in all, the budget pick title of the scooter is absolutely justifiable.
Quick Comparison: Top 10 scooters for teenagers
Do you want to look into my list of best-motorized scooters for teenagers? For a better understanding of what to expect, take a look at the comparison table.
9 Best electric scooter for teenager:
For making your purchasing process easier, I have made a list of the best motorized scooters for teens. You can check them.
1. Segway Ninebot ZING E10
In case your child is just learning to ride but not yet ready for a heavy frame and a powerful motor, the Segway can be a good choice.
Offering three riding modes that reduce the rider's speed to a manageable level while ensuring safety. In this way, parents can relax when kids are roaming around.
Boasted with a 150-watt motor, this scooter can go as fast as 10 miles per hour, so commuting around the streets is exciting now.
Being the center of attention is surreal, and with the vibrant ambient lighting under the deck, it's going to be something you do every day. How cool is that !!
Combining both electronic and rear brakes, this scooter provides a safe brake system that allows you to come to a halt smoothly.
Safety is not a concern. Its non-skid and silicone coated bottom will keep the rider safe and secure whereas making the cleaning process hassle-free.
As an added bonus, its lower height will enhance young riders' self-esteem and sense of balance.
With its innovative folding system, the E10 is sure to please. You just need to place your foot on the scooter's folded pedal, push it down, and the stem will fall.
How much does the scooter weigh?
Having a very slim structure, the scooter weighs only 18.5 pounds.
What does cruise control mean?
In cruise mode, the rider can ride at their own pace. You can just kick, and the scooter will keep gliding without touching any throttle. Increasing the kick intensity will speed up acceleration.
2. Glion Dolly Electric Scooter
Teenagers with some prior knowledge of riding would love to have this simple yet elegant e-scooter.
First of all, this scooter is designed for all age groups, so it is appropriate for kids and regular city commuters. It sounds incredibly diverse, doesn't it?
Secondly, this scooter can reach a range of approximately 15 miles on a single charge thanks to its 36-volt battery and 250-watt DC hub motor.
With fast-charging capability, this battery will fully charge in as little as 3.24 hours, which is remarkably low compared to the other scooters on the market. Indeed, it's a tremendous advantage for teens, as they are eager to ride.
Additionally, it has 8-inch honeycomb tires that ensure a smooth ride, even on rocky or muddy roads. Also, they do not require any maintenance, so your wallet will be delighted.
Made of powder-coated aerospace-grade aluminum alloy, this scooter is the true expression of strength, durability, and lightness. Although it weighs only 28 pounds, it holds up to 225 pounds.
How long does it need to be fully recharged?
The 7.8 Ah battery takes merely 3.24 hours of charging time to be ready to roll.
How portable is it?
With the Glion Dolly, you'll have one of the best folding systems available. With just a twist, you can effortlessly fold it, and roll it like a suitcase and take it anywhere you want for ultimate flexibility. 
3. Razor E300S Seated Electric Scooter
This scooter from Razor deserves to be on your priority list of motorized scooters for teens.
This electric scooter with a seat is one of the best choices for a teenager that offers comfortable and stable riding with a high level of safety.
Featuring a powerful and whisper-quiet belt-driven motor, it can reach speeds of up to 15mph. There is a handy hold-down throttle system that enables quick acceleration.
Under the cover, it has a 24-volt battery that took almost 12 hours of charging cycles to charge it fully; on the contrary, it provides 45 minutes of run time, which is sufficient for kids.
Certainly, you will experience a smooth riding experience as it incorporates 10 inches pneumatic tires.
Operating this scooter is straightforward, as it has hand-held rare brakes. As a result, kids can comfortably ride the scooter.
Another impressive thing to mention, the seat is removable because the standup version is preferable to teens so that you can use it both ways.
What is its purpose?
The purpose of this scooter is to give those children fun as they move from here to there.
Does it have variable speed?
No, it doesn't have any variable speed option.
4. Segway Ninebot MAX Electric Kick Scooter
Covering a long distance is no longer an issue with the Segway Ninebot MAX Electric Kick Scooter.
Boosted with a 350-watt motor, this scooter can reach a top speed of 18.6 miles per hour, allowing your teens to hop in the neighborhood with convenience.
Thanks to its fast-charging system that can fully charge the 551 Wh Lithium-ion battery within just 6 hours.
In addition, this heavy-duty battery gives a remarkably long range of 40.4 miles in a single charge. That's pretty darn cool!
Weighing just 23.5 kg, this scooter can transport up to 220 lbs. So not only teens but also adults can comfortably ride on.
Plus, if you feel you're moving quite fast for convenience, its dual braking system will provide immediate braking force. Don't worry about safety.
It features the latest version of 10-inch pneumatic tires that can effectively deal with multiple punctures without letting the tires deflate.
The wide deck makes it possible to enjoy the ride comfortably. This portable scooter takes only 3 seconds to collapse, making it an easy-to-carry option for any electric scooter lover.
What kind of display is on the scooter?
It does have an LCD display, which shows distance, battery capacity, and speed mode.
Is there a smartphone app?
The segway offers a mobile app for additional safety features, riding statistics, software updates, and more.
5. Jetson Element Pro Electric Scooter
Not everyone just looks for an electric scooter that has good velocity and mileage. A scooter should also be portable. And if you are looking for the best portable electric scooter, then the Jetson Element Pro Electric Scooter can be a great pick.
It not only looks good but also comes with decent features.
Equipped with a 250-watt motor, the scooter can attain a pretty good speed of 16 mph, making it a very reliable companion of yours.
Why? Because if you need to go somewhere for emergencies. It can take you there within a short amount of time.
On the other hand, it can cover 12 miles range just with a single charge, which is not the best or worst.
Even at the top speed, you can't stop giving thanks to its electric brake mechanism immediately. The brake turns off the motor immediately to make its stop.
Knowing how much battery is left is also very easy due to its LCD display. Whereas the LCD headlight and taillight significantly improves the visibility.
The scooter frame is built with lightweight aluminum, allowing you to fold and carry it without breaking a sweat.
After folding it, the size of the scooter becomes so congested that you can put it anywhere, and no one would notice. Amazing, right?
Is the Electric-brake reliable?
Most definitely. The electric brake stops the functionality of the motor. Hence, it is not only reliable but very safe as well.
What's the weight of this scooter?
The weight of this scooter is 37.1 pounds. Since it is constructed with aluminum, it doesn't feel very heavy. Carrying it is also very effortless.
6. Razor Power Core E90 Electric Scooter
Take, for instance; you're looking for a cheap electric scooter for girls. The Razor Power Core E90 Electric Scooter is the best option for you. Don't' you think so?
With an 85-watt hub motor, this scooter provides a top speed of 10 miles per hour, ideal for kids. For younger kids especially, it's an exhilarating ride.
Fortunately, the Power Core E90 incorporates a hand brake that is safe for kids to operate and simple.
With an all-steel frame, this lightweight scooter is sturdy yet light in weight. Moreover, it can hold up to 120 pounds of load, making it a perfect electric scooter for teenage girls.
The scooter features a heavy-duty 12-volt lead-acid battery that requires a long 12-hour charge cycle, which is the only drawback.
But with one change, it provides 80 minutes of running time, which is not bad at all.
In summary, the Power Core E90 from Razor is one of the best affordable electric scooters for teenagers that you can't overlook.
What is the Razor electric scooter weight limit?
The maximum weight limit of this razor scooter is 120 pounds.
What is the tire type of this scooter?
The tires are made of solid rubber and will not need to be inflated!
7. Gotrax XR Ultra Electric Scooter
But why should you break your bank to get an electric scooter, though? Spending a hefty amount of money will not ensure you always will get the best thing. That's why you should take a look at the Gotrax XR Ultra Electric Scooter. It's the best affordable electric scooter for teenagers that you will surely love.
According to the customer rating, it is one of the best-rated scooters for teens as well.
Featuring a quiet yet powerful 300-watt motor, it can go at a maximum speed of 15.5 mph. Also, it can incline 15-degree, so you can go through off-skirt roads smoothly. Which is very impressive, don't you agree?
This is just the start. Under the hood, it comes with a 7 AH battery which allows the scooter to cover around 17 miles if all the conditions are met. As a bonus, the intelligent battery management system makes sure you get extended battery life.
Like most other top scooters on the market, it does come with a dual brake system. One is the disc-brake, and another one is anti-lock. So you can have peace of mind thinking you can stop at any time.
The wheels of the scooters are 8.5 inches pneumatic tires. So no matter how uneven the terrain is, you can ride it comfortably.
Moving in the dark won't be inconvenient because of the powerful headlight. The LED display also comes in handy, providing information on how much the battery is left or other useful information.
Should I get this electric scooter?
It is one of the best electric scooters for teens. It doesn't cost much but still comes with all the standard features. So definitely, you can give this scooter a try.
Is the battery of the electric scooter efficient?
It comes with a 7AH battery which is sufficient to cover 17 miles. On top of that, it comes with a smart battery management feature that ensures it can conserve battery power efficiently.
8. Segway Ninebot ES2 Electric Kick Scooter
If you prioritize mobility over anything else, then the Segway Ninebot ES2 Electric Kick Scooter is the one that deserves your attention.
Boasting an impressive 300-watt motor, the scooter can gain the highest velocity of 15.5 mph, so going from one place to another won't take much time. Also, it has a 10% incline rate, so transitioning through steep places won't be an issue.
Having a load capacity of 220 lbs, it can carry any standard-sized teen easily.
Along with the smart battery management system, it includes a 187 wh battery which ensures you can ride a distance of 15.5 miles. It takes only 3.5 hours to recharge the battery fully.
The thing I like the most is, it has a dedicated app that gives you the access to customize all the settings according to your liking.
Other than the app, it also has premium features like Bluetooth, cruise control, LED display, and many more.
The rear and front wheel of the scooter comes equipped with shock absorbers and large tires, which ensure your comfort and safety.
You can fold the scooter just with one press of a button. In contrast, the 27.6 lbs weight allows you to carry it with style.
Considering these factors, it is a great standup electric scooter for teenagers that you must check out.
Is the dual suspension system any good?
It is one of the great features of the scooter. The dual suspension mechanism enhances the stability while absorbing the shock to make riding enjoyable.
What does the app do?
The app shows all the informational data such as a remaining battery, how many miles you have traveled and etc. It also lets you customize all the settings as per your preference.
9. Macwheel MX1 Electric Scooter
Keep it simple, but not at the expense of safety, meet the Macwheel MX1 that is also great for youngsters.
This scooter has a 350-watt motor and a 270 Wh high battery with commuters in mind. Together these provide a range of 18.6 miles, and it can reach a top speed of 15.6 mph.
With this scooter, you can choose between Low (5 miles/h), Medium (9 miles/h), and High (15.5 miles/h); it only takes a push of a button to regulate the speed in accordance with the different traffic circumstances, which makes the ride more safe.
It is designed with stronger ascending capability, resulting in improved riding experiences.
Despite its sturdy construction, this scooter comes with a fast-folding system that is a must-have for anyone. In just 3 seconds, you can fold or unfold it, making storage a breeze.
It has a disc brake as well as ABS brakes for safe braking. These provide excellent braking power to avoid damage. Furthermore, it has integrated headlights to ensure safety when riding at night.
Both the front and rear wheels of the vehicle are equipped with shock-absorbing and anti-slip tires.
They are non-pneumatic tires with an 8.5-inch diameter, which will provide a smooth ride over rough terrain.
Is there space for an extra battery?
Not at all. You can't remove the battery because it's built-in. So there is no space for a second battery.
Is the scooter heavy?
Not really, the total weight of the scooter is only 28.4 pounds.
What are the Benefits of electric scooters for teenagers?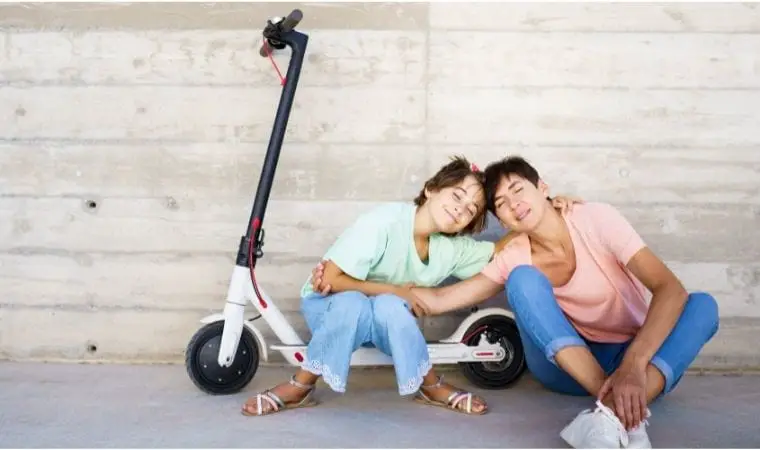 An electric scooter is a great alternative mode of transport for your teenagers. Taking a scooter instead of public transportation saves them time and money.
The scooter's safety is assured; although it's a motorized vehicle, it isn't dangerous for them.
Kids will enjoy its sleek and compact design, which allows them to take it anywhere and not worry about finding parking spots.
The teenage generation prefers to do everything alone. They can roam free out and about and return safely to their home with a scooter.
Electric scooters are a sustainable option for transportation, so getting one personally will help the teens grow with sustainable thinking.
These scooters also have a removable battery, so they do not need to be changed often, producing less time spent charging.
Electric Scooters For Teenagers Buying Guide:
Wanna buy a scooter for your adolescent? Safety should be your first priority. For choosing the best electric scooter, you need to consider the skill level of your kid. Then, you should be cautious about some features because it's not the same thing as buying a scooter for adults.
Safety:
When choosing a teenage electric scooter should be your first concern. With this in mind, you should look for a scooter that has UL certification of safety. Meaning that vehicles have passed some particular tests of engine and battery safety.
You should also consider braking systems and lighting facilities. Chiefly E-scooters feature two types of brake, namely Electronic and mechanical. Scooters with a dual braking system will provide you with an improved riding experience while keeping you safe.
Power & speed:
With a powerful motor, you will get better mileage, faster performance, and a smoother ride. The standard speed for teens is 15 miles per hour. The better your mileage, the shorter your travel time will be. The top speed, on the other hand, will make your journey faster.
Weight:
The weight of the scooter is a major concern for riders. Children find it difficult to handle heavy scooters. Choose a lightweight scooter that teenagers will be able to handle comfortably.
Tires:
The tire of the electric scooter ensures ride quality. Air-filled tires are widely known for providing smoother rides, even on rocky and uneven surfaces. But they are high maintenance because they often get punctured. On the contrary, airless tires require low to no maintenance, but they are not that great for off-roading. Depending on your need, you can choose any of these tires for the best riding experience.
Capacity:
Sometimes people forget a crucial point such as weight capacity when discussing the above. What good is a scooter if it can't carry your load? So, make sure the scooter you are buying has the proper weight limit before you buy.
Comfort:
Daily riding requires riders to feel relaxed. It is best to choose a big enough deck so that your child can stand on comfortably. For instance, you can also choose a scooter with a seat.
Ease of use:
An electric scooter usually is pretty simple to use. You should look for ease of use when purchasing a fast electric scooter for teenagers. Simplicity in control allows the rider to concentrate on riding and less on the controls.
Foldability:
Foldability is one of the most impressive features of these standup electric scooters for teenagers. It's no question that you want it to be convenient for you to carry anywhere single-handedly.
Suspension:
It is unlikely that you will ride the scooter over rough terrain very often. However, not all roads are paved with a smooth surface. To operate a scooter correctly, the suspension system has to be reliable.
Indeed, the front and rear suspensions will make a big difference. You'll barely notice the shaking even when riding on uneven roads with them.
Price  
Since teenagers are in the growing stage, you don't have to buy them an expensive scooter. It's not necessary to spend a huge amount of money to fulfill your child's desire. Doesn't it sound impressive?
A decent scooter with the required features and qualities is sufficient. There are so many great scooters with a reasonable price that you can afford without breaking a bank.
FAQ:
How far can an electric scooter travel?
An electric scooter can usually travel between 5 to 40 miles, which is pretty convenient for school-going teens. They can avoid heavy traffic by using a battery-operated scooter as they go to school.
Which scooter is best for teenagers?
The market is filled with hundreds of electric scooters. After researching a few products and depending on customers' reviews, we concluded that the Segway Ninebot ZING E10 is the best electric scooter for teenagers. That offers a max range of speed, good mileage, a powerful motor, and an impressive battery.
Are electric scooters safe for teenagers?
E-scooter is the best alternative to gasoline, which makes it eco-friendly and a convenient option for teenagers. But before choosing a scooter for your kid, you have to be mindful of its built quality. Unfortunately, some scooters can cause danger because of their cheap materials.
Can you adjust the handlebars?
Standup electric scooters are the best options for a teenager; these scooters offer adjustable handlebars. This is advantageous as you can adjust it anytime, so kids of all ages can use it. Furthermore, siblings of different heights can use it simultaneously.
What is the minimum age for an electric scooter?
Electric scooters are available in various models for different age groups, so there is no age restriction for riding them. As electric scooters are easy to ride, you can give a scooter to a young kid as young as 8 to start rolling if you think he/she is capable of riding.
Can you ride electric scooters in the rain?
Although there are water-resistant electric scooters available, they are not completely waterproof. To extend your scooter's life span, it's wise to avoid riding in wet weather conditions. Apart from that, riding in the rain may increase the chance of slipping or any other accident.
Is a helmet required when using an electric scooter?
Putting safety first is always the best decision. Wearing a helmet is not mandatory, but it may reduce the risk as we all know that an electric scooter is effortless to control. There's no way to be 100 percent sure that there won't be an accident. So a little extra safety is better than a little extra damage.
 Conclusion:
Being in adolescence is one of the most fun and adventurous times of our lives. An electric scooter can add an extra layer of joy to this period. A battery-operated scooter for teenagers can be a good way of recreational activity. Ensure you buy one that meets the kid's weight, size, and riding skill before you take the plunge.
Nowadays, electric scooters attract teenagers due to their portability, storage efficiency, stylish appearance, and affordability.
You may find it challenging to choose the best electric scooter for teenagers. I think this article will be sufficient to help you get the best of the best product depending on your needs. In the meantime, you can dig more for your peace of mind, and the buying guide tips will assist you along the way.