Riding a dirt bike is awesome, but why should adults have all the fun?  Let's face it, you wanted to ride those excellent dirt bikes when you were a kid. Well, at least I did back in those days when I was a kid as I checked out those awesome bikes. But back in those days, you would get bikes only for the adults. But now, kids can have the same fun time with dirt bikes as well.
There are plenty of stylish, mind-blowing best electric dirt bikes for kids/teenagers available in the market place nowadays and kids are craving for them. Trust me, nothing is better as a gift for your kid than an awesome dirt bike. Especially, if you want him to be the badass kid in town, getting a dirt bike is the best catalyst.
However, choosing the perfect electric dirt bike can give you a hard time, especially when the market is full of low-quality ones.  It's not only about studying the reviews, I know you always want someone to tell you about the best pick and the best budget product.
To make sure you get everything covered, I'm here to show you all the details about the 10 best electric dirt bikes for kids that have been running hot in the market. Unlike any other place, I'll also cover two things for you. I'll let you know which one is the best among these 10 bikes, and also which bike can be the best budget pick for you.
So, without further ado, let's dive in.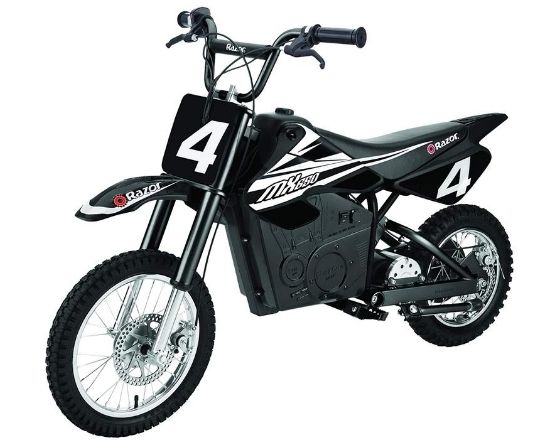 Razor MX650 Rocket Electric Motocross
For my best pick, I will take the MX650. This bike is perfect for taking on the uphill, off-road challenges with its 650-watt powerful motor. And riders of all age can take the reins as it got the adjustable riser handlebars. Then is your front and rear disc brakes that take charge instantly to keep the young riders safe. And when they want to go fast and hard, the 17 mph speed is more than enough to give them a good time.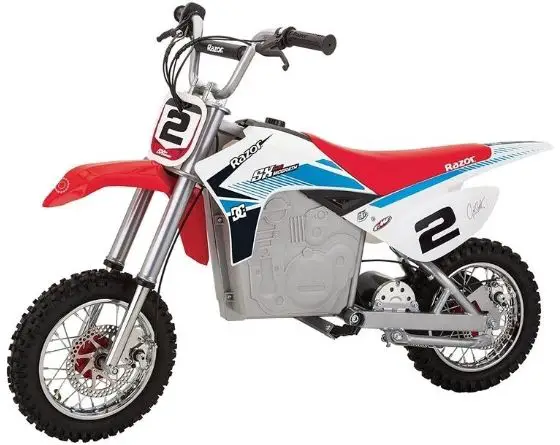 Razor SX500 McGrath Dirt Rocket Electric Bike
My best choice is the one that gets dedicated to the king of motocross. That's right, the Razor SX500 McGrath dirt bike. First of all, the McGrath inspired graphics to make it look a standout bike. Kids would love the vibe of it. And when they take it on, they will enjoy the comfort of it too. The dual suspension with riser handlebars makes it easy to ride. Besides the large knobby pneumatic tires, it's the ultimate combo for the off-track roads. Dirt bike often has the kickstand missing, but this one has that too. At 15 mph, riding the bike at a stretch of 40 minutes, the kid would come off the track with a big smile at their face.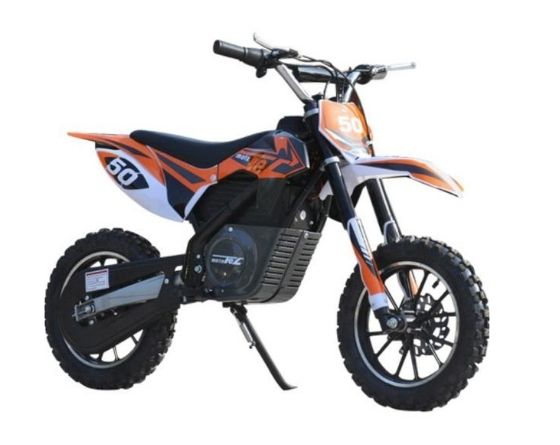 MotoTec 24V Kids Electric Dirt Bike Orange
The MotoTech 24V 500-watt motorbike is the ultimate budget pick. But the price isn't the only thing that makes you fall in love with it. Its the ease of use that makes the MotoTech what it is. With its 3-speed key lock system, you can teach the young riders to ride the bike at a slow speed and then gradually move to the next level. The knobby pneumatic tires will help the kids ride smoothly on the bumpy terrains. Plus, you get shock-absorbing front and rear suspension to help with it. Even the brakes of it are of the highest quality that works in the wettest of conditions without any delay. Just what you want in a kid's electric bike.
Quick Comparison: Top 10 Electric Dirt Bikes review For Kids
Best Electric Dirt Bikes for kid Trusted Reviews
We all remember our first bicycle. Our dad's holding it from the back while we try to paddle and learn to ride. 
But with time, we evolve, and so do our rides. We replace the bicycle with a dirt bike to have much more fun. So, why should kids be left behind?
Why not let them start on the right foot from an early age? Just get the best electric dirt bike for kids.
Yes, that's right!
There are dirt bikes that get designed, specially keeping for kids. With accelerator, brakes, and balance, every aspect of it gets tailored, keeping the small riders in mind. Now, you can't have any excuses for why they shouldn't get their hands on it.
Just go through the list of the electric dirt bike for teenagers to get the best one for your kid.
Below are the battery powered dirt bikes for kids that have been running super-hot in the market. Give this article a read and choose the one that meets your demand.
1. Razor MX350 Dirt Rocket Electric Motocross Bike for youth
Want to give a nice present to your kid? Grab the Razor MX350 Dirt Rocket Electric Motocross Bike. With this bike around, your kid will be able to live out his off-road fantasies. The bike is a scaled-down, electric-powered beast. With the speed up to 14 mph, your kid will have the ultimate joy ride he wanted.That being said, your kid won't be needing any paddling. It
To make sure your kid is getting the maximum power transfer while riding the bike, it comes with large 12-inch pneumatic knobby tires geared for dirt. If you want a super quiet, yet powerful operation, this amazing beast can meet your demand, thanks to its single speed, chain-driven motor with twist grip throttle control.
To make sure your kid is getting his comfort zone all the time, the bike comes with soft rubber grips, along with adjustable handlebars. When you run out of charge, all you need to do is recharge is up and that's it. This electric bike for teenagers has got your game.
What age is this recommended for?
Though the manufacturers say it's best for kids who have reached their 13s, if your kid is 5-7 years, he'll be able to use this bike as well without no problem.
Why will you like this product?
If you want versatility, you can rely on this bike with your eyes closed. Rough terrains or smooth ones, your kid will be able to ride it everywhere. It gives you more battery life and speed as well compared to its competitors.
2. Razor MX-400 Dirt Rocket 24V for teenager
If style and functionality are your prime concern and searching electric dirt bike for 13 year old, you can rely on Razor MX400 Dirt Rocket 24V with your eyes closed. It is one of the cheap electric dirt bikes for kids, but when it comes to advanced features, the black beast does not compromise a thing. Your kid will love the large 12-inch pneumatic knobby tires it boasts that will make sure he gets the maximum power transfer as he rides. Riding with super quiet yet powerful operation won't be a problem. This bike has got your kid covered with the single speed, chain-driven motor.
If your kid wants to switch into the high gear, he can do it easily, thanks to the high torque motor with twist grip throttle control. Does your kid love speed like a tornado? This bike can fill his cup of tea. With speed up to 14 mph, this one is not less of a real dirt bike that adults drive. As for the comfort zone, with the adjustable riser handlebars, your kid will get the ultimate ease and convenience he always craved for.
What age is this recommended for?
It is best for kids who have just turned 13 or a bit younger than 13.
Why will you like this product?
The bike boasts an outstanding outlook that everyone will like for sure. It's cheap and has the durability to last for years.  Your kid will love the fact that it is quiet and gives a smooth-riding.
3. Razor MX500 Dirt Rocket Electric Motocross Bike
Are you still looking for the best electric dirt bikes for kids?This is one of the premium Razor electric dirt bikes for 14 year olds that have been running super-hot in the market place. The reason kids and parents are craving for it is because it boasts a powerful 500-Watt electric motor.  If power and efficiency are what you need, this beast can meet your demand.
The authentic dirt bike frame geometry it holds will make your mind boggled. As your kid rides it, you'll think he's up to the real dirt race as he runs with speed up to 25 mph. To make sure your kid can ride smoothly and comfortably, this Razor dirt bike will back him up with the dual suspension and rise handlebars. Unlike any other, it offers you maximum power transfer, thanks to the large pneumatic knobby tires.
What age is this recommended for?
This amazing dirt bike is recommended for kids who are around 14 years old. However, if your kid is younger than that but weighs about 175 pounds, you can go for it.
Why will you like this product?
It comes with a premium look that will blow your mind. You'll love it and most importantly, your kid will love it. This bike gives your child the ultimate smooth ride that feels like a breeze.
4. Razor MX650 Dirt Rocket Electric Motocross Bike
If you're on the search for child electric dirt bike for 15 years old but nothing is meeting your demand, there's nothing to worry about. The Razor MX650 Dirt Rocket Electric Motocross Bike has got it all. The compact design of this amazing bike will make you go wow. Storing it anywhere,even inside places with space issues is pretty easy as the bike fits in perfectly.
Why is it different? Well, unlike the mainstream ones, it will back your kid up with the power and speed he needs. With 650-Watt electric motor around, the bike gives you the ultimate power backup.  Besides, getting speed like a tornado won't be a problem. The riders can hit the road with up to 17 mph of speed.
Of course, you'll want your child to have the perfect comfort zone. Well, get your hands on this bike then. With the dual suspension and riser handlebars, your kid will be able to ride very smoothly while the comfort zone not being compromised.
For maximum power transfer, the bike backs you up with its Pneumatic knobby tires.  From now on, your kid will have the quiet-variable speed he always wanted, thanks to the chain-driven motor.
What age is this recommended for?
Why will the big kids stay without the fun, right? Well, if your kid is around 16 years old, this bike can be your best pick.
Why will you like this product?
I don't see any reason for not liking this beast. It has got everything your kid craves for. Premium design, durability, comfort, you name it. Plus, your kid will be able to ride this bike smoothly on uneven terrains.
5. Razor Dirt Rocket SX500 McGrath Electric Motocross Bike
If your kid is a fan of Jeremy McGrath, I don't know what could be better for him than the Razor Dirt Rocket SX500 McGrath Electric Motocross Bike. As the name says it, the bike was inspired by Jeremy McGrath himself. Most importantly, your kid is going to love the genuine dirt bike frame geometry. The bike boasts the authentic McGrath graphics along with a premium design, so no way your kid will stay without buying it.
The bike has a high-torque feature and variable speed motor which lets your kidhave the ultimate super-charged experience he craved for. Let your kid take the control and blend in with the wind as he rides up to 15 mph with unbelievable speed. When he's tired, he can stop the bike and use the kickstand to keep the bike in one place.
To make sure your little rider gets the comfort he deserves, the bike comes with dual suspension and riser handlebars. Also, the pneumatic knobby tires will make sure he rides smoothly.
What age is this recommended for?
If your child is about 14 or above, this bike is the right choice for him. However, it is not recommended for kids above 16.
Why will you like this product?
The name itself says a lot of things. The bike was inspired by the legendary Jeremy McGrath. So, if your kid is a McGrath fan, he will jump with joy if you give it to him as a gift. As for the features, it boasts a premium design, comes with kickstands, and gives your child a smooth ride.
6. Razor MX650 17 MPH Steel Electric Dirt Rocket Motor Bike for Kids
This electric bike for teens can be the best pick for your child if durability, style, and functionality are what you need. Your kids will be able to take their riding experience in heights with this heavy-duty beast. It can run 17 miles per hour, so if speed is your main concern, you can depend on this bike with your eyes closed.
Kids can drive their bikes recklessly. So, if the bike doesn't have a good braking system, your kid might end up breaking his bone someday. To make sure that doesn't happen anytime soon, the bike comes with dual disc brakes. As soon as your kid will pull the brakes, there's no way the bike will move further.
To keep the acceleration in hands, the bike comes with a twist grip acceleration control system. This allows the rider to have quick bursts of speed.
What age is this recommended for?
If your kid is above 16, this bike will meet his demands to the full.
Why will you like this product?
It is specially designed for teenagers who are a bit older. Plus, the premium design with a sleek finish will wow you. It has a very good braking system and accelerates within a very short time.
7. Razor Rsf350 Electric Street Bike
The Razor electric motorcycle is the perfect ride for your kid. It is a street bike model, so they can use it in the backyard or in front of the house to enjoy some fun run time.
To make the bike move, Razor uses a high-torque motor that uses electric power to move the chains. The power gets supplied from a 24V lead-acid battery system. With a single charge, your kid can have 30 minutes of non-stop fun.
And don't worry about safety. The highest speed it can achieve is only 14 mph. It is fast, but not uncontrollable. Not to forget, the hand-operated rear disk brakes act right away when needed.
With the Rsf350, Razor bike delivers a bold style. What you will get is a trellis-frame chassis design with a custom 10-inch, 3-spoke mag wheels. It looks authentic and doesn't feel like a toy. Besides that, it helps the chain to pick less dirt and grime, making sure, you need to work less to keep it clean.
What age group the bike is suitable to use?
Perfect for teenagers aged 16 or above.
What's the feature that will attract you the most?
No doubt, the design of the motorized bikes for kids will attract most as it feels like the real thing.
8. MotoTec 24V Kids Electric Dirt Bike Orange
For the best electric motorcycle for kids, try the MotoTech. With a 24V 500-watt motor, the bike can give you some half an hour of run time. But the thing that makes it perfect for the kids is the speed limit.
Kids have a hard time to control the throttle to have the right speed. MotoTech eliminates that problem with a selectable speed locking system. That means they can only ride the bike in 3 gear.
Another reason to love this bike model is its build quality. It uses a steel frame which makes it perfect for the drops while kids are trying to get used to riding the bike.
Don't worry about their safety. The knobby pneumatic tires on the bikes absorb the shocks of the bumpy terrains. Therefore, they can use it on both off-road and pavement. Another benefit you get is that there is less noise. The tires don't squeal with the surface that makes the noise.
If that wasn't enough, you get shock-absorbing suspension both at front and rear. Your kids will feel minimal vibration while riding through the harshest of uneven tracks. And with the help of the disc brakes, they can get an instant reaction with little pressure. The breaking it offers is consistent. And even in wet conditions, it would work just fine.
What age group the bike is suitable to use?
It is perfect for kids aged 12 and above.
What's the best aspect of this dirt bike?
For me, it's the braking system. It reacts fast and true every single time—no matter what condition you ride.
9. INJUSA - Motorbike Blue Fighter 24V Recommended for Children
The Injusa is an authentic electric dirt bike aimed at the little ones. While the previous models targeted mostly the teenagers, this one attracts the little ones aged between 6 and 10.
With this Injusa, you get outstanding performance. Its 2, 12V battery generates enough power to move at a speed of 12 km/h.
And Injusa doesn't give a half-hearted effort to breakthrough the market as you can see it from the design. It uses reinforced chassis to ensure the bike remains the same even kids have regular falls with it. But they do make sure kids don't get hurt in the process as the bike is quite lightweight.
There would be less falls thanks to the drum brakes. Kids can get the bike stopped in an instant as it requires very little force. Plus, it resists corrosion better, which makes it last for a long time.
Then there are your inflatable wheels that absorb most of the shocks while kids ride the bike over uneven tracks.
What age group the bike is suitable to use?
The Injusa is suitable for kids aged between 6 to 10.
What's the feature to look forward to in the bike?
The battery life of the bike is good. It runs for long time while requires less time to charge.
10. Razor Dirt Quad – 24V Electric 4-Wheeler Ride-On for Kids 8+
Dirt bike riding has always been a source of adventurous fun and moments. People of all ages like to have the taste of riding a dirt bike in their life. And kids are also not less enthusiastic about dirt bikes.
There have been introduced with so many electric dirt bikes to meet up the fancy of kids. It is also called an e-dirt bike or e-bike. But when we want to choose something for kids, we fall in a dilemma on which one will be perfect.
For kids, we need to think of safety as well as quality. But kids seem to have something like fast like the elders have.
 So, today we have come with such an electric dirt bike from Razor. The e-bike is as fast as the kids fond of and so safe & reliable to let the kids ride it.
What age is this recommended for?
Razor quad Electric 4-Wheeler is perfect for the kids of a minimum of 8 years old. Above this age, kids can also ride this bike. But itis not suitable for the kids less than eight years as it uses some technology that is not understandable by so little kids.
Why will you like this product?
Despite its ignorable con, Razor quad 4-Wheeler is a fast dirt quad for the kids. It is an excellent product for the little novices. Besides, it's perfect mileage, and ideal load capacity makes the bike preferable for your kid's dirt bike riding.
4 wheel electric Dirt bike buying guide
Design
Razor brings an authentic dirt bike for the kids. It works as not only an electric bike but also a learning experience for the upcoming adventures for your kids. The design of the bike is so fresh and sleek. It looks so stylish and adventurous to the kids. It gives a real dirt bike riding feeling, so; your kid will love to ride it.
Body
The bike also called Quad bike as it has four wheels, and it also shapes like a quadrilateral. Its frame is hard and sturdy enough for a rough ride. On the front, it has a handle that works as the throttle. The bike has a disc brake pad system. The handle is adjustable, and you can raise or lower the handle as per comfort. On the back, it has a coil spring, and so, if the bike bends for bumping, the coil of the spring does not let it split.
Tire
As the bike is quadrilateral shape so its four wheels provide such benefits for your kids that you can't imagine. The wheels are 13 inches high and can easily tolerate any kind of bumps or rough creeping. It does not bend or tilt for the tires are Arial tire. So, have tension-free when you let your kid have fun with this bike.
Operating System
It's an electric bike so, operating it is super easy. You just need the power to ride. But it does come with the operating options in the handlebar. The handle also works like a gear that you can also call throttle.  Kids can control the speed or give acceleration by twisting the handle.
Again you can press brake with the hand braking feature in the handle as the bike uses disc brake systems so kids can have the feel of riding like elders. It runs by a high-quality motor, and the motor does not make much noise.
Mileage
Well, no doubt it is the fast electric dirt bike. It can provide speed with a maximum of 8 MPH( Mileage Per Hour). So, to have the full-on riding fun and adventure, it is the best electric motorcycle for kids.
Durability
Well, while buying something for kids, whether it is for entertainment or learning, we need to think of something durable. If you have a question about how durable it is then, be sure Razor electric motorcycle is fast but sturdy and durable.
It makes a kid determined, and the rough riding experience will never tilt the bike; instead, make your kid more confident. The rubbery, Arial tires help in tolerating large bumps. So, kids will have fun with having dirt bike riding experience.
 Battery Longevity
As it is an electric bike so, people will surely think of its battery-lasting issues. Well, the battery of this dirt bike can run up to 40 minutes with continuous riding. So, it's enough for the kids to have fun in a day. And for more battery longevity, keep the batteries less than 75° F and above -10°F.
Weight Capacity
Some low-quality electric bikes come with so many features but lag in supporting an average weight. So, in this case, Razor electric dirt bike is sturdy enough and can contain the weight up to 120 Lbs.
How we picked our top 10 Electric dirt bikes for kids
To get your hands on the best electric dirt bike for kids, first, you need to know about the features to look for in them?
If you want to get the best ride for the kid, you should check this buying guide.
Size:
When you're buying for a kid, you've got to consider the size. It needs to be accessible to them. They need to feel comfortable seating on it while getting their hands to reach on the handle and foot at the ground. If it's too big, they won't be able to control the thing. That's why make sure to consider the size of keeping your kids height at mind.
Speed:
The next thing that needs to be on your list is the speed range. If it doesn't move fast, your kids won't get excited about it. But you don't want to hand them a super-speed ride that might get out of control and cause them harm. Therefore, you should look for trips within a speed range of 12-25 miles per hour. And that you should consider keeping the kid's age in mind.
Tires:
Tires play an essential role in riding on the surface. If your tires don't have the trade and grip, it would slip on uneven tracks and cause the kid to lose balance on the bike. That's why while looking for a kid's bike, go for pneumatic knobby tires. They work great on all types of surfaces.
Handlebars:
Get a dirt bike that offers grip on the handlebar. That way, your kids will have better grab on the handle even if he/she sweats a lot. Other than that, look for an adjustable handlebar. That way, depending on the rider's comfort, you can position it so that they get comfortable reach to it.
Durability:
Bike needs to be durable. When you're giving your kid a fast electric dirt bike, they will have trouble with balance. Getting adjusted to the weight of it and the surface will take time. And in that meantime, they will fall off the bike a lot. If it breaks after a couple of drops, it would just make the kid sad. That's why to spend on quality stainless steel construction that will provide a stable ride for years.
Weight capacity:
Last but not least is the weight capacity. You need to consider it. That's because kids will grow out of it, and it will just be a one-time investment. If you want your kids to enjoy the bike for years to come, it should have a functional weight capacity. That way, even if they grow big, they can get on it and enjoy riding the dirt bike the same way.
Why you should let your child ride a dirt bike?
There are many reasons to give the kid a fast electric dirt bike. Kids today have been consumed with video games. They sit in front of the display to have fun. There is no real physical activity. Now, yes, a bicycle might do the job, but they will get bored soon. To give them the excitement and joy, there is no better option than getting the best electric dirt bike for kids.
And it's not only about having fun. Riding a bike will help them learn to do many things. They will develop a sense of control and coordination. And they will be more focused as the bikes can get out of control if there is any lapse in concentration. It works them out both physically and mentally. And that's what you want. You want to help the child grow while having some fun.
Is Your Kid Ready to Ride?
To be honest, it varies from kid to kid. And keeping that in mind, every bike is also different. Some bikes will be more suited to the younger riders. Then others will be more suitable for the more mature ones. But one thing is for sure, every one of the best electric motorcycles for kids is perfect for riding by the little ones.
And to make that sure, every bike has unique features. For instance, some bikes have locked speed so that the kids can take things slowly at the beginning. And to do your bit, you can always get them a good helmet, elbow and knee pads while making sure they ride the bike on your supervision on soft grounds. That way, they can get used to it before taking it out for a spin on the road in front of your house.
And even if you don't feel comfortable, and always concern about the kid losing balance on the bike. There is the option to get him/her an ATV, which will eliminate the falling issue once and for all.
Ensuring Your Child's Safety on Their Rides
No doubt, you want to make sure your kid is safe while riding the two-wheeler. And you can do your part in it.
For starters, you can get the kid into a hands-on riding course. That way, he/she will get shows the ropes around the vehicle by a seasoned rider who specializes in dealing with the little kids. Even you can do it if you have the time, and you know what you're doing.
The next thing you need to do is to make sure the kid uses safety gear while riding on the bike. There are a couple of things that you can get for them. You can get a helmet and some arm and knee pads to keep them safe from the fall.
But before doing all that, make sure to comply with the local laws. That's right!
There are specific regulations regarding electric dirt bikes in every district. You need to know the rules so that you don't get stuck in a tricky situation with the law for doing something wrong.
Also, you need to be more vigilant around the kid. You shouldn't let him/her take the bike on the road if it's too busy. Take the bike to some area where they can ride it safely. Or provide them enough room in the backyard at your home while they can enjoy some fun time with it.
And last but not least, follow the guidelines gives by the manufactures. Take proper care of the ride as their instructions. That way, the bike will be preserved well, and there will be less chance of any unwanted accidents. Don't try to mess with the electric bike as you can do more damage than good without knowing what to do.
Read more
Frequently Asked Questions:
How Long Does The Battery Last After Each Charge?
Well, this one too depends on the model and the brand you're dealing with. However, in most cases, with one single charge, the bike will run from 30 to 40 minutes. In rare cases, it may run for 1 hour as well.
How Long Does It Take To Recharge The Batteries?
This actually depends on the model and the brand you're going to choose. The ones that come with a 24V or a 36V battery system takes between 8 to 12 hours to get juiced up.
Do These Electric Bikes Above Come With Warranty Offers?
All of these electric dirt bikes I've talked about come with warranty offers. However, to know the details, you need to contact your nearest sellers.
Do Dirt Bikes Come With Only The Electric Versions?
No, there are also gas dirt bikes available in the market. However, for backyard riding, the electric ones are the best ones. You wouldn't want your kid to ride on highway roads, right? Well, for smaller areas, you can depend on electric bikes.
I Want To Buy A Dirt Bike For My Kid, But I'm Confused If It's Safe. What Shall I Do?
Accidents may happen even if your kid stays inside the kitchen. If you buy your kid a bicycle, he may end up breaking his legs if the right precautions are not taken. Dirt bikes are pretty safe to use. They may look like the 'real bikes' that adults use. However, they are much lighter and easier to use.
Spending money on something that will make your kid smile is not a waste. As a parent, you always want your kid to have the fun all the other kids have, don't you?  Well, if you really want your kid to have some fun time with himself, you should be looking for the best electric dirt bikes for kids and pick the best one.
Here, I've tried to suggest to you the best ones that are available in the market place. If you think you need more research, you can give it a read again, or you can ask other parents about these bikes.
I'm sure you'll get positive reviews.