Dirt biking is a great activity for kids of all ages. Gas dirt bikes for kids are not only available, they're also safe and fun.
Not only is it a fun way to get outdoors and explore, but it also provides many health benefits. Dirt biking can help to improve coordination and balance, as well as strengthen muscles and bones. However, with so many different dirt bikes on the market, it can be hard to know which one is the best for your child.
In this blog post, we'll give you some tips on how to find the best dirt bike for your kid. We'll discuss the different types of dirt bikes available, as well as what to look for in terms of size, weight, and features. We also have specific recommendations that we find work well for most kids. By the end of this post, you'll have all the information you need to choose the perfect dirt bike for your child.
Our recommendations
The research

How to choose a dirt bike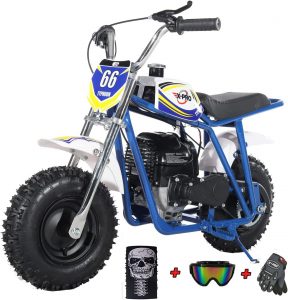 There's a lot to consider when looking at gas dirt bikes for kids. We'll get into all the details below, but in a nutshell, here are a few of the decisions you need to make:
What type of riding will your child be doing? (e.g. motocross, trail riding, racing)
Which size bike do you need?
What features are important to you?
What do you need to know about safety?
Let's take a closer look at each of these considerations.
What you should know about safety
As with any type of motorized vehicle, there are some inherent risks involved with dirt biking. But there are also a few things you can do to help keep your child safe while they're riding.
First and foremost, make sure your child always wears a helmet. This is non-negotiable.
Secondly, have your child wear protective gear like gloves, boots, and knee and elbow pads. This will help protect them in the event of a fall.
Finally, make sure the bike is properly maintained. This includes things like checking the tire pressure and making sure the chain is lubricated.
Everything in life involves risk, and no matter how careful you are, accidents can happen. Make sure to supervise your child until you're confident that you can trust them to be careful and considerate.
What to know about types of dirt bikes
The first thing you need to decide is what type of riding your child will be doing. This will help you narrow down the field of choices, as some bikes are better suited for certain types of riding than others.
For most kids, there are two types of riding: trail riding, or town riding.
Trail riding is a relaxed type of off-roading, typically done on dirt paths or in parks. If your child wants to do this type of riding, look for a bike that's durable and can handle rough terrain. Look especially at the tires, as bigger tires are better for riding off road.
Town riding is exactly what it sounds like – riding around town. If your child will mostly be riding in town-in parks or on tracks-you'll want to look for a bike that's fast and lightweight. Thinner tires are more appropriate here.
Choosing the right size for your child
The next thing you need to consider is which size bike your child needs. This is primarily determined by height and weight.
Height: Most bike manufacturers will have a size chart that lists the appropriate height range for each bike model. It's important to note that these are just general guidelines, and your child may need a different size depending on their proportions.
Weight: In addition to height, you'll also need to consider weight. Heavier kids will need a bike with more power and higher weight limits. Most of the bikes we recommend have a working weight of around 50-120lbs (22-55kgs), but be sure to check the manual before you purchase any bike.
For more, see our Dirt Bike Size Chart.
What features are important
Once you've decided on the type of riding and the appropriate size, you can start looking at specific features. Here are a few features to look for:
Look for a four stroke engine. All of our favorites have four strokes engines, because two strokes are often too loud for little ears. Quieter is always better, and if the bike is too loud you might want to buy some hearing protection for your child.
Electric start: This is a nice feature to have, especially if your child is just starting out. It makes it much easier to get the bike started, and it's one less thing for your child to worry about.
Automatic transmission: Again, this is a nice feature for beginners. It takes away the need to shift gears, and it can make the bike easier to control.
Suspension: This is an important feature, especially if your child will be doing any racing. Suspension helps absorb the bumps and jumps of off-road riding, and it can make the ride a lot more comfortable.
What features are nice to have?
There are also some features that are nice to have, but not necessarily essential. Here are a few of our favorites:
Kickstand: A kickstand is a nice addition, especially if your child will be doing any trail riding. It allows them to rest the bike on its side without having to lean it up against something.
Headlight: A headlight can be helpful, especially if your child will be riding in low light conditions.
Tool kit: A tool kit can be handy, especially if you don't have easy access to a garage or tools. It's always good to be prepared in case of a flat tire or other mechanical issue.
Other things to consider
Starter system can be important. Most kids bikes use pull-starts, which can be difficult for kids to use on their own. If you have a small child and want them to be able to start their own bike, you might want an electric starter.
Tire size is important for trail bikes. If your kid will be off roading, pay special attention to the tires.
Suspension: for a smoother ride, look for a bike with front and back shocks.
Warranty: Always check the warranty, so you can get the bike repaired for free if something breaks.
Quality: Metal is more durable than plastic. Look for a bike with as many metal parts as possible.
The Competition
We reviewed dozens of gas dirt bikes for kids in preparing this review. Here's our thoughts on all of the top contenders.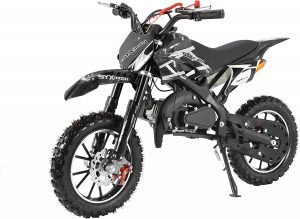 One of the first bikes we tested, this bike also ended up one of our top choices. This is one of the best beginner gas dirt bikes for kids. It has outstanding rear suspension and can ride on any road comfortably. With 0.45gal/1.7L fuel tank capacity, it can cruise at speeds up to 25 mph or 40 km/h. However, you can limit the speed to ensure safety for your kid whatever their age.
The front and back brake disc on the mini dirt bike makes breaking easy and smooth. You can easily control your speed and brake suddenly it needed.
Aesthetically, we find this to be a very good looking bike. It's a simple design that looks like a "real dirt bike", and will make all the other kids in the neighborhood jealous.
PROS: No clutch needed. Speed limiter for each speed level. Easy start. Great for the beginners.
CONS: Can be finicky to start up until you break it in. Requires some assembly.
This bike is best for kids 6 years or older. This gas powered off-road bike has a maximum 160 lbs weight capacity, which means this bike will likely last your kid a long time.
---
The Cyclone 40cc is another X-Pro that has made its way into the best children's gas-powered motorcycles. It has a reliable 4-stroke engine, which we really like: this gives it better gas mileage, more power, and makes it quieter, which is great for kids. Handling a bike with a four-stroke engine is also a little easier. This bike also has good suspension, and good speed, and comes with gloves, goggles, and a face mask, which can be nice to have.
The one downside here is that the Cyclone has a max carry weight of 100lbs (45kg), which is a little lower than average, so this bike might not last your kid as long as some of our other options.
PROS: Great handling, steady acceleration, good speed, and quiet.
CONS: Low max weight
We would recommend this bike for kids from age 6-13 or so, depending on the weight of your child. Due to the low max weight, some kids will need to upgrade sooner than others.
---
The Fit Right is another great mini motorcycle. The bike has a 4-stroke, 40cc engine and can reach speeds of up to 27 miles per hour.
One thing that really stands out on this bike is the tires: the bike uses pneumatic knobby tires to make it easier to ride on rough terrain, which makes this a great off-road bike. The bike is also available in pink, which really makes it stand out! Some of the other great features of this bike include its automatic transmission and quality build. However, one downside of the bike is that it does not have a suspension system.
Pros: Good top speed, 4-stroke engine, quality build, automatic transmission, great tires. Comes many different colors!
Cons: No suspension.
Overall, the Fit Right is a great choice for kids ages 6 and up who are looking for a safe and easy-to-ride mini motorcycle. There are many color options, and the Fit Right also supports kids up to 160lbs, which means it should fit your child longer than some of the others.
---
This bike is for older kids: it's perfect for kids aged 13 and up. Its simplicity is its selling point – it's a basic pull-start bike with no fancy features. It's got a reliable engine, good top speed, great braking power, and solid build quality. The 196cc motor makes this bike much faster-and more expensive-than the competition. The only downside is that it doesn't have a suspension system. But for the price, it's a great bike, and might be more durable than some of the others on this list.
Pros: Good top speed, great brakes, reliable engine, solid build quality
Cons: No suspension system, not great for younger kids.
This bike would probably be great for a teenager, but for smaller kids we would recommend something with more safety features.
---
The X-pro is one of our favorite picks for younger riders. The bike has a 4-stroke engine that is reliable, quiet, and runs smoothly. It has a max speed of 22 miles per hour and can support a weight of up to 100 pounds. The chain-driven system makes it easy to operate.
One of the things we love most about this bike is that it comes with several safety features, including gloves, goggles, and a face mask. The goggle will be very helpful when riding against the wind. As for the gloves, they will give the grip needed to keep the handle under control. These safety features are great for younger riders.
The engine is powerful and efficient. It doesn't make a lot of noise, so the rider can ride around the neighborhood without disturbing others. The engine's smooth and steady transition also makes it an appropriate choice for the younger kids. It won't go too fast all of a sudden. That makes it easy for the kids to ride it. Plus, it stops right on its track when the rider hits the break. So, at all times, the rider is in complete control of the bike.
Pros: Easy to handle, lightweight, good top speed, great braking power, great tires for riding off road.
Cons: Low max weight (100lbs), no suspension. Pull-starts can be difficult for kids. Your child may need help starting this bike, which could be a pro or a con.
Overall, we think this is an excellent choice for younger riders, starting at age six. It is lightweight, easy to handle, and has a durable engine. The top speed is good and the braking power is great. The only downside is that some may find pull-start difficult to use.
---
The XtremepowerUS 49CC is also a good bike. The bike is easy to assemble and can reach speeds of up to 20 mph, making it perfect for thrilling adventures. The weight capacity is also higher than average, making it a good option for heavier kids.
However, there are no training wheels available and the pull start can be complex, so it is best suited for kids ages 13 and up. We also don't like 2-stroke engines as much as the equivalent 4-stroke engine.
Pros: Easy to assemble, well made bike, good suspension, decent max weight.
Cons: No training wheels, pull start, louder engine.
We wouldn't choose this bike unless the above options aren't available. It's not a bad bike, it just doesn't stand up to the competition for the price.
The Superrio mini dirt bike is a good bike, and has above-average speed and weight limits. Its strong rear shock suspension and knobby tires provide great stability and traction, while the front and rear disc brakes ensure quick stopping power. The fuel tank holds 1 liter of gas (although it requires a custom fuel mix, which can be a pain), and the seat is soft and comfortable. This bike is recommended for kids aged 7 and up.
Pros: Smooth ride, faster than most. Great stability and traction, comfortable seat.
Cons: Two-stroke engine, pull start, requires mixing fuel.
This is a good bike and pretty speedy, but just a little too fussy for our taste.
---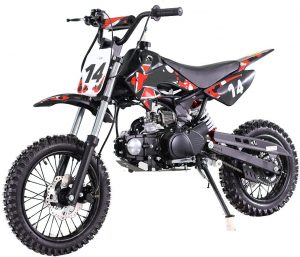 If you're looking for an upgrade, or to start at the top, we really like the X-Pro 110cc Bike.
This kids' dirt bike comes with handlebars and wheel brackets, and it has a convenient electric starter. Its powerful 110cc 4-stroke engine can propel the bike up to speeds of 40 mph+, making it perfect for more advanced youth riders.
The bike also features both rear and front brakes for quick stopping, as well as other safety features like an energy kill switch. With a comfortable 21-inch seat height and a 1-gallon fuel tank, this bike is sure to provide hours of fun.
Pros: Electric starter, great engine, great suspension, great looking bike.
Cons: Expensive, lower maximum weight.
The only problem with this bike is the maximum weight of 135lbs, and the price. But if you want a quality bike that will last a long time, possibly even for multiple kids, the X-Pro 110cc is the way to go.
---
The StartMax is a dirt bike designed for small kids. Its simple design and 4-stroke engine make it a great entry-level option for young riders. The bike is easy to assemble and runs quietly, making it perfect for riding around the neighborhood. Additionally, its disc brakes, pneumatic tires, and suspension make it a fully functional ride. This bike also has a robust suspension system.
Unfortunately the frame is made of plastic, so this bike isn't as durable as the competition. Still, it's not a bad bike for the price.
Pros: Good engine, high max weight, sporty look.
Cons: Plastic frame, more expensive than the competition.
Recommended for kids around 6-years old, the StartMax is a great way to introduce your child to riding dirt bikes, but it may not last as long as some of the others on this list.
---
Another offering from X-Pro. The X-Pro Bolt is a good bike, but it has a two-stroke engine, which is why we prefer other options from X-Pro. However, if you don't mind the noise, this bike does have some perks: It has a speed limiter, multiple colors, and it's lightweight, which makes it easier for smaller kids to control.
Pros: Lightweight, speed limiter, cool look, good features for the price.
Cons: Loud two-stroke engine
This is a good bike, but we prefer other offerings from X-Pro.
---
This offering from FRP seems like a good bike, but it's more expensive and louder than the competition. At this price point the two-stroke engine is a bit of a dealbreaker, when you can get a superior four-stroke for $100 less (or more). Not a bad bike, but doesn't quite cut it against the competition.
Pros: Easy to set up, large gas tank
Cons: Louder two-stroke engine, expensive for what you get.
---
Lots of good features here: good brakes, average speed, lightweight, and it includes a speed limiter. But again, the two-stroke engine is hard to swallow at this price point.
Pros: Easy to assemble, good feature set, classic look.
Cons: Two-stroke engine.
---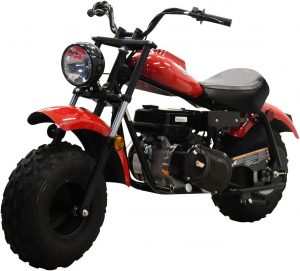 This bike is a big boy with a big price. But as long as it receives love and attention, it should last for a long time. It also has the highest max-weight we've seen on a kids bike, at 200lbs (90kg).
The 196cc engine is one of the most powerful you can get on a kids' dirt bike. It also has excellent dual front suspension to soften the blows of any bumps or jumps along the way. Plus, its large and wide off-roading tires provide stability no matter what terrain you're riding on.
This bike is also decked out with an array of safety features, including an engine stop switch, a heat shield for the exhaust, and a chain guard. If you're looking for a tough and durable kids' dirt bike that will last for years to come, this is the one for you. Just be prepared to spend a pretty penny.
Pros: Beefy 4-stroke engine, great safety features, classic look.
Cons: Expensive!
A great bike, but probably a little more bike than most people need. Unless you expect your child to ride this for hundreds of hours, you might be better served with a cheaper option.
---
Other dirt bike recommendations
Best electric dirt bikes for Kids | fast electric dirt bike
best dirt bike for teenager reviews
---
Frequently Asked Questions
How do you maintain a bike?
Like any gas vehicle, your child's bike will need an oil change and you'll need to change the oil filter from time to time. Additionally, you should wash the bike after every ride, check the tires before every ride, and routinely grease the chain.
What Is The Right Size For My Child?
It depends on the size of your child. Most bikes will have a chart that you can reference.
As a rule of thumb, 5 to 9 year olds will need around a 17 to 26 inch seat height. Older riders aged 10 to 12 years need 26 to 32 inches high seats, and teenagers will need even higher seats.
Are Kids' Dirt Bikes Legal?
Not all kid's dirt bikes are street legal. However, many 4-strokers are good to ride around the city without any problem. Check your local laws to be sure.
Are Training Wheels Necessary?
Not necessarily. But if your kids are too young and afraid of riding a dirt bike without training wheels, then you should get them to build up their confidence. For more info, see our guide on dirt bike training wheels for kids.
What Is The Best 50cc Dirt Bike With Training Wheels?
There are many options for you. We tend to like X-Pro bikes for training wheels, because they're easier to install and use with or without the training wheels.
Why Does Your kid need a gas motorcycle?
Every parent will have their reasons for getting their kid a bike. For one thing, it's great for kids to get outside and get some exercise. Much better for their health than sitting in front of a screen.
Plus it's a great way to build confidence, fine motor skills, and learn to balance themselves. Lots of kids ride and love their gas powered bikes, and your kid could be one of them.
What Age Is A 50cc Gas Dirt Bike For?
The main thing is the load capacity of the bike. Generally, a 50cc gas dirt bike can carry 90-140 pounds. On average, if you can take 100 pounds, it will be appropriate for kids from 6 to 13 years. There is also another essential factor- seat height. Your kid needs to fit in the limited height. Therefore, for taller kids, the age limit will be lower.
If the bike carries over 130 pounds, you can put it as a teen dirt bike. A boy/girl of 20 years old can also ride the bike as long as they are under the weight limit.
How much does a gas-powered dirt bike for kids cost?
The price for a kid's gas dirt bike would depend on the quality of the bike. Plus the number of features it brings on to the table.
However, a quality bike can start as low as $250! It's a reasonably inexpensive to get kids into the sport.
Of course, the more features the bike has, the more expensive it gets. But you can really find a bike for just about any budget.
Conclusion
We hope this helps you make a good decision when buying gas dirt bikes for kids. If there's anything else you want to know about this important decision, feel free to comment or contact us below.