If you have a motorcycle or a dirt bike, unquestionably you need to transport your bike from one place to another. Not every time you can take it to your desired destination by riding. You must look for an alternative, and the most seeming time and the money-saving solution is to use a hitch carrier. A dirt bike hitch carrier will allow you to haul the bike with your car, van, or SUV easily and quickly. Picking the best dirt bike hitch carrier is very challenging, and you should count some safety measures before buying it. Therefore, we aim to help you to avoid any unpleasant incidents.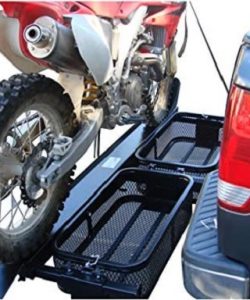 It's the best of all thanks to its heavy-duty structure and long-lasting quality. You can use it in the long distance travels regardless of the weather conditions. Without any doubt it's a win-win product for everyone.
1. Black Widow Dirt Bike Folding Steel Hitch Carrier
If you are going to buy your first dirt bike hitch carrier, Black Widow's MCC-500 would be one of your best options because of its amazing features. This handy device comes with solid steel construction and capable of bearing motocross dirt bikes weighing up to 500 lbs and having tires up to 5 inches wide. 
This hitch-mounted dirt bike carrier features 45.5 inches long and 6.9 inches wide loading ramp, which is more convenient for use. It includes a 5/8 inches hitch pin and a folding hitch adapter. The anti-tilt mechanism ensures maximum stability by eliminating unnecessary movements. Thus, you can even travel in any hilly or bumpy areas without any wobbling of your bike.
Why will you like this product?
The main reason behind selecting Black Widow's MCC-500 is its self-store feature. You can save more space by folding the rack against your vehicle when the ramp is not in use. All these features will bring your peace of mind. 
2. VersaHaul Dirt Bike Hitch Carrier With Ramp
VersaHaul manufactures this dirt bike trailer hitch rack maintaining quality and durability so that it can beat all the challenges that come in its course of action. It can safely transport your dirt bike or motocross to the preferred location. 
The producer uses a solid steel frame with a powder coat finish that prevents rust. It provides 500 lbs loading capacity. This carrier has an extended ramp measuring 57.5″ L by 5.5″ W that makes the loading and unloading easy.
One of the most excellent features of VersaHaul Dirt Bike Hitch Carrier is the movable rails. They measure 71.5″ L by 6.375″ W. You can fix its position close to the car or away from it according to your choice.
Why will you like this product?
You will like this product because of its anti-tilt lock bracket and the four folding tie-down bars as they ensure the maximum stability of the bike. Moreover, they prevent any shifting during transportation. Finally, it has built-in reflectors that are convenient for use at night. 
3. Hitch-Mounted Anti-Tilt Motorcycle and Dirt Bike Carrier Rack by Best Choice Products
Hitch mounted dirt bike carrier by Best Choice Products will be your best possibility if you want a reliable and affordable means for transporting your bike. Though the manufacturer uses heavy-duty-durable steel for making this carrier, it is lightweight. 
The powder-coated steel frame ensures durability for the smooth transportation of your motocross, scooter, or dirt bike. It also provides safety. The hitch is capable of hauling 500 lbs of weight. 
Another feature of this dirt bike hitch carrier is its anti-tilt locking device and bilateral tie-down sites on the rack, which prevents rattling and shifting of the bike. Moreover, it provides an all-terrain performance. 
The ramp is short in size, measuring 38.5 inches in length and 4.75 inches in width, which may create hazardous situations while loading. So, you must be conscious while using the ramp. 
Why will you like this product?
You may like the carrier because of its lightweight. The ramp offers built-in traction technology for better performance. Besides, you can easily handle this.
4. Rage Powersports Black Widow MX-600X Steel Motorcycle Carrier
MX-600X Steel Motorcycle Carrier by Rage Powersports is one of the most reliable dirt bike hitches available in the market and serves the customers with amazing features. The product comes with high-strength steel, which enables you to carry a motorcycle, an off-road dirt bike, or a scooter weighing up to 600 pounds. The powder-coated steel is corrosion-resistant that ensures extended use.
This dirt bike trailer hitch carrier includes a track that measures 6′ 2.75″ L x 5.5″ W. Besides, the ramp measures 5′ 11.5″ L x 7″ W. It will allow you to load a larger motorcycle comfortably. You can attach it beside the rack when unused.
The unit has a 5/8″ hitch pin and an anti-rattle device, which prevents rattling sounds. Besides, the adjustable wheel chock prevents any shifting of the motorcycle on uneven terrains.
The built-in anti- wobbling collar and pinch bolt decreases slack in the receiver and prevents movement.
Why will you like this product?
MX-600X Steel Motorcycle Carrier offers an easy installation feature that may draw your attention. Moreover, it will provide smooth operation for a long time.
5. Double Dirt Bike/ Motorcycle Carrier Aluminum by Motogroup
Double Dirt Bike/ Motorcycle Carrier Aluminum (Capacity: 600 lbs) by Motogroup will be your ultimate solution if you are having a problem transporting two bikes at a time.
This double dirt bike carrier comes up having lightweight aircraft aluminum material along with a gray powder-coated steel sub-frame. This construction provides durability and prevents rust. It can carry the load of 600 lbs (300 lbs per bike). 
It is compatible with 5.5 inches tire width and perfectly fits in a 2 inches square class II, III, IV, or V trailer hitch. Its multi loading ramp will allow you to load your motorcycle from the right or left. 
The anti-tilt locking device prevents the carrier from rocking, and the two tie-down loops make the transportation stable. 
Why will you like this product?
You will love it because the lightweight loading ramp works perfectly with your car, vans, trucks, RV's, SUV's, etc. It is one of the best dirt bike racks for hitches. 
6. Dirt Bike Scooter Motorcycle Tow Hitch Carrier Rack with Cargo Baskets by WMA
If you are looking for a heavy-duty dirt bike carrier, WMA's trailer hitch carrier rack with cargo baskets will meet all of your demands. The product has a heavy-duty construction that comes with a durable black powder coat finishing.
This steel-made motorcycle carrier provides enough strength and durability so that you can carry your motorcycle, scooter, or gas dirt bike firmly for long road trips. You can mount it with your vehicle's 2 inches dirt bike receiver hitch carrier (Class 3 or 4).
The motorcycle rail can hold up to 400 pounds, and the baskets carry another 400 lbs. The carrier weighs the rest 200 lbs. 
You can use it at the time of rain or snow as the rack comes up with a black powder-coated finishing that prevents rust. It lasts longer due to its corrosion-resistant feature.
Why will you like this product?
The most exciting feature of the carrier is its two large cargo baskets, which are suitable for holding gas cans, gear, toolboxes, luggage, etc. Besides, its four tie-down bars will keep your bike stable.
7. Versa Haul Double Dirt Bike Carrier With Ramp
If you are looking for a double dirt bike hitch carrier, VersaHaul VH-55DMRO is the best. You should not worry about the safety measure to haul two bikes as safety is the hallmark of VersaHaul.
The unit comes up having a solid steel frame with a powder coat finish that prevents rust. The frame is so durable that it will not bend if you don't overload it. The carrier is capable of bearing 600 lbs.
The carrier includes four eyelet tie-down points, which ensures stability. The built-in anti-tilt locking mechanism will allow you to drive in any hilly or bumpy areas without any shifting of the motocross. Besides, it perfectly fits a class III or IV hitch.
Loading two bikes may seem harder, but two sides loading system of the ramp solves the problem. 
Why will you like this product?
The boxed rail design provides enough strength so that it can withstand the pressure. It extends the carrier's life.  
8. Black Widow AMC-400 Hitch – Best Aluminium Hitch Carrier
If you opt for the lightest aluminum dirt bike carrier, Black Widow's AMC-400 will beat all the opponents. Black Widow uses aircraft-grade aluminum for its construction that makes it extremely lightweight and sturdy. It can safely transport motocross, weighing up to 400 lbs. Besides, this dirt bike trailer mounts 2 inches class III and IV hitches receivers.
The carrier rack measures 75 inches in length and 6.75 inches in width. It also includes a hitch pin. It is convenient for the tires up to 5.5 inches wide. The 45.5 inches long self-storing ramp makes the loading and unloading easy. 
This trailer hitch carrier rack offers easy assembly and can resist the formation of rust. So, you can enjoy using it in rain or snow. 
Why will you like this product?
The unit includes an anti-rattle device that ensures the stability of the bike while driving on bumpy and hilly roads. The space bar adapter for hauling smaller bikes of 50-80cc offers an extra privilege. 
9. Raider TOW-104 motorcycle/scooter/ dirt bike hitch carrier
The Raider TOW-104 is one of the most cost-effective dirt bike racks for cars available in the market. This hitch mount carrier appears with a convenient ramp that makes the loading and unloading of the motorcycle, scooter, or dirt bike more manageable. You can use the bolt-in clips for locking the bike's tires after rolling up. 
You can haul your motorcycle on this rack that measures up to 500 pounds. Its unique design will help you to carry your motocross safely. 
The carrying channel measures 5 inches wide and 76 inches long, which means that the width of the carrier is a bit smaller than the other models. So, you can't load your bike if the tires are fatter than 5 inches.  
You may face instability in transporting heavy bikes with this carrier. It is suitable for mid-lightweight scooters or dirt bikes. 
Why will you like this product?
Raider TOW-104 motorcycle/scooter/ dirt bike hitch carrier is a cost-effective device. It ensures the safest way of transporting your scooter, motorcycle, or dirt bike. 
10. Dirt Bike/Scooter/Motorcycle Carrier Hauler Rack Ramp by Motogroup
If you are looking for the best carrier for your motocross, scooter, or off-road dirt bike weighing 400 lbs with 5.5 inches wide tires, then you will find no match with Motogroup Motorcycle Carrier Hauler Rack Ramp.
This unit will make your installation a breeze as it is exceptionally lightweight, weighing only 36.3 pounds. It appears with lightweight aircraft aluminum, which prevents rust.  
One of the most remarkable features of this hitch carrier is its lightweight loading ramp that attaches to both sides of the unit for easy carrying. 
This hitch carrier has an anti-tilt locking device that equips three locking screws. It ensures maximum stability and safety. This feature makes it unique as most of the available brands in the market use two screws that sometimes fail to keep the bike stable. 
Now, it is sure that you will be able to load and carry your motorcycle or scooter on this unique carrier on any rough roads without worrying and damaging your vehicle or the bike.
Why will you like this product?
The carrier perfectly fits in a 2″ square class II-V hitch receivers. It will ensure the safest hauling of your motorcycle. 
Buying Guide for Best Dirt Bike Hitch Carrier
Undoubtedly, sometimes you find it necessary to transport your dirt bike from one place to another because riding the bike there isn't possible. A hitch carrier allows you to mount the bike at the back of your car, van, or SUV. It looks the same on the face of every hitch carrier, but they are incredibly different from each other. We have outlined below a guide to assist you in choosing the best dirt bike hitch carrier, which meets all your demands.  
Material
Hitch carriers are made of either aluminum or steel. Generally speaking, aluminum is lightweight and corrosion-resistant in nature. Also, you don't need to apply any coating. Besides, aluminum hitch carriers are less expensive and ideal to carry lightweight dirt bikes.   
Steel hitch carriers feature heavyweight, powder-coated finish, and sturdiness. And a perfect option to transport heavier bikes.  
Maximum weight capacity
An inquiry that how much weight your selected hitch carrier can hold. Know its maximum weight capacity. Most dirt bikes weigh between 200lbs and 350lbs. 
Still, you should check the weight of your dirt bike as well as the maximum weight capacity of the hitch carrier. Also, consider the oil tack since it adds extra weight. 
Vehicle's tongue weight
Both the weight of the hitch carrier and the bike must not be too heavy for your vehicle. Check your vehicle's tongue weight capacity. If the total weight of the hitch carrier and the dirt bike exceeds the tongue weight limit, accidents can occur.  
Compatibility
One important thing that I must mention, your vehicle must have a hitch receiver ranging from class 2 to class 4.
Hitch carriers are designed for both small and large bikes. Still, you need to check whether your bike will fit on the hitch carrier. Know the total length of your dirt bike, the ground clearance of the bike, and the width of the bike tires. Therefore, for perfect compatibility – you need to compare the dimensions of your bike with the hitch carrier.  
Ramp
Some hitch carriers have built-in integrated ramps that you can remove and store when not in use. Other hitch carriers come with tilting ramp that can be extended and shortened. Also, you can down the ramp to ground to load and unload your dirt bike. Besides, choosing a long ramp is an ideal decision because such a ramp facilitates easy and effortless loading and unloading processes. 
Now the choice is up to you!
Accessories
A few accessories that you must have to mount your bike securely. Tie-down straps to fasten your bike, soft loops to protect the bike's finishing from scratch, and silencing and to lock pins for the ultimate stability of your motorcycle while transporting. 
Budget
Budget is another deciding factor that can positively affect your decision about choosing a hitch carrier. But it is worth to invest in a hitch carrier that features good quality, sturdy, safety, and durability. Heavy-duty hitch carriers are expensive and can hold heavier bikes. Whereas, lightweight and standard hitch carriers are quite the opposite. So, purchase your dirt bike's weight and other measurements.
Read more: 
Frequently Asked Questions
Are dirt bike hitch carriers safe?
The dirt bike hitch carriers are safe as long as you consider the factors below:
Read our above-mentioned buying guide before you shop for a hitch carrier.
Comply with the manufacturer instructions while installing the hitch.
Load your bike correctly and drive cautiously.
Stick to the weight limit of your vehicle and hitch carrier.
How to tie down dirt bike hitch mount carrier?
Have a tie-down point at the center of the carrier to fasten the straps securely to the carrier itself.  
The manufacturer recommends using six points to fix your bike to the carrier. One secure strap the rear tire, two straps at the handlebars, one at the front tires, and two straps at the swing arm of the bike. Read more details about how to tie down a dirt bike?
How to set up a dirt bike hitch carrier?
Apply these tactics chronologically:
Slide the anti-tilt onto the hitch tube of the carrier.
To fix the carrier, align the ½-inch hole of the hitch tube with your vehicle's hitch pinhole.
Next, slide the pinch bolt and tighten it using a wrench
And push the anti-tilt lock device in between the receivers.
How to install jeep dirt bike carrier hitch?
The installation process is almost the same regardless of the vehicle type.
Align the hitch pin hole and the rack, then thread the hitch bolt in between the receivers. Thread the bolt using your fingers and tighten it by a wrench. Don't make it too tight. Finally, lock it using an anti-tilt lock device. Remember that the hitch carrier must extend far enough from the rear-mounted spare tire.
How do you secure a motorcycle on a carrier?
Follow these tactics:
Install a wheel chock tightly against the bike's wheel
Wrap a soft loop around the handlebars and tie the strap hook around it.
Secure the hook end to the trailer/carrier
By a ratchet tighten the straps till the bike stand itself in the upright position.
In the light of the above discussion, we can say that dirt bike hitch carrier holds a firm ground for transporting your dirt bike, motorcycle, or scooter. You, along with your bike, can travel safely, having peace of mind with a perfect hitch carrier. 
Before purchasing your carrier, you should take its basic features into account like material, load-bearing capacity, durability, installation process, compatibility of hitch receiver, etc. 
Besides, you should avoid cheap units because they will not withstand over time. Hence, before taking your final decision, give a try with our guide that provides you accurate information.