The importance of a well ventilated helmet for riding a motorcycle in the summer cannot be overstated. The heat can be oppressive and even dangerous, especially when combined with the high speeds of a motorcycle. A good helmet should provide adequate ventilation to keep your head cool while riding your bike. It should fit snugly on your head and have vents that allow air to pass through and cool you down.
A well-ventilated helmet should also have a removable chin guard that can be taken off when temperatures become more bearable. This will provide additional ventilation for your head and neck, keeping you comfortable while riding in the summer heat. Additionally, look for helmets with adjustable vents and other features that can be tailored to the riders' needs.
It is also important that your helmet fits properly. A good fit means it shouldn't move around on your head or block any of your vision. It should also be lightweight and comfortable, so you don't get too tired from carrying the extra weight.
We've considered all of these things and more in compiling this list of the best ventilated motorcycle helmets for hot weather.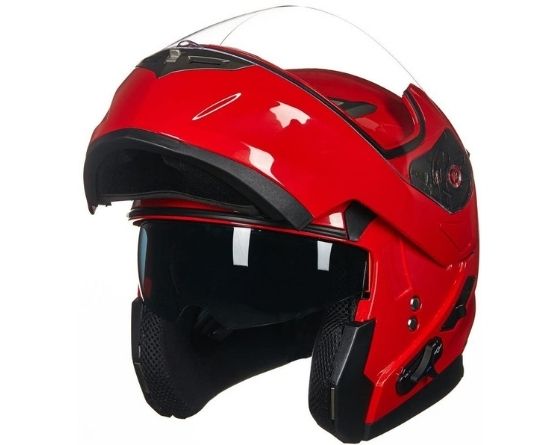 Most Features
Our Favorite Feature-Rich helmet
The ILM headgear is a top contender for being the best ventilated motorcycle helmet for hot weather. This modular helmet offers flexibility, durability, comfort and most importantly, it keeps your head cool during warm days. Furthermore, it features integrated Bluetooth which allows you to communicate conveniently with the helmet on. All in all, an excellent choice!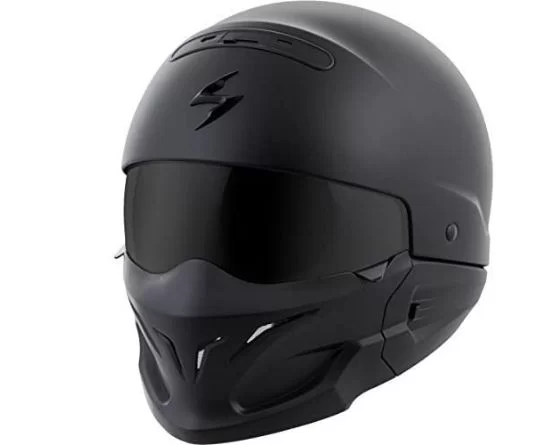 Our Pick
Our Favorite Standard Helmet
If you don't care about bluetooth, ScorpionEXO is an excellent choice for riders looking for a super tough but lightweight helmet. It's well-crafted, comfortable to wear, and effectively keeps the heat out. Plus it's made of durable Polycarbonate, Undoubtedly, a great value for money!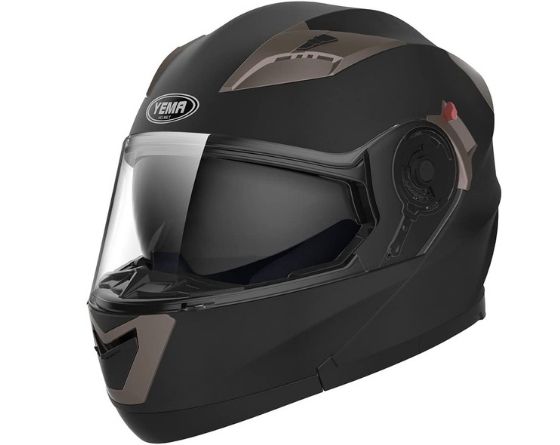 Budget Pick
Our Favorite Affordable Helmet
For those looking for a budget-friendly helmet, the Yema unisex helmet is a great option. It provides comfort and safety, and does so at a great price. It's made of less durable ABS, so it may not last as long as a PC or carbon fiber helm, but it's still a great choice for light-duty work.
The Research
How to choose a motorcycle helmet
If you're unsure of what to look for when choosing the best summer motorcycle helmet, this guide is here to help. To make sure you get the right one, consider these basic factors before making your purchase:
Helmet types
There are many different [types of helmets](), and pros and cons to each. Most of the helmets we review in this article are full face helmets, which are considered the safest type of helmet, and the best oftion for most people. Modular helmets are also a good option, and they provide you with more configuration options than full face helmets.
Material
Choosing the right material for your helmet can make a huge difference. Not all materials are created equal, and unfortunately there are plenty of helmets on the market today that don't do much to protect the user. Steer clear of cheap plastic helmets with a single EPS liner, they don't hold up in real-life accidents.
Polycarbonate and carbon fiber shells are the gold standard. These materials will keep you safer, and will last longer to boot. ABS is a cheaper alternative to Polycarbonate: it still works well, but it's not as durable as PC or carbon fiber, and may not last as long.
Comfort
You're going to be wearing this helmet for hours, or even days, so it's important that it keeps you comfortable. The inner liner is key here: a helmet should have a liner that is soft to the touch. You should also look for a good fit: a helmet that is too big isn't safe or comfortable, and a helmet that is too small is unusable!
Ventilation
Every helmet needs ventilation, but not all ventilation is created equally. Intake and exhaust vents are key to a helmet that you will still want to wear in the summer heat.
Other considerations
Other factors to consider are:
The ease of use and comfort level offered by its release system
Having a removable and washable liner is also beneficial for getting rid of sweat and odours
Good visors. A visor is essential in order to block wind, and a sun visor is important for hot sunny days.
Think about the above factors as you consider purchasing a motorcycle helmet, and decide which factors are most important for you.
What you should know about safety
Here are the most important factors when it comes to the safety of a motorcycle helmet:
Fit. Does it fit the size and shape of your head? Unfortunately a loose helmet won't protect you, so this is key. Most helmets are somewhat adjustable, but you need to buy a helmet that is as close as possible to the right size for you.
Material. Does the helmet feel robust, or does it feel flimsy? We prefer helmets that are made of polycarbonate or carbon fiber, and we exclude cheaper plastics from our lineup.
Visibility is also important when it comes to keeping you safe. You want a helmet that interferes with your vision as little as possible.
Choosing the right size
Every helmet has its own sizing chart. It's a good idea to measure your head around the forehead, and consult the sizing chart for the helmet that you want to purchase.
Every helmet comes in multiple sizes: choose the one closest to your head size. If it doesn't fit, then you can always return it and try another size.
We can't stress enough that it's essential to get the right size of helmet. If it's too small it won't fit, and if it's too big it won't be safe, so make sure to do the leg work here.
The Competition (full reviews)
Finding a quality ventilated motorcycle helmet can be a challenge, so you don't want to waste your time searching through countless options. We reviewed dozens of helmets and chose the best ones based on the above criteria.
So without further ado, here are the 10 best ventilated motorcycle helmets for extreme hot weather:
Safety features: DOT certified, ABS shell, vented EPS liner, double visors.
Pros: Removable liner, comfortable to wear, great looking, affordable
Cons: Uses cheaper ABS plastic for shell, not many size options
The AHC has a modern and sleek design. The shell, while using less ideal ABS plastic, still seems ruggedly constructed and protective. The aerodynamic design also cuts right through the wind, reducing drag and wind noise (although this is a lightweight helmet, which means you should expect some wind noise)
The liner in this helmet is comfortable, and it allows plenty of air flow to keep you cool in the summer.
We love the double visor on this helmet: the inner visor does a great job of protecting you from the sun, and you can move the outer visor up and down depending on the needs of the road. All in all, a pretty good helmet for a great price.
---
Safety features: DOT certified, ABS shell, vented EPS liner, double visors.
Pros: Quick release strap, comfortable to wear, great looking, affordable
Cons: Uses cheaper ABS plastic for shell, can get fogged up easily
The Yema has a striking design, it's extremely lightweight, it has a useful double-visor design, and it's affordable. There's a lot to like here.
It also doesn't compromise when it comes to keeping the rider safe. The multi-density EPS liner will keep the rider safe, and the ABS shell—while cheaper than PC or carbon fiber—will still ensure that the helmet looks good and functions well for years to come.
We also love the quick release strap, and the adjustable air intakes on this helmet. It all adds up to a comfortable and well fitting helmet.
Just like the AHR, this one also has dual visors. But it's a modular helmet, and you can remove the outer visor if you don't need it. We recommend leaving it on for most cases (especially if you're on the roads), but it's nice to have the option.
---
Safety features: DOT certified, ABS shell, vented EPS liner, double visors.
Pros: Adjustable ventilation system, comfortable, great looking, affordable
Cons: Uses cheaper ABS plastic for shell, less configurable
Another strong offering from Yema. This helmet is similar to the one above, except that it's a full face helmet rather than a modular one. This means it's a little less customizable, but a little safer for riding on the roads.
The ventilation on this helmet is exceptional. Both the intake and the outtake are adjustable. With a little tweaking here and there, you can get the perfect amount of airflow to keep yourself comfortable, whatever the weather.
Speaking of comfort, the ABS shell is just like the earlier Yema, a lightweight one that you will barely notice. But it is strong enough to take a hit.
The visors are also excellent on this helmet. In both the sun and the rain, these visors will keep your vision clear and help prevent accidents.
All in all, this is another great budget option from Yema.
---
Safety features: DOT certified, advanced PC shell, double visors
Pros: Adjustable ventilation system, comfortable, removable liner, great price
Cons: Somewhat plain looking
The first polycarbonate option that we reviewed, and it's a strong contender. PC is a little more expensive than ABS, but with the extra expense comes greater durability and longevity.
The HJC is a great all-around helmet. It may look a little on the plain side, but it's made out of great materials and it's well constructed. The tougher polycarbonate construction also keeps you cooler on a hot sunny day, as the thicker plastic does a better job of reflecting the sun's rays.
The ventilation on this helmet is excellent, and allows you to adjust both on the front and the back. The liner is removable and comfortable, and we noticed reduced wind noise in this helmet in particular.
Additionally, if you're interested in an edgier style, HJC sells all sorts of special "branded" helmets, such as their Marvel lineup of helmets.
---
Safety features: DOT certified, advanced carbon fiber shell, double visors
Pros: Adjustable ventilation system, comfortable, quick release chin strap, ultra light
Cons: A little more expensive, not always available
The stylish-looking LS2 a great option to beat the summer heat. This DOT-approved helmet, first and foremost, is incredibly durable, but also lightweight. The rigid carbon shell can take a real beating. Plus, the soft inner lining absorbs those shocks to make sure the rider is safe.
Speaking of the shell, you can see some checker patterns on top, which gives it a nice look. But those aren't just there for the style: each block of those has 24,000 carbon fiber threads, which makes them incredibly strong.
Besides taking care of the safety issue, the helmet lets you enjoy a good time even if it is too hot. The size is on point, as it fits well on the head, but it still has space for glasses or goggles underneath the dual visors.
All in all this is an excellent option, and if you don't mind the premium price, you'll get premium results out of this fantastic helmet.
---
Safety features: DOT certified, ABS shell, double visors
Pros: Adjustable ventilation system, comfortable, bluetooth speaker system
Cons: On the expensive side
This helmet brings to the table a feature that we haven't seen in any of the other helmets: bluetooth integration. This feature is great for people who are constantly on the move. You can take calls, listen to music, or even podcasts.
This is a great helmet, especially if you want those bluetooth features. If you aren't interested in bluetooth, then we'd probably recommend a different pick.
---
Frequently Asked Questions:
What's the best brand for helmets?
There are many brands that make great helmets, including Vega, Scorpion, Yema, and many more. All of the brands on this list are solid choices.
Can you wash the liners?
Yes, you can if they are removable and washable. Check the product listing to ensure the liner is removable and washable (most are).
Why are visors important?
Visors are helpful for two reasons: wind and sun. Exterior visors help keep you warmer when riding in cold conditions, and interior visors make for a safer ride, as they help keep the sun out of your eyes.
Which summer helmet should i get?
We think all of the top helmets on this list are great. However, the ILM helmet comes with a built-in Bluetooth headset. If that would be useful for you, go with that one. But if you don't care about that, our other top choice is also excellent.
Why do you need good helmet ventilation?
When riding in hot weather, you want to make sure your sweat can evaporate, otherwise your helmet will get stinky and uncomfortable. Ventilation is key, particularly adjustable ventilation, so we considered that pretty closely with all of the above helmets.
If you ever plan on riding your bike when it's warm outside, then you should make sure your helmet has good ventilation, otherwise you won't enjoy your ride as much as you could.
How do you find a helmet with great ventilation?
All you need is a well-designed helmet that allows the wind to move through it. Look for a helmet that has not only adjustable intakes, but also adjustable exhaust ports. That way you can fine-tune your helmet to be comfortable no matter the weather.
Final Thoughts
If you're looking to purchase the best ventilated motorcycle helmet, we hope the above tips and reviews are helpful to you. We tested and approve of the above helmets, and we hope you do too.