Are you looking for an 80cc dirt bike to participate in an upcoming dirt bike race? Then, our listed best 80cc dirt bike for racing will give you a hand for maximizing the chance to win the race!
However, there are several 80cc dirt bikes available in online marketplaces, but you might don't know which one can be your best bet. You should go according to your requirements, needs, and budget. So, keeping this in mind, we cover this article with all the best and cheap 80cc dirt bike reviews. 
In our top 6 selection of dirt bike models, we considered their quality, budget, and functions to understand what motorcycle you want quickly. 
So why late? You're one step behind to pick up your motorbike. Keep reading this guide and clear all your confusion and hesitation. If you're short of time, look at our best recommendations which are the champions all over. 
Best Recommendations: Yamaha YZ85 80cc Dirt Bike for Racing
We recommend Yamaha YZ85 as the best 80cc dirt bike for racing. It has a robust engine, firm and durable suspension, double hydraulic disc, impressive speed, reliable wheels, and modern upgrades. All those features make it an overall winner choice for racing.
Best for Overall
Yamaha YZ85 Dirt Bike
Four-position adjustable handlebar for adjusting comforts.
The robust engine requires minor shifting.
A lightweight radiator features large cores and louvers.
Best for Choice
Kawasaki KX80 Dirt Bike
13.2-inch ground clearance 
More maneuverability on uneven landscape
The front telescopic fork and rear Uni-Trak swingarm for rigidity.
Best for Budget
Yamaha PW80
Best for the thrilling riding experience for the kids.
Easy to handle and control.
Efficient brakes.
1. Yamaha YZ85 Dirt Bike – Best for Overall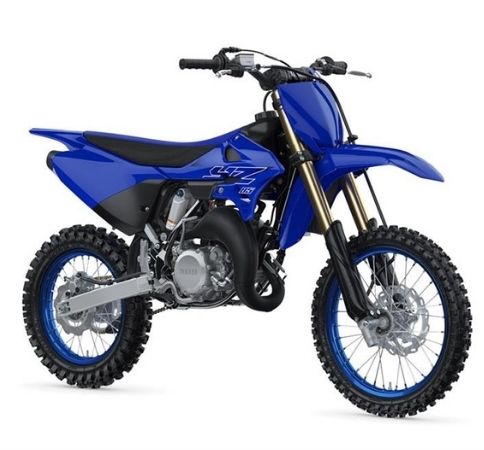 Introduce your junior racers to the new and updated Yamaha YZ85, the ultimate race-ready dirt bike. Its two-stroke engine is easy to maintain, delivering the best performance. This motorbike comes with two fully adjustable suspensions. One is the low-friction front inverted fork, and the other is a race-proven rear fork. These firm suspension fantastically compresses and expands to absorb shocks on landing or bigger jumps.
Moreover, Chassis areas are now much more developed and robust. The enhancement is clearly visible on the wheel axle, mainframe, and swingarm. The aluminum swingarm is redesigned to increase handling stability as it creates an optimal balance in longitudinal and torsional rigidity. The rear subframe of the bike is removable and made of rigid and lightweight aluminum. Amazingly, it reduces the bike weight, and your riding will be like flying in the wind. 
On top-notch, this motorbike has two 17 inches front wheel and 14 inches rear wheel, which are super lightweight and durable. You'll understand their superiority in optimal suspension while riding. Otherwise, two big front and rear hydraulic disc brakes offer firm control on your dirt bike and one-finger precise stopping power. 
This dirt bike also improved rider ergonomic design. Now it has added a new flat seat and a narrow fuel tank design integrated smooth body panel and thick shroud width so you can freely move your body forth and back. Otherwise, this new design helps riders shift body weight and gain ultimate control over the bike. 
Pros
The durable transmission offers smooth shifting and high engagement 
Specially made for beginner riders and kids
Dunlop® MX3S tires provide excellent traction on various tracks and terrain.
The new airbox design offers easy maintenance and better air filtering. 
Cons
No electronic starter system
2. Yamaha PW80 – Best for Budget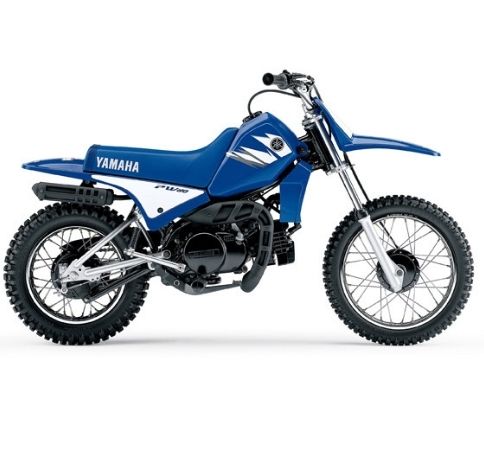 Next on our list is Yamaha PW80 mini dirt bike. It's an 80cc dirt bike 2 stroke single-cylinder engine with a complete air-cooled system. For fuel supply, this bike includes a Mikuni VM15 Carburetor. However, you get a  3-speed semi-automatic gearbox with excellent versatility for going through the different off-roads and rugged terrains. 
If you ask about the build quality of the Yamaha PW80, we must say its construction is rugged enough to meet your expectations. As you see, the tube backbone frame is made of high tensile steel to confirm the firm building. Don't worry about its weight because the frame is exceptionally lightweight. 
You'll get a 110mm Telescopic front suspension and a 95mm swingarm mono-cross rear suspension. There are also two brakes on the bike: the single 95mm disc brake and 110 rear drum brake. 
The 14″/12″ front and rear spoke rim wheels come with a knobby tire. That means you're getting more tread in tires for better grip and resistance. That's why they're ideal for loosening or unstable terrain such as dirt, ice, etc. 
This bike can go up to 40 miles per hour, a remarkable speed for your kids and teens while participating in a race. On top-notch, with a simple handle power, Yamaha PW80 is a perfect bike for kids aged between 7-12 years. It'll take your children to the next level of their thrilling experience on dirt bikes.
Pros
The engine is reliable and punchy enough for competition 
Lightweight frames are highly sturdy.
Provide high-end performance in racing
An automatic centrifugal dry-type clutch requires less control and provides more power to the rear wheel.
Cons
There are no rear disc brakes.
3. Yamaha DT80 – Best for Racing and Fun Riding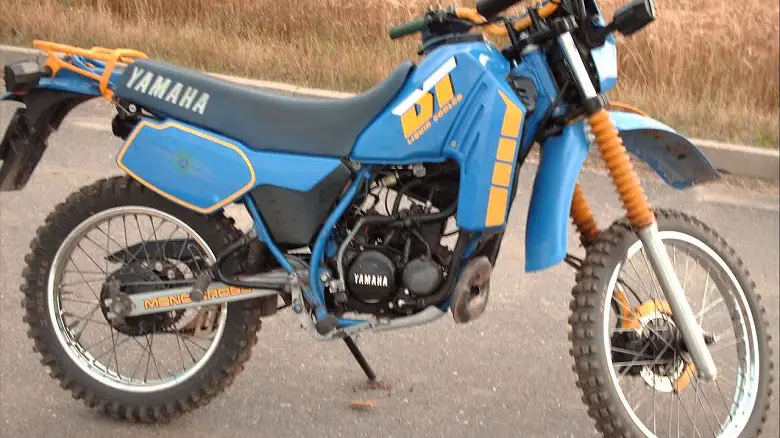 Another top model of Yamaha motorbikes is the DT80 Endure dirt bike. It features an 80cc 2 stroke single-cylinder engine that can gain 6.60 horsepower. So you better know how much power you're going to get in your dirt biking without compromising comfort ability. This bike is made of a steel single cradle frame. The frame makes the bike construction rugged to experience your race's fun and thrilling adventure.
DT80 features a wet clutch that keeps the clutch plates much more relaxed, quiet, and durable. But while using a wet clutch, remember to change the oil filter frequently as wet clutches create much dust for the oil filter. If you don't change it regularly, you'll face a complex problem to handle.
It has a front cartridge suspension to absorb the bumps, so you'll get a smooth and comfortable riding on a rough landscape. Otherwise, the rear mono-shock swing arm suspension also held the rear axle tightly so it could absorb the bumps perfectly. 
Pros
Affordable bike for new racers
4-speed manual gearbox
Best for teens and kids
Easy kick-start system
Cons
Not suitable for heavier riders
https://yamahaoldbikes-list.blogspot.com/2021/03/yamaha-dt80-specification.html
4. Kawasaki KX80 Dirt Bike – Best for Choice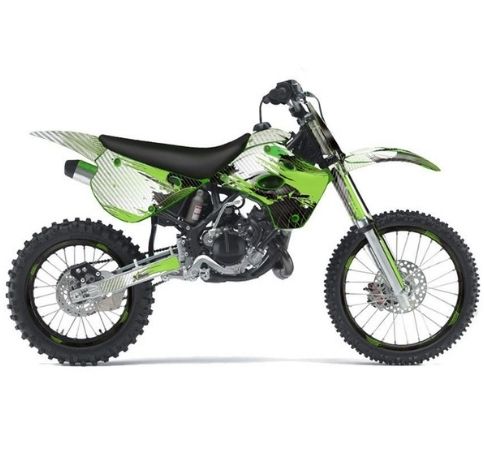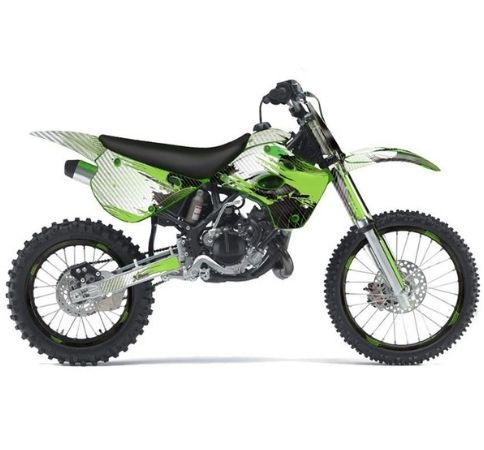 Kawasaki KX80 is a significant breakthrough in MX racing for beginners and enthusiasts. It can make your kids' childhood colorful with impressive performance and functions. 
This classic two-wheeler features a front telescopic fork that prevents unnecessary motion of the spring, and along with a rear swingarm suspension, you'll surely get super comfortable riding on the race—no wonder this suspension will turn the game in your favor. 
For the tires, KX80 comes with front and rear Aluminum alloy wheels. The front one is covered with tube-type Dunlop® K990 or K490. At the back, the wheel is equipped with Dunlop® K595 or K990. The tires come with a 17″ front and 14″ rear size. So you understand they're a good companion for your smoother ride over the rocks and potholes. Also, the small rear tire enables it to accelerate quickly with more control.
Furthermore, these great tires are paired with two disc brakes in front and back. 7.95″/ 5.91″ disc brakes will provide easy and quick stopping power. If you're looking for an incredible speed in dirt bikes, its 75-mph speed won't disappoint you at all. Otherwise, it's an excellent pick if you're finding the best bike for wooded trails and serious mudding. 
Pros
Impressive ground clearance offers easy maneuverability and smooth handling
Best suited for smaller and younger riders
6-speed mesh transmission save fuel and reduce RPM level
Superior functions match for changing trends 
Cons
No new upgrades in recent years
5. Suzuki RM 80 – Best For Performance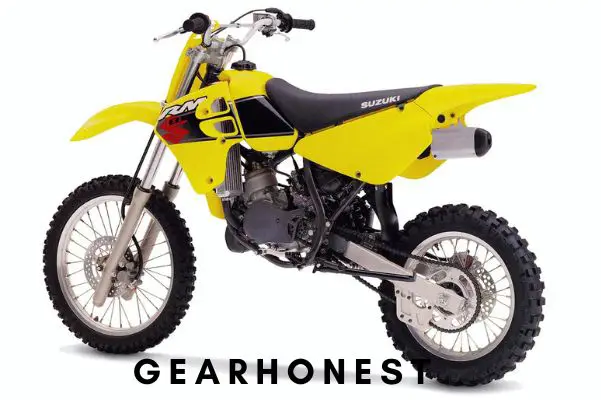 Our next choice is the Suzuki RM 80. Japanese Suzuki corporation started production of this model from 1979 to 2001. So there are a few versions available of this model. However, It's an off-road motocross-type dirt bike. It has a two-stroke single-cylinder engine with a Mikuni carburetor fuel system.
The engine produces a maximum power output of 14.50 HP(10.6 KW), which requires a maximum of 11000 RPM. The engine on the 1979 version features Air cooling system; otherwise, on the 2001 version, you'll get a liquid-cooled system. The frame is very lightweight and made of tubular steel. So you can say it's highly durable and highly resistant to fatigue which makes it a good choice for prolonged use.
In the 1979 versions of Suzuki RM80, the front brake is an expanding brake (drum brake), a single leading shoe. On the back brake, it's also an Expanding brake (drum brake) of similar size.
Though on the 2001 version, this model uses metal disc brakes on the front and rear attached to the wheel. So when you apply force through the brake lever, it slows down the wheel by pushing the pads on the disc and causes friction to stop power. 
Pros
Easy kick type starter for newbies
Lighter engine and less bulky
6-speed transmission gears enable to get more speed
17″/14″ wheels absorb profound shock
Tru-Trac Dual Adjustable shock with Swing Arm for rear suspension 
Cons
Suspension is not very reliable.
https://www.ultimatespecs.com/motorcycles-specs/suzuki/suzuki-rm-80-1979
6. Suzuki DS 80 – Best for Both Kids and Adults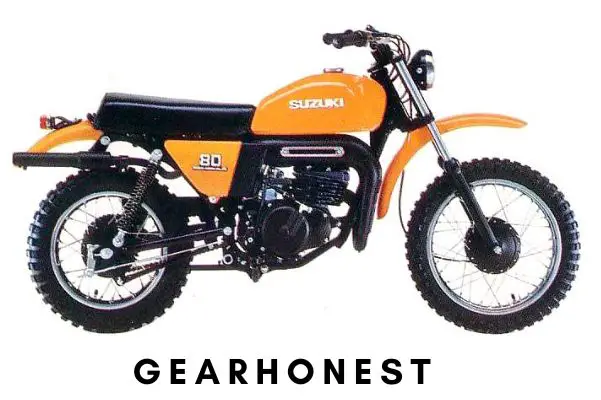 Mentioning the Suzuki DS 80, we must say it's a long-lasting dirt bike running over the decades. It becomes the number one choice for off-road enthusiasts who love to win the race. It comes with rugged construction to tackle the rough road conditions and terrains. Plus, it's simple and easy to handle so you won't find it a little bit of a hassle. 
With a simple  80cc engine  it features an oil and air cooling system which is very reliable for the long run. And you won't get a chance to complain about its performance. Otherwise, a 5-speed gearbox transmission is used to get a superior speed for the race. 
This bike will give you a blast ride that you might never get your youngsters off it. Otherwise, you can also try it occasionally, and we're pretty sure you'll find great amusement. Along with racing, it's a good choice for regular trail riding. 
Suzuki DS 80 comes with 14 inches front  tire, and the rear tire is 12 inches. It can store 1.32 gallons of fuel at a time. Whether you're a beginner or an intermediate rider, this bike works great for you in dirt bike racing. 
Pros
Two-stroke engine for a top speed of 47mph
Best functionalities improve overall ride performance. 
Comfortable and reliable for challenging off-road tracks
Best for long-term service with a low maintenance 
Cons
The manual clutch is quite hard to operate for the beginner. 
https://www.ultimatespecs.com/motorcycles-specs/suzuki/suzuki-ds-80-1988
FAQs
How fast will an 80cc dirt bike go?
Usually, an 80cc dirt bike's average speed is  45-55 miles per hour. A bike's speed depends on the type of its engine. For instance, Yamaha and KTM dirt bikes can reach 75 kilometers or 47 miles per hour. Otherwise, the 80cc dirt bike with 2 strokes or 4 strokes can go over 50 miles per hour and reach up to 70 mph.
Are 80cc dirt bikes a good idea for kids?
Whether an 80cc dirt bike is a good idea for kids or not is wholly based on the types of bike. When your kids are learning dirt bikes, you should give them a low-speed bike that can easily touch the ground. 
What is an 80cc dirt bike for beginners?
80/85cc dirt bikes are pretty aggressive for beginners. So for kids or beginners, a four-stroke bike will be much more suitable. Also, your type of riding is a great factor for a dirt bike. If it's for motocross tracks choosing an XK/RM 80/85 dirt bike will be worth considering.
Conclusion 
So that's all for today. In this best 80cc dirt bike for racing, we tried to introduce you to the best possible high-end dirt bikes so that you can save your time and invest your money in something valuable.
Now it's time to find out your requirements and choose the one that is an absolute match for you. So good luck!
Our experts recommend Yamaha YZ85 as it has all the functionalities and performance that a modern race bike should have.
On the contrary, if you're looking for something top-end and simple but practical, then go for Kawasaki KX80.