When you travel off-road on your dirt bike, you might get lost from time to time exploring the unknown terrains. On those moments, the best dirt bike GPS on your ride can help you find the route.
But as you know, dirt bikes aren't like typical road bikes. So, getting a standard GPS system for the ride won't do the job. You've got to get a GPS for dirt biking explicitly.
And to do that, you've got to keep certain aspects in mind.
Don't worry; I will take you through it to help you find those off-road motorcycle GPS in no time. Just stay tuned.
You want the GPS right away and don't have time to look through the list. No worries, I've got the 3-best options right here, keeping all budgets in mind.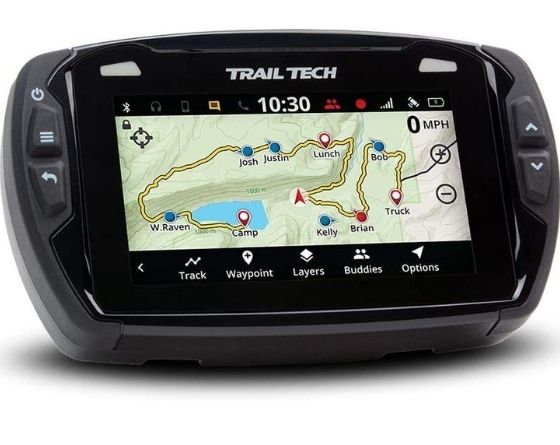 Trail Tech Voyager Pro 922-125 UTV GPS
Trail Voyager Pro is one of a kind. It got that buddy tracking system that lets you track 20 riders at a time. Plus, it got cool stuff like Bluetooth connectivity to talk with another rider within range like a com system and much more. No doubt, it's one of the best.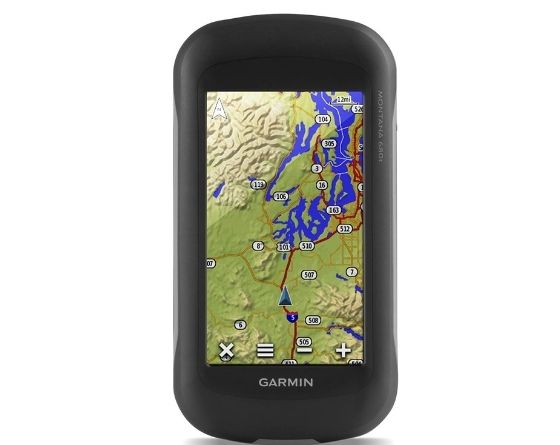 garmin montana 680t review
My ultimate best option is the Garmin Montana 680t. Compared to others, it offers a bit more accuracy when it comes to locating your position. Plus, with an 8 MP camera at the back, you can now take photos. It will automatically geo-tag the location for others to find and explore. Now, that's unique.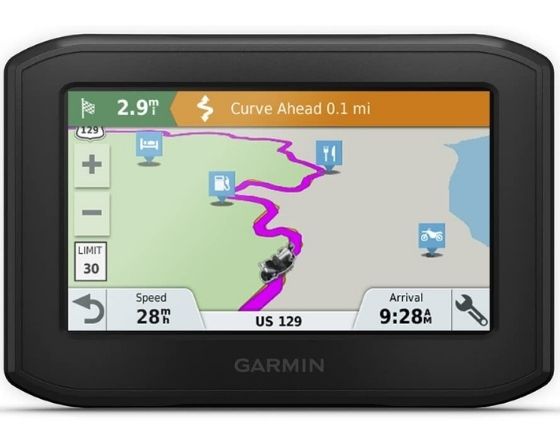 Garmin Zumo 396 LMT-S, Motorcycle GPS
If you've got to find something within a budget, then the Garmin Zumo 396 LMT-S is the one for you. It offers to pinpoint accuracy, good display, and instant traffic update right on the move. All that for a budget like this is undoubtedly impressive. And only Garmin can pull off such stuff—hands down!
If you are looking to get the best GPS for dirt bike, then the wait is over. Go through the list below and pick one from right there.
1. TomTom Rider 550 Motorcycle GPS Navigation Device:
The TomTom dirt bike navigation is one of the best if you want to enjoy the real thrill of off-roading. With its out-of-the-box GPS system, you can find challenging tracks to ride from low to high, depending on your preference.
But that's just the beginning.
Unlike other GPS systems, the touch sensitivity on the 4.3" smart display isn't like anything you've ever witnessed. Even with gloves, you can control it—no need to take them off. And with the rugged build, it is perfect for all conditions. There will be no issue to operate it.
However, to keep the riders safe, you got the option to sync your smartphone with the TomTom to take full advantage of the trail riding GPS. Using voice command, you can ask for weather conditions, take or make calls without ever getting the phone out of the pocket.
And the best part of them all, using the MyDrive, you can plan your routes ahead of the trip to make those scenic stops. Plus, it gives you an update about real-time traffic to avoid any traffic early. On top of it, it helps you to find the best route every time. Don't worry about speeding; it got even a camera alert to let you know when it's time to slow down to not go over the limit. 
What is to love about the TomTom Rider 550?
If you've got to pick just one, then the best part of it is the accuracy. The roads it shows, the real-time traffic update it provides, is on point.
The dirtb  ike GPS got a built-in WiFi for updating the system—no need for computers.
2. Trail Tech Voyager Pro 922-125 UTV GPS:
You've got to look into the Trail Tech if you're looking for the best off-road motorcycle GPS. Check out the Voyager Pro.
So, what's so impressive about it?
The kit here integrates with your ride entirely. All the bike data like speed, hours, RPM, temperature, everything to know about your machine gets shown on the device—just like a speedometer system.
But on top of that, you've got the GPS. The typical map, tracks, and routing get displayed on the colored screen. On top of that, you've got something called Buddy Tracking system. A unique feature that you won't find anywhere else.
With this patent-pending Trail Tech technology, you can track up to 20-riding partners at all times. On your screen, you'll get icons of your partners to keep an eye on them. If anyone needs help, there is an emergency beacon that would turn their icon red. So, you know who needs help.
Plus, you can keep all your tracklogs riding on the fly with the GPS. Not to forget, the Bluetooth connectivity is there to create an intercom system with another rider.
What to love about this GPS?
Buddy tracking is hands down the feature that makes the Voyager one of the best GPS units for dirt bike trail riding.
What's the GPS system is best used for?
If you're in power sports like trail biking and stuff, the GPS system is perfect for you.
3. Garmin Zumo 396 LMT-S:
For adventurous riders, the Zumo Garmin dirt bike GPS is a great option. With it, you can turn any of  your trips with adrenaline-rush thanks to its routing system.  Find the type of curve, hills, and highway kinds you want to get the best out of your dirt bike.
That's just one part of the puzzle.
It got a system that updates road traffic and weather conditions to help you enjoy a more enjoyable off-roading experience. Don't mind the rain; the GPS won't get affected as it can take on all weather. No matter if it pours down or it's scorching hot.
Here, the GPS system works to keep the riders safe. With features like the rider alert, you get notified about sharp turns, speed cameras, and even notification about incidents near you on the fly.
Plus, with the LiveTrack feature on, you can track your friend's real-time location. Like the Voyager, it connects with your ride to give you the data you need for those long trips. You know when you will run out of fuel when it's time to take it slow, and even you will get help to locate repair services around you in real-time.
Bluetooth is also there to use your smartphone hands-free so that you can keep your eyes on the road.
What's the thing that makes the Garmin so good?
The rider alert feature with immediate incident reports makes riding much easier.
What's the dimension of the device?
It stands at a compact size of 4.94 x 0.98 x 3.38 inches.
For pinpoint accuracy to find tracks, go for the Garmin Montana. Compared to most, the signal picking up is quite the best.
It uses a GPS receiver, Hotfix satellite, and  GLONASS to locate you and lock on to it in no time. No matter where you're, the accurate service will help you get to the waypoint without fail.
The display on it is also large. You get a dual oriented display with accurate colors that's easy to read. But what is genuinely unique is how good Montana performs when you try to use the compass. It doesn't lag and shows the direction right away.
Even it has an 8 MP camera on it. Instead of typing in the waypoint description, click a picture of it to help others navigate through it. It has an automatic geo-tag in place to take care of things for you.
Then there is the Geocaching system of it. Montana will find you some hidden treasures of a location that others found or let you share your find with others to enjoy some fun time.
What is to love about the Garmin Montana?
The inclusion of the camera makes it easier to help to upload locations without typing about it.
It got a 4-inches display with high-sensitivity. Therefore, you can use it wearing gloves.
The eTrex 20x from Garmin is another best GPS for dual-sport motorcycle that you can look into for its unique properties.
Starting from the design, the orange and black exterior gives it a nice look. But it is the rugged build around the device that makes it perfect for those harsh terrains full of challenges. The display on it does not match Montana's quality, but the 2.2″ is still quite readable. Even with direct sunlight, you won't have trouble seeing it.
Plus, you get a lot of maps on it. With a 3.7 GB internal memory and the support for microSD, there won't be any shortage.
Similar to the earlier Garmin, the precision it offers to locate your position is accurate. You can use the BaseCamp software to plan trips the way you like by choosing the routes and tracks you want. Even you can share them with fellow explorers of yours.
And when you pair it up with the BirdEye satellite, get all the satellite images of a location right on to your device whenever you want—not bad!
What to love about the eTrex?
The battery life on the unit is exceptional.
What is the dimension of the device?
The GPS for dirt bike riding stands at 2.1 x 4 x 1.3 inches.
Last on the list is the Garmin GPSMAP 64st that will take you to the old days. The device is similar to a walkie-talkie or the phones you've got in the past.
You get a display and a keypad with an antenna on top.
Though it looks like an old-school GPS, it is quite modern in nature. You get a nice 2.6-inch color display that's quite readable even in sunlight. And the battery life is superior to most best dirt bike GPS. You will get at least 16 hours' use.
No questions about the rugged build of it as it got a IPX7 water rating too.
The device got an 8GB memory with support for USB and NMEA. And it gives you a lot of smart features like notification for heart rate, temperature, speed, and stuff to keep track of things.
Even you connect wirelessly to your phone and view all the data there. With 100k maps with BirdsEye view and features like Geocaching in work, the 64st is the best way to go to uncharted terrains that you've never explored before.
If you're an old-school guy who loves buttons more than relying on the touchscreen application, it will give you just that.
Yes, you get a colored display.
The Best GPS Units for Dirt Bike Trail Riding Buying Guide:
Here you will go through the factors to look for while trying to get your hands on the best dirt bike GPS.
And the best way to do it is to ask yourself questions that you need from the device. Look through the guide to get some ideas.
Screen:
You've got to think about the screen size. A small device won't show the data correctly. Similarly, a screen too large on the bike might be too distracting. Anything that has a size from 4-5" should be enough.
And while looking into the screen, you've got to ask yourself, if the color of it matters or not? Obviously, an excellent colored display would provide you better direction as it will have different colored sections to show you the trail.
Also, you should opt for an anti-glare display if you can. That will help you to see the screen even if the direct sun reflects on it.
Maps:
A GPS without maps is no good. No doubt, the device might not have all the maps you need. But hopefully, it should be popular. And even if it doesn't have it, there should be an easy way for you to get it on your device.
Other than the maps, the map types are another thing you should focus on for sure. For instance, the Google maps you get on your smartphone show you the road paths. That's the street maps that most devices come with today.
However, if you want to truly explore off-road trails on your dirt bike, then it should have the TOPO maps that Garmin got and others too here on the list. Using these maps, you will be able to see terrain contours and points of interest.
So, think about the area you want to explore and find a device that got the maps for you to do it.
Features:
Now, what kind of features you look for from a GPS varies from user to user. For instance, Bluetooth connectivity isn't something that someone might not use a lot while riding off-road on their bike.
Meanwhile, the Buddy tracker system on a GPS system will come in handy. You won't need to be right behind your biking partner's tail to follow them around. Using the GPS, you can know their location at all times and get to them taking your own path if you wish to.
On the other hand, a feature like that allows you to call for assistance. Just send a help beacon if you get in some kind of trouble on the road. Besides the location tracking, there are GPS that inform you about live traffic updates and alert you about nearby speed cameras.
Therefore, first, make up your mind on what you need and then start looking for them within the GPS.
Battery:
That is something that many forget about, but they shouldn't. You've got to think why you're getting it. If it is to explore uncharted waters, you would need to have a reliable battery. Otherwise, you might get somewhere for the first time, and your battery will die on you to make things worse for you.
Ensure you get at least 12-15 hours backup with your unit if you're riding for long hours.
Ask yourself similar questions again and again and note them down. That way, you will get a good idea of what you need from your motorcycle off-road GPS.
What is a good GPS to put on the bars of a dirt bike?
You can get any GPS within a 4"-5" size to put on the bar. But if you want to enjoy something like the car ones, then I would say any of the Garmin or the other options here on the list will do the job just fine.
Using them, you will get a large enough screen that's visible to the eyes. Not only that, they offer voice navigation that will let you direction instructions without even needing to look at the display.
On top of all that, you can choose your setting to explore the kind of terrains you want to use them. If you're looking for a good GPS to get started, any of the Garmin is the right place.
What accessories do you have at your disposal?
Getting GPS isn't enough. To take full advantage of it, you might need a couple of other stuff. The first thing that you might need is a good mounting system for your GPS. Then there is other stuff like cables. You need a cover to protect it from the crashes. Screen protector to save the display from cracking and other stuff to make sure you can get the best use of your device for a long time.
Frequently Asked Questions:
How does GPS work?
The GPS uses a satellite to pinpoint your location and the route to give you directions.
What's wrong with using smartphone GPS?
There isn't anything wrong with it. But it isn't reliable when it comes to factors like durability and charge. GPS consumes a lot of the battery charge, and as you know, mobile devices don't work for long hours. On top of that, they aren't great to resist the harsh conditions like the best dirt bike GPS.
Do GPS work as a speedometer?
Indeed they can do that. But it isn't advisable to do that as you would require to switch between the GPS navigation and speedometer. Instead, get a good quality speedometer for the job.
How does the charging work?
There are many GPS that can use your bike battery to charge it while riding it.
How to update GPS?
It isn't that hard. Using the software system of your GPS, you will get the updates using the WiFi.
What is the best GPS for dirt bike riding?
All are great. But if I've got to pick one, I will go with the Garmin Montana 680t for its accuracy.
Finding the best dirt bike GPS shouldn't be hard, but the truth is it is. With all the options out there, getting a proper unit from the fake ones has become a task in itself.
Many don't have the time to check out which one works good and which one is just a gimmick.
To help you out on that, I've got this list made. Just go through it, and you'll find something that you like from here. And even if you don't, you will know what to look for in the device for you.