Maybe the one you've got broken and you need a replacement. Or perhaps the one you have isn't that clear. The dials aren't visible enough. Maybe, your bike doesn't have one altogether. Either way, you need one. 
But you can't go and just grab one. Not all speedometers will work with your vehicle. And that's where it can be tricky.
No worries, like always, I've got your back with some of the best Universal speedometers. Check out to find more.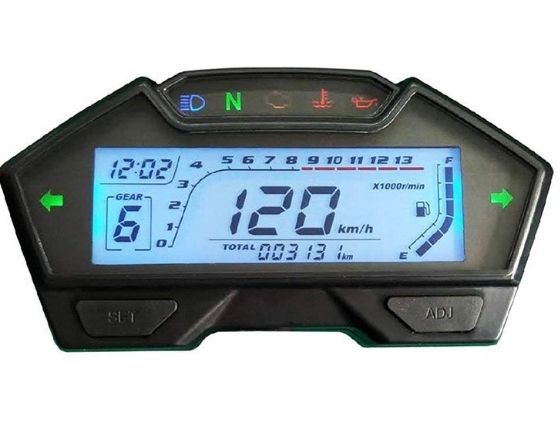 SAMDO Universal Motorcycle Speedometer
Any of the Samdo is good enough to make the cut. They all provide the same trait with some minor changes here and there. However, the Samdo motorcycle speedometer is the one I will mention here because it offers the customization feature for its display. Depending on your ride, you can change it to do some styling. Or use it to make the display more visible to your eyes in certain conditions. But you can pick any of them.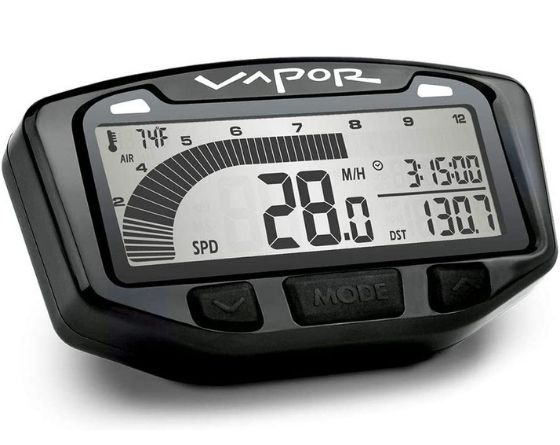 Trail Tech 752-119 Black Vapor
If you're looking to get the best digital display speedometer, look no further than the Trail Tech 752-119 Black Vapor. It got everything you wish for. It's easy to read all kinds of data from a large display to know the bike's performance level. All that makes it the best kit to have for the racers. Plus, you get to tweak the tachometer to your preference. That's like a dream.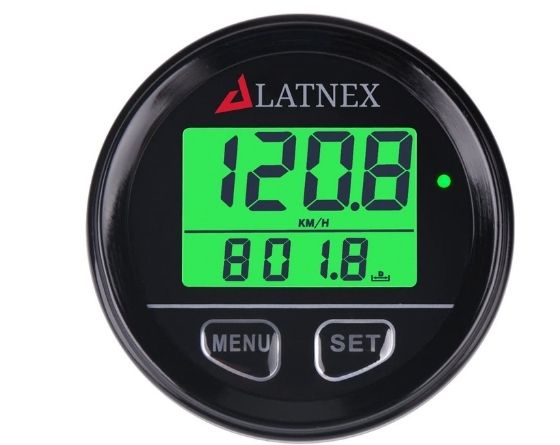 SP-GPS95 Universal Digital GPS Speedometer
The SP-GPS95 Universal Digital GPS Speedometer from LATNEX is genuinely a premium option. The build quality is reliable. But what matters most is the universal acceptance of the device. Whether you've got an ATV, bike, boat, or a car, you can mount it on and start using it. In those muddy tracks filled with water, no worries, the waterproof device is ready to take on them. Plus, there are alert features to keep you on notice if you're going too fast or slow on the track. 
Quick Comparison: Top 10 Best Dirt Bike Speedometer review
10 Best Dirt Bike Speedometer—Everything you need to know:
Buying any endure speedometer for your dirt bike isn't the way to go. That's why I've compiled this list with some bike speedos that are guaranteed to work no matter which model ride you're using.
So, if you're looking to get a dirt bike speedometer kit, then keep on reading.
1. SAMDO Universal Motorcycle Speedometer—Crushing the competition
Maybe the speedometer on your dirt bike shows only the speed. There are more things to know to understand the ride, like which Gear you're on, how much fuel left so on. If that's what you truly desire, then Samdo Universal got the right deal for you.
The universally acceptable feature of the dirt bike speedometer is what makes it so great. If you've got a ride with a DC 12V, it's good to use it. Doesn't matter whether you've got 8 or 22-inch wheels; it is adjustable for all. Even it works for 1,2 and 4-cylinder bikes.
With Samdo, you get more than a speedometer. It is an odometer and tachometer at the same time. So, fuel level, Gear, indicator direction, battery level, all those things get displayed right in front of your screen.
It even got a needle display RPM—neat. However, the best part about it is the display itself. The backlit display is clear to see and doesn't seem hard to read, unlike some others. Not to forget, it gives you speed in both km/h and mph for better convenience. 
Why will you like this product?
The universal feature of the speedometer makes it a great choice. If you change your ride and get a new one, you can take the speedometer with you and mount it on the new ride to use it.
2. Samdo 6 Gear Universal Speedometer
Samdo got another great option that you can look into. It's the 6 gear universal speedometer. Now, labeling it as a speedometer doesn't do justice to it. That's because, just like the above one, it is also a multi-functional device. 
It functions as a speedometer. But it also works as a tachometer to give you the operating speed of the engine. Meanwhile, the odometer will track the mileage for your ride.
Plus, it gives you insight into water temperature, Gear, and other stuff. That helps take proper care of the bike and not overdo anything.
The universal appeal is also here with the pit bike speedometer kit. It works with any DC 12V bike and adjustable for wheels from 8-22 inches. Similarly, it works with all cylinder rides.
However, the one here comes with a variety of backlit color options. You can get it in blue, red, orange and more, whichever soothes your eyes better.
What's the best feature of it?
The backlit display system is quite more visible, unlike the cheap dirt bike speedometer you find in the market.
3. Trail Tech 202-111 Endurance II—Overcome the Limits
Dirt bike often has a standard speedometer that's ok but not that great. You don't know what's happening with the ride and push it too hard that it breaks down. To avoid such limits, you've got to have a proper dirt bike digital speedometer just like the Trail Tech Enduro II.
Trail Tech simplifies things with a 4.2×1.6″ display that fits anywhere. It removes the cluster to make things easier to see. And what you get to see here is information like the speed, max, and average speed—basic functions.
Then there is the stuff like 2-trip distance trackers, ride time, accumulated ride time that gives you a clear idea about your riding.
Alongside that, you get a reminder for maintenance with either the time or a mileage interval durations. With this in place, you know when it's time to slow down and take care of the ride.
What feature will you like about the speedometer the most?
With the speedometer, you will know when to stop and take care of your ride as it got the maintenance reminder.
4. SP-GPS95 Universal Digital GPS Speedometer—Universal in True Sense
There are many universal speedometers, but no one can come close to LATNEX. This dirt bike GPS speedometer system offers a digital display that works for almost anything. May that be your dirt bike, your ATV, your car, or a speedboat.
When you look at it, it seems a simple device—a backlit green display. On display, you've got two buttons. One saying the Menu and the other to set.
Just when you start tweaking with the Menu, you get to see what indeed lies under it. You've so many great functionalities. For instance, the speedometer can display the speed in Km/H, Mi/H, and Nmi/H. That makes perfect sense to have a nautical rate as you can use it on water rides. 
I love the fact, it got a high and low-speed setting. If going too fast or too slow, there is a red flash on the screen to alert you.
Unlike many others, you get IP65 water and dustproof rating with the kit that makes it long-lasting. 
Now, the speedometer here got a digital clock. With the GPS system within it, it can quickly identify the UTC to help you adjust the time in your location. Besides that, it got just two-wire to install it, so it won't take long to set up—that's handy.
Which feature of it will make you get it?
To keep you safe, it got a speed limit system that will alert you if you're moving too fast. Quite a crucial safety feature as you can sometimes get lost in speed.
5. Trail Tech 752-119 Black Vapor Digital Speedometer—pioneering the way
For the KTM and Husqvarna dirt bike riders, I've got a great deal in Black Vapor. If you've got other brand rides like Honda or Yamaha, don't worry, it works for them too.
So, what's great about the speedometer?
To start, you've got a large display. On it, you will get a clear RPM graph and a readout for your speed. Even if you're moving fast on the track, reading those won't be difficult. 
The programmable LED light blink feature is, however, is one thing that requires some appreciation. It will notify you whenever there is a need to shift the gears. In a way, it helps your riding a lot.
Besides showing you how fast your ride moves, the tachometer gauge kit gives you more insight about the bike. For instance, you get engine temperature, ambient temperature, ride time, and other stuff displayed. With those details, you know when it is time to take things slow.
Did you miss a resettable distance meter in the last one? This one got that for you if you need it. 
However, the real game-changer is the fine-tuning feature of the dirt bike tachometer. You can change vapor for tire size, tach sensitivity, trigger temps for warning lights. If you love to tweak around with such stuff, then the speedometer is the right way to go.
If you're training for races, it got a built-in stopwatch to keep track of your performance. 
6. SAMDO Motorcycle Speedometer—Trusted Performance
Some speedometers can't provide real speed. Those can be a problem when every second matters on the track. That's why trust only on reliable dirt bike computers just like the Samdo 7 color speedometer.
That's right, the LED-backlit display comes in 7 varieties to give you the perfect style to match with the ride. At the same time, making it more soothing for the eyes.
Now, design-wise, from the other Samdo, it is quite different. You've got here is a round dial with a smaller square shape display. 
Just like the other ones, it fits any DC 12V system on the bike. Plus, you get a lot of data on display. N gear, battery to the water temperature, and left /right indicator, lots of things get displayed from the fuel level.
Fine-tuning the speedometer is something that makes Samdo unique. You can adjust wheel size to make it work with a wide range. However, the EFI engine compatibility is still the missing piece of the puzzle in the Samdo. Therefore, RPM won't work if you've got an electric fuel engine.
Other than that, all's good.
Can you change the backlit colors?
Yes, you can change the backlit color to suit your need. 
7. AYNEFY Speedometers for Motorcycle—A convenient option
In terms of the design, the AYNEFY is quite similar to the last Samdo. However, what makes this the best dirt bike speedometer is the convenience.
The device gets made from robust ABS plastic, which is quite durable. Not only the display can resist the raindrops, but it can take care of the shocks. 
Like many others, it got a tachometer and other parts combined in one kit to make it a performance kit for your dirt bike. And you can see it from its features. You get displayed all kinds of information. From speed to RPM to distance covered. All things are here that can help you track your riding performance on those off-road race tracks.
Compared to the other dirt bike speedometer kit, the precision it offers is more as it got a speed sensor for the motor meter. Add the anti-glare display with its 7 adjustable backlit colors; you've got the bike speedos of your dream.
Why will you like this product?
The precision it offers is quite on par with the expensive speedometers. Therefore, it's hard not to like it.
8. Searon Backlit Digital Resettable Inductive Tacho—A value Kit
Most mini bike speedometer kits require a double wire installation with a ground wire. Searon takes a different approach with a single wire installation.
Just take it and wire it around the spark plug wire; you're all set.
Besides that, there is a lot of cool stuff that will make it a great option. Starting with the hour meter ones. Here, you've got a display that shows the total run time when the engine is off to know how long you've been riding. This comes in handy when you set the interval time to get alert for maintenance for the bike.
Then there are tachometer features. Where to start? You get an RPM display with an 8-programmable firing pattern for the engine. Even it recalls the Max RPM. Oh! There is even an RPM alert so that you don't wreck your engine.
And by the way, the display here got an IP65 rating. So, dirt and water won't cause any trouble.
For me, the RPM alert feature will be handy. You will get noticed, so you don't damage the engine.
9. WonVon 12V Universal Digital Motorbike Speedometer—All-weather Kit:
For a solid speedometer to track your riding performance, go with the WonVon. You can rely on it to handle the conditions pretty well as it gets made from a high-quality metal shell. It's waterproof, dustproof. But most importantly, it is ready to withstand the collisions.
Unlike others, the reading it provides isn't unstable. That's an issue with most speedo for dirt bikes—No such problem in the WonVon. That's because it introduces a chip technology that gives you high precision reading with minimum deviation.
Plus, the speed level it will show is quite precise. All thanks to the oil level meter on the LED display tachometers. No matter the condition, the display is quite visible as it got backlight. The anti-glare screen makes it easy to view from all angles. 
All in all, it's a digital speedometer for a dirt bike that's worth the investment.
Is it perfect for off-roading?
There are many reasons to enjoy this. But the durability factor is the one thing that will make you like it more as it is perfect for off-roading.
10. BLUERICE LCD Universal Digital Speedometer—Outstanding:
Let's finish on a high note. And what better way to close the list then introducing the BLUERICE.
The display here is a nice contrast between blue and white. No matter the condition, it is quite visible. That aside, you can pair it up with any bike. Whether you've got a 1-stroke, 2-stroker, or a 4-stroke ride, doesn't matter as it works with all.
In terms of functionality, it is quite similar to the Samdo with L/R turn signal, high beam, low-fuel warning, Gear, fuel indicator—the typical stuff. But what makes it stand out is its build. Compared to many, stainless steel 304 is more reliable as it can handle the impacts. 
Plus, water won't be troubling it too. Just what you want to mount on your dirt bike.
Is it hard or easy to use?
Using it is quite intuitive, which makes for a better user experience. 
How to install a speedometer on a dirt bike
You've got your endure speedometer, now it is time to mount it. Don't know how to do that, then check out the steps below.
In the first step, find the ground and receptor wires.
Now, the speedometer should come with hardware to attach it to the handlebar. Get that installed.
Then take the wires down the frame to the engine of your bike. Find the spark plugs. 
Next, you wrap the wire around the spark plug wires. 
For the ground wire, take it underneath the bolt head and tighten it down to keep it from moving.
Try to start the bike; your speedometer should get power and show readings if you got the installation right.
If there is an issue, you can check out YouTube as there are many videos to help you out.
How We Chose Our Selection Of The Best Dirt Bike Speedometers
To choose the best dirt bike speedometers, we took days. And we based our search depending on some key factors.
Compatibility: First of all, we made sure to pick universal devices compatible with most bikes.
Features: Then, in the feature aspects, we've tried to find the important ones. You will get endless stuff with many models, but hardly a handful of things would make sense. We've tried to avoid those clusters and wanted to provide simple devices that are easy to use and install.
Brand: Obviously, brand identity mattered. You will feel better to go for a reputable brand product rather than betting on a new one that promises to offer the same quality. However, we didn't absolutely close down the door for the lesser-known brands and found out some gems that came to beat some well-known names to make their mark on the list.
Reviews: Consumer experience also was a critical factor in our search. How a product got received over time? We collected the feedbacks and filtered them to find genuine ones to make sure there were no bias reviews.
Budget: Lastly, we kept the buyer's need in mind and offered various products in all budgets—no one goes empty-handed.  
Buying Guide—Getting the Best motorcycle speedometer:
There are some factors that the bikers already know. One such is the features. The rider knows whether he requires the RPM or Gear graph bar on display or not. And the answer is always "YES."
So, let's not dive into the features. Let's try to figure out the other stuff that most of the time gets neglected.
Accuracy:
That's right! 
While focusing too much on the alert features and console display data, you forget to think about the most logical stuff. How accurate is the reading on display in front?
No speedometer is perfect. However, if the error is too much, then the reading won't be accurate. Get a device with a lower error.
Compatibility:
All the dual-sport speedometer on the list are compatible. But don't take that for granted. Often buyers go and purchase stuff, not knowing whether it will work with their bike system or not. Don't make the same mistake. Take time and find if it's usable with your ride or not.
Display:
The system's fancy features won't be of no good if the screen it gets displayed on is hard-to-read. So, make sure to get a device that has a nice screen. Make sure the backlit option is there, as that will give you easy visibility on all conditions. Anti-glare displays are the best as you can view them from all angles.
Durable:
The last thing I want to point out is to go for a durable speedometer. Dirt biking is a sport where there will be mud, water, and frequent collisions. If the device installed on your bike can't take on those, then it's not worth it.
So, make sure to get a waterproof, dustproof speedometer that can resist those impacts.
Frequently Asked Questions:
How can I mount a speedometer on a dirt bike?
The device should come with a manual and some hardware to attach it to the bike. You can check the above installation guide to get some help.
What's the best dirt bike speedometer?
Choosing one is difficult as all are great. You can go to either of them. But if you want to rely on a brand's identity to be on the safe side, take on any of the Trail Tech.
Are dirt bike speedometers waterproof?
All the digital speedometers for bikes on the list are waterproof. But not all models in the market are waterproof.
Why are dirt bike speedometers important?
For practicing on the track, you've got to know how fast you've completed the course. How long it took and other stuff. Besides that, even in regular use, sometimes you push the bike over the limit. Speedometer will offer all the necessary information to know when to give some break to the ride.
How to maintain a dirt bike speedometer?
Clean the display, check out the cables from time to time, and you're right.
Is it easy to find the best dirt bike speedometer? NO! 
However, you can find the right device without putting in any hard work. Just go through them and find the right one to take advantage of the customization and various functions of the dirt bike speedometer.
Unlike your old ones, there are more features to enjoy with these tools to track your performance on the trail.
So, why wait? Grab one right now!