Imagine you've bought a new car and parked it in the garage. Unfortunately, there is no room for your bike anymore. You can't even wiggle it to make some room.
Or say, you're outdoors camping and it suddenly starts to rain. Even though you managed to get inside the tent you set up earlier, your bike and other equipment are getting soaked out there.
No matter what the situation you're facing, there is just one simple solution to both and that's having the best portable motorcycle garage storage.
You can safely store your bike and other items in a storage unit like this, no matter what the weather throws at you.
Isn't that good news?
If you think so, then you might want to take a look at some of the best portable motorcycle sheds I've got here for you.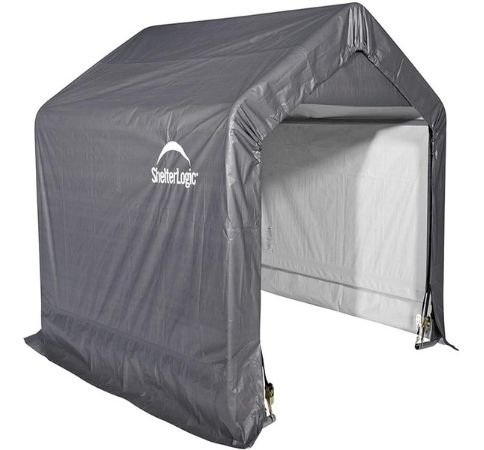 ShelterLogic All Season Steel Storage
I loved the ShelterLogic All-Steel Metal Frame Peak Style Roof Instant Garage. This one got the space to not only store the bikes but even a four-wheeler with ease. That alongside a waterproof tent with proper ventilation and a tensioning system, that keeps the cover tightly placed on the frame makes it a great option to look into, hands down.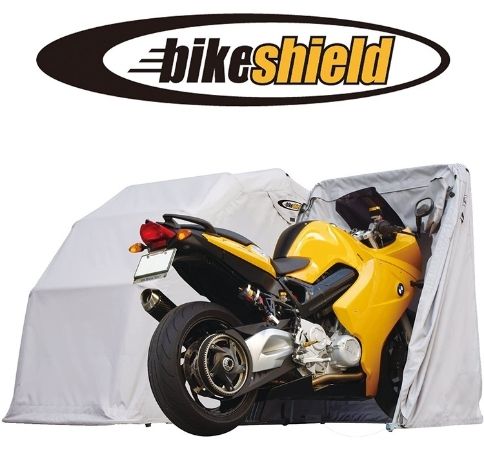 Bike Shield Motorcycle Tent Garage
I can't help but include the bike shield for this. The pull-over system cover is awesome. The installation isn't complicated, and it is easy to use. Furthermore, it comes with a waterproof cover. Therefore, there is no risk of leakage. Plus, it is available in 3-different sizes. So, based on your storage needs, you can get the perfect portable garage with it.
If that doesn't excite you, nothing ever will.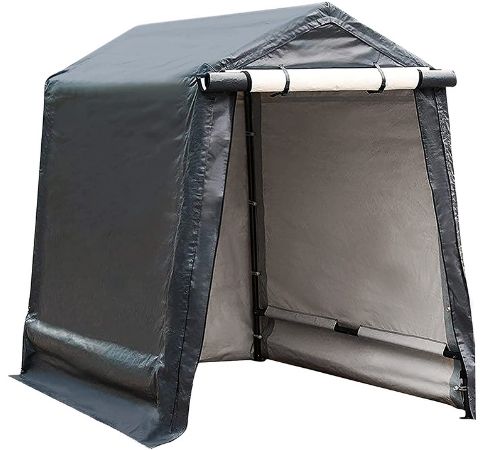 Abba Patio Outdoor Storage Shelter
Abba patio seems like a reasonable choice if you've got a tight budget. It got everything you need, a waterproof bike shed that keeps dust, dirt and any other element that might damage your ride from getting in. All that for a tight budget makes it a worthy candidate for sure.
Quick Comparison: Top 10 Motorcycle Shelter Storage Waterproof Storage Tent
1. ShelterLogic 6' x 6' Shed-in-a-Box All Season Steel Metal Peak Roof Outdoor Storage
If you need a portable garage for your motorcycle while camping, then try ShelterLogic.
You're getting a 6'x6'x6′ frame that's big enough to hold a couple of bikes with no problem.
There is no need to worry about the quality of the frame. With all-steel metal construction, it can withstand even heavy rains and strong winds.
And unlike others, the metal frame won't go and get rusty as they got the premium powder coating to take care of it.
To put on top and around the frame, you get a grey cover. It is what provides the cover for the bike. Water does not penetrate this material's triple-layer construction. And no way its color will fade from the sun since it has been UV-treated.
That said, the most impressive feature for me however is the ratchet-tight tensioning system. It is what makes sure the cover remains tight and neat in its position on the frame and doesn't come off or leave any side exposed.
Because of the easy slide rail system frame, that was also possible. Not to mention, fitting the cover to the frame is much easier thanks to it.
Does the cover come in any other color than grey?
For now, you can only get it in one color: the grey one.
What's the one feature that you would appreciate?
Keeping all kinds of weather conditions in mind, they've come with solid portable motorcycle shelter storage. Besides keeping the water out, it also keeps the bike dust-free.
2. The YardStash III: Heavy Duty Motorcycle Shelter Shed Cover Storage Garage Tent
For any kind of storage outdoors, you can have the YardStash III.
There is no need to go and spend money for a shade to store your bikes in the yard. You can put up the YardStash instead.
This portable garage got plenty of room inside to store two adult bikes with ease. And that even some room to spare for some other stuff.
The 74″ wide, 30″ deep, and 65″ high garage saves you space.
I love the fact it got a full top to the bottom zipper on the door. You can seal it up and ensure that your bikes don't collect dust.
When it comes to protection, the vinyl tarpaulin material to make the cover is quite outstanding. The polyester bonded body on the interior doesn't let the water creep in while the industrial-grade material prevents it from getting torn that easy.
Installing it isn't hard either. The metal frame slides through the cover fit well—no need for tools.
Even it got a reinforced floor with a back panel that lets you lock your bike to a pole. They've thought of everything which is why it gets on the best mobile storage shed list.
How many colors does the portable storage garage come in?
Till now, there is just the green cover available for the portable garage.
What's the best thing about the portable garage?
It is easy to carry around thanks to its lightweight fiberglass poles.
3. H&ZT portable motorcycle garage/mobile storage shed
H&Z's outdoor motorcycle garage is another option you may want to consider.
Unlike others, the tent here comes in a couple of color varieties. The typical army green cover is there. But there is also another shade: the grass green.
Having the tent makes a lot of sense. All the stuff you need for camping such as a grill, cooler, etc. can be stored inside it.
The 78x63x33 inches tent got plenty of room inside to store everything. Without any problem, you can fit two adult bikes alongside that other stuff. And when not in use, you can collapse it and fit it inside the carrying bag. That's right, it comes with a bag to make it easy to carry around.
Now, similar to the earlier tent shed, it got a front zipper closure. This will now stop rain and sun debris from getting inside.
That said, what appealed most to me is the fact the frames are great in handling all weather conditions. They don't corrode like some of the other retractable motorcycle shelter frames.
Not to mention, setting it up is a piece of cake as there is no need to use tools to get it done.
What are the cover colors of the tent?
You can get either the army green or the grass green.
What's the one thing that will make one love it?
I think the quick assembly is something many will enjoy alongside the other stuff like being waterproof and all.
4. TOOCA 10x10x8.7 Foldable motorcycle shelters for camping
While looking for a portable garage, you need to have a waterproof motorcycle shelter with a steel metal frame that will not get blown away by the wind and heavy rain.
TOOCA's garage tent gets made to provide just that.
Featuring a 38mm in diameter and 0.8mm thick heavy-duty steel frame, this tent manages to withstand the harshest conditions.
Unlike other steel frames, this one won't rust. TOOCA sprays the frame with rust-proofing to ensure this.
Now, to complement this solid structure, the tent comes with a three-layer PE fabric that goes over the frame.
Not only the 240PE three-layer thick polyethylene fabric is waterproof. It even is UV-resistant and very durable to prevent tearing.
Similar to your garage, it got a shutter door. But instead of one, it got two. All you need is to roll up the shutters and fix them in their position using velcro.
What I found to be impressive is that one of the shutters got zippers on them. And these are double-ended zippers, so you can open and close them from both sides of the tent. So, if the weather gets too bad, you can jump inside the tent and seal it from inside to stay safe with your ride and other stuff.
You won't feel confined. Space is something the TOOCA offers in plenty. It got a 10x10x8.7 ft dimension (LxWxH), making it one of the spacious outdoor motorcycle garages.
How many sizes is the tent available?
It comes in three sizes. Besides the one here, the other two got a dimension of 6x8x7 Ft 7x12x7.4 Ft.
What's the best feature of the tent?
If you've got a lot of stuff to store other than your bikes, then this tent would come real handy as it got a lot of room.
5. ShelterLogic Waterproof motorcycle shelter with steel metal frame
Ok, we've talked enough about our motorcycles. But what about our precious four-wheelers?
When you go outdoors, won't it be great to have a garage for your car too?
If that's what you need, then ShelterLogic answered your prayers.
Their peak style roof instant garage solves the problem with a 10x15x8-feet frame that offers a big enough space for your ride. Made out of all-steel metal, this 1-3/8 inches thick frame is heavy-duty to offer a stable unit.
That with the addition of the shelterlock stabilizer patented by them that ensures such stability to the tent.
And by the way, the frame got powder coating to make it last a lifetime—no rusting, peeling, or chipping issues whatsoever.
On top of the steel frame, you will use the waterproof sandstone cover. This highly durable, advanced triple-layer cover gets UV-treated to avoid fading. So it not only keeps the water out, it holds its quality for a long time.
Unlike many others, you won't have trouble keeping the cover in its place. Using the ratchet tensioning system, they manage to keep the cover drum tight.
All you need is to do, first, connect the frames, and then fit the fabric to it. That's all.
How long does it take to set up?
ShelterLogic recommends at least 6 hours to set it up with two people working on it.
What's the best feature of the tent?
The tent offers plenty of space. If you don't get enough room in your garage to store another car, then having this portable garage will solve that problem for sure.
6. Mophorn Waterproof Garden Backyard Storage Buildings Sheds
Maybe the TOOCA is too big for you. If so, then the Mophorn might interest you.
This portable motorcycle garage for outdoor got everything you can hope for. For instance, it came with a durable steel frame. Similar to many others, the frame gets a black powder coating to prevent rusting.
And for the shed, you've got an oxford 600D fabric. The material gets stitched with PU adhesive stickers to keep it from leaking. As it is capable of bearing pressure of 12000mm H2O per meter, it works well even in heavy rain.
The mesh ventilation windows on both sides of the tent are what makes it so great in the end. That and the roll-up tie flaps on the sides make the airflow going to make sure the inside of the heat doesn't become a hotbox.
And for security, there is a TSA black code lock gets offered with the tent. So, you can park the bike outdoors without any worry. You can use bolts and the padlock to secure the tent to the ground.
In general, it's a fantastic Heavy Duty Outdoor Motorcycle Shelter Shed that requires no tools to assemble and can be carried around with little hassle.
What's the dimension of the tent?
The tent got a 41″ width, 106″ length, and 61″ height.
What's the unique thing about this tent?
This one got a lock system to ensure when parking your rides outdoors, it remains there secured.
7. Abba Patio Outdoor Storage Shelter
Abba Patio is a portable storage unit with a wide range of sizes. This means that you can get a tent of the right size based on your needs.
Yet that's only one of the many reasons why Abba Patio is an excellent choice.
The sturdy frame being another reason among the many others. Here, you get a 1.5-inch steel frame with metal corner joints that provide a reliable and stable structure for the shed.
Yes, the steel gets powder-coated to prevent corrosion.
But what I liked the most is how the garage canopy fits tight on the frame because of the sidewall design, which extends its stability.
That and the canopy material used for the cover. Abba used the triple-layer, UV treated 240PE to make the shed.
Not only does this heavy-duty polyethylene prevent tearing, but it also prevents UV rays and water from entering.
Then there are the rollup zipper doors. You can simply close it down to make sure nothing gets inside to add the extra level of protection.
What's the dimension of the portable motorcycle garage?
The particular model has a dimension of 6×8 Ft. The larger model of the line is about 10x10Ft.
What's the one thing that stands out to you?
The cover fits perfectly on the frame. It remains tight to ensure the tent looks good while letting no opening for water or dust to creep inside it.
8. Bravindew Storage Tent Bike Storage shed
The Bravindew is one of those space-saving portable motorcycle garage storage that goes unnoticed by many.
But if you take a closer look, you can see, it got everything and more.
Starting with the storage space The 74 x 37.8 x 75.6 inches (WxDxH) gear got a small footprint. Still, it can make room for two bicycles with some room to spare.
And accessing the garage is quite simple. It got a full top and bottom zipper door that makes it easy to seal and open.
In terms of keeping the dust and water out, the UV-treated double cover roof got ripstop vinyl tarpaulin is one of the best in business.
While the durable fiberglass frame gives the stability to withstand the harsh weathers to keep the garage from blowing away.
I like the fact it uses fiberglass instead of steel as the unit becomes quite lightweight.
It takes 8 minutes to set up the tent—no need for tools. And to keep your bike secured, there is a velcro panel at the back to lock it to a fence or pole.
What more do you need?
What's the color of the cover?
What's the best feature of the tent?
For me, it is the fiberglass frame that makes it so great. It is durable enough to keep the tent from blowing away while making the unit lightweight.
9. Quictent Heavy Duty Motorcycle Shelter Shed
To store a single bike, the Quictent bike shed is one of my top picks.
It is a pullover style cover which makes it easy to use. Just pull the frame and the thing will go over to cover the bike.
To make the shelter shed, Quictent used a steel frame and an extra-thick oxford fabric. The frame got a black powder treatment to avoid rusting which makes it perfect to use in any kind of outdoor condition.
The same goes for the fabric, which got a PU coating that ensures it repels water. Plus, it offers UV protection.
However, the cover got moisture-proof mesh ventilation windows to ensure the bike remains dry—no condensation whatsoever.
And to keep your bike secure, there is a TSA lock that comes with the shelter shed. By the way, when you're using it on grounds, you get 4 expansion bolts to securely place the shelter to prevent it from blowing away.
So, see, Quictent thought of everything to make sure your bike or anything stored inside remains safe.
What's the color of the cover?
It comes in only one color: Black.
What's the best feature of the tent shed?
The pullover system frame makes it easy to use.
10. The Bike Shield Motorcycle Cover Shelter Storage Tent Garage
The bike shield is similar to the earlier self-enclosing pull-over garage.
But what makes it more attractive to many is the fact that it got a variety of size ranges to choose from.
So, you can have it in small, medium, or large size based on the storage needed.
That said, the overall features are kinda the same. This one also has a 100% waterproof polyurethane cover. However, the 2000mm H2O/m pressure handling quality of it will make it even more impressive in the heavy rainy conditions than the other. That said, most of the things are quite the same. If you see for yourself, you will find out the cover protects the bike from the UV rays.
Even it has a ventilation system to ensure the inside keeps dry.
So, in terms of quality, there isn't much that separates the two. It is as good as an option if not better.
What's the color of the cover?
It comes with a grey color cover.
What's the top feature that makes people interested in it?
I like the fact that the cover is 100% waterproof. There is no chance of leaking whatsoever.
How to Select a Portable Motorcycle Garage:
The market got many motorcycle portable garages. However, not all of them are worth exploring.
The problem is, you don't know which ones are worth looking at, and which ones aren't.
To help you with that, I've come up with this portable motorcycle shelter buying guide. Take a look and everything will become clear to you.
Material:
The first thing you should look for is the quality of the material.
When it comes to the tent, two things make it.
One is the frame that gives it the structure. The other is the fabric, which goes on the frame to provide the shed.
For the structure of the portable garage, there is none better than steel. It gives rigid stability that can withstand the extreme conditions of the outdoors.
And for the cover, there are materials like polyethylene. They offer you the durability to prevent ripping and tearing to keep the dust out of pilling up on your bikes.
Size:
While choosing the portable motorcycle storage unit, you've got to make sure how much space is enough.
If all you need is to store your bike and a couple of small things, then a small or medium size tent will do the job.
When it comes to storing cars and other heavy equipment, a larger shed might be necessary, such as the ShelterLogic instant garage.
Waterproof:
What good would the tent be if it can't keep the water out?
So, make sure to pick up a portable garage with a waterproof cover.
All the garages on the list ensure that with a waterproof lining of some sort to prevent water from entering.
Easy access:
No doubt, you want to close the tent from all sides to ensure dust, water or sunlight doesn't enter inside.
But that said, you want to make sure, it is easy to get the bike in and out of the tent without wasting a lot of your time.
You don't want to spend 10-15 minutes just to open up the tent to get the bike out from inside. Ideally, the tent should have easily accessible doors with zippers that will allow you to open it in seconds.
Ventilation:
Keeping elements like dirt, water, and debris from getting in the tent is the goal. No doubt there.
You should not have housing that does not even allow air to circulate.
If there is no airflow, then condensation will occur, and the bike and other metal items stored in the tent will rust.
It is why you need to go with tents which allow airflow. Most of the covers today come with mesh windows which work great to promote airflow without letting anything go through it.
Rust-proof:
Metal is prone to rust. So, you need to make sure the frame of your portable garage is ready to avoid it.
For this reason, while making the purchase, you need to ensure the steel frame of your tent got some kind of coating on it that will help it to prevent rusting, corrosion, and even peeling and chipping.
You don't want the structure to become weak and fall with your bike under it. That's the last thing you ever want.
Tips Storing Motorcycle in Shed
Following a few simple steps will ensure that your motorcycle is secured in your shed.
Here they are:
The obvious thing to do is measure the bike and ensure the portable motorcycle garage storage you're getting got the space for it.
If you plan to use it at the parking lot at the front of your house, then you might not need a floor. But if you want to take it outdoors like a place with no solid ground and one with mud and all. Then having a floor will come in handy to keep it clean.
When you plan to use the units at home or outdoors, ensure they come with a bolting down option or permanent tie-downs installed on them. That way they will remain in their position.
Make sure to get a carrying bag with your portable garage so that you can take it with you whenever and wherever you want.
FAQ:
Why do you need to have a motorcycle storage shed?
If you don't want your bike to collect the dust and get drenched in rain, then get a storage shed for it.
Does a motorcycle shed need to be waterproof?
If where you live, it rains a lot, then yes, it needs to be waterproof for sure. Even if it rains rarely, having a waterproof shed will always keep your bike dry and that will prevent it from rusting or getting damaged in any other way.
Are motorcycle storage tents portable?
Yes, they are highly portable as you can detach the tent frame and have it collapsed into a smaller size
How to improve your bike shed's security?
If it got a tie-down system or bolt-down system, then it will not get blown away due to wind, which will make it more secure.
Conclusion
Ok, you've come to the end of the road in your search for the best portable motorcycle garage storage.
Hopefully, you've got what you're looking for by now
The garages listed here have everything you need. From protecting the bike from weather to basic security features to keep the bike from getting stolen. All that and much more gets provided to you by these best motorcycle shelters.
So, why are you waiting for then?
Just make up your mind and get one right away.