Why are you searching for the best summer motorcycle gloves?
Last summer, you went out with your company for the furthest riding you ever made. Just before, you spent a good deal of the budget on a new pair of summer gloves. Those were nice-looking, well-built products from popular brands. For an unknown reason, a huge discount was also offered.
 The later part of the story was upsetting. It happens to be those unsold products from the winter collection. At the end of a sweaty, slippery journey you will find a stinky pair. Meanwhile, the summer sun might have already damaged the product's cold protection system.
During a ride, your hands will continuously transfer the shocks and vibrations from the bike handle to your shoulder socket. That might give you fatigue and unstable bone fluid. In lack of aeration, your palms will become sweaty. Lacking proper padding and protection, your hands might get injured during an accident.
To overcome such technical problems and ensure a comfortable, safe ride, you should consider a few issues. In this article, we shall guide you to find out the best summer riding gloves.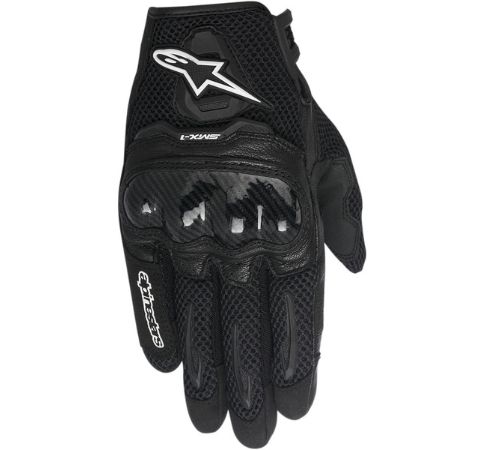 Alpinestars SMX-1 Air Motorcycle Gloves
For the best pick, we have chosen the Alpinestars SMX-1 Air model. Good protective quality, maximum breathability, and super strong protection rated this product as the best pick from our list.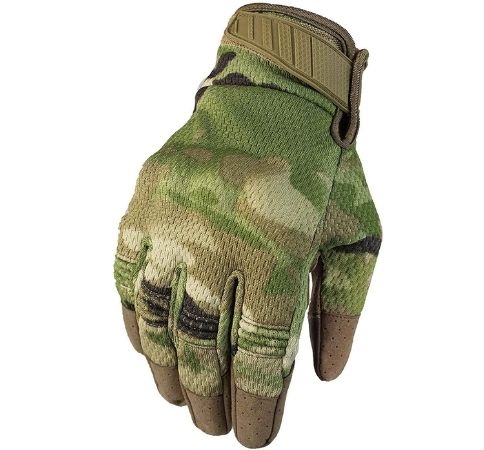 Fuyuanda Motorcycle Gloves
It is not easy to select the best one, while every product has its specialty. Finally, we have chosen Fuyuanda camouflage/stealth-designed gloves pairs. High breathability and all the necessary features are available at a low price. But remember, your choice happens to be different from ours.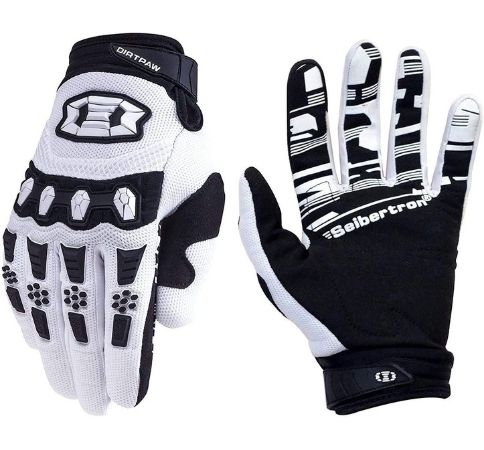 Seibertron Dirtpaw Motorcycle Gloves
Quite a few brands are available at the lowest possible price. On average, they cost around 10 dollars. But every manufacturer doesn't maintain the same quality standard. We've found the Seibertron motorcycle gloves are the best budget pick compared to other products of the same price. 
10 Best Summer Motorcycle Gloves Quick Comparison Table
A quick glance at the key comparative features of the best summer riding gloves in the market:
Don't Miss Out! Get the Best Summer Motorcycle Gloves to Keep Your Hands Safe and Cool
We have already shown you the best summer motorcycle gloves in the market. But that was only for basic understanding. To accomplish a perfect summer ride you need deeper knowledge about your gears.
Hopefully the following reviews for the 10 best hot weather motorcycle gloves will help you to realize the quality, price, and materials of current market products.
1. CHCYCLE Motorcycle Gloves
CHCYCLE presents an attractive pair of sporty-looking hot weather motorcycle gloves to the market. An ergonomically beautiful design blended with fabric and plastic rubber polymers. On every part of the construction, the brand puts their signs of attempts for perfection.
Fiber-made stranded mesh layer makes the primary surface of the gloves. Air-mesh is a highly breathable material that ensures optimum aeration inside the gloves.
Thickened and polished rubber pads molded in the resin injection process. These super hard, flexible pads will protect your knuckle and finger joints from hard impacts.
All the palm areas are spotted with 3D plastic dots, which helps a jaw gripped control. An anti-abrasive plastic pad stitched above the cuff works as a hardened palm protector.
Foaming on the finger sidewalls provides comfort and vibration absorbance at the same time.
You can easily own it for minimum cost if you own a racing, mountain, or dart bike. It's a super-usable sporting bike gear. Though after extensive using the touch screen compatibility might reduce a bit. But your gloves will look as new at the end of the season. 
Which sizes and colors are available?
CHCYCLE Company produced Eight different sizes of gloves of three different variants. It is our suggestion, choose one size larger than the size we will show in our hand size calculation part. 
2. KEMIMOTO MOTORCYCLE GLOVES
Famous motorcycle accessory brand Kemimoto featured their style of hot weather motorcycle gloves. It is a classic and reliable design with special safety upgrades.
Carbon fiber-made, strong but ultra-light knuckle guard will protect against hard impact in case of an accident. The overall structure is perforated neoprene and PU-mesh fabric layers. The inner surfaces are coated by a foam sheet with strategic openings for aeration.
The Palm area is covered with an SBR sheet. Coated cotton pads are stitched on the hypothenar and lower palm area. All of these perform together for better grip control, higher anti-shock, and vibration resistance capability.
Both the thumb and index finger are compatible with touch screens. Such a feature will allow you to use the navigation on your device without removing the gloves.
Komimoto brings a perfect pair of summer gloves for a sunshiny day. Comfortable, breathable mesh will keep your hands dry on an inter-state journey. With improvised protective measures, it will be your reliable gear for summer.
Which sizes and colors are available?
Komimoto comes with three different sizes of gloves, which are medium, large, and extra-large respectively. So, it will not be fit for children.
The featured model is available only in black color.
3. Milwaukee Leather Motorcycle Gloves
Milwaukee leather put forward their premium quality summer gloves. Original cowhide leather in night color is available at an unbelievably low price. No graphics, paintings create a smooth, attractive design for people with personalities.
Milwaukee leather pair is super durable. After riding thousands of miles, the gloves will only become more comfortable. Without friction or accidental abrasions, no leather deformity will occur just with little season caring.
Anti-slip silicone gel pads also work as a vibration absorber. With touch screen feature on fingers will help you to reach your destination through navigation.   
Because of the high water resistance, Milwaukee leather gloves will be your best hand protector on a rainy day. Skintight strap wrist closure makes it fit and more impermeable to water.
In mild conditions, it could be your best summer riding gloves. For water-resistance ability, we shall suggest you keep it as a spare for most of the year.
Which sizes and colors are available?
Milwaukee Leather produces their summer gloves black only.
However, the manufacturer offers a great range of sizes. Seven different sizes start from x-small and are available big enough to size 3XL.  
4. Alpinestars SMX-1 Air v2 Motorcycle Gloves
Alpinestars is a famous brand for sports gear. In the market, they compete with expensive gloves brands. But it's good news that they launched a few summer riding gloves at an affordable price. For some features, this product can be rated as the best summer motorcycle gloves.
Alpinestars SMX-1 Air v2 will give you the feeling of both premium quality leather and fine-textured, high-quality mesh fabric. Perforated leather with breathable fabric will let you drive with dry, easy hands.
Alpinestars have a specialty in gloves knuckle protection. SMX-1 Air v2 also featured synthetic polymer-made stone-hard knuckle protectors. The inner sealed pads on the palm areas will give you a vibration-free ride.
Touch screen compatibility on the thumb and index finger. That will allow you to navigate on your mobile without removing the gloves at emergency roadside standings.
If you have a little more money to spend and you want comfort, style, and quality in the same product, then you should go for it. Alpinestars is always a brand name for the collection.
Which sizes and colors are available?
Alpinestars SMX-1 Air v2 has the basic black structure. Upon that, black and white leather combined with red and fluorescent yellow logos makes four different colors to choose from.
Every sample comes in six different sizes. The smallest size is S, the largest one size is 3XL.
5. Alpinestars SMX-1 Air Motorcycle Gloves
The main difference between our previous Alpinestars and this one is mostly the outlook. The leather from the back is replaced with more high-quality air-mesh fabrics. A little leathery patch might be gone, but the aeration will increase significantly. During the extreme hot conditions, Alpinestars SMX-1 Air will be your best summer riding gloves for sure.
Goatskin-made palm surface is reinforced with anti-shock materials. EVA foam inside gloves reduces the vibration. A carbon-fiber knuckle protector will give you both lightness and better protection. 
Pre-designed curved fingers will allow you to bend fingers around the grip without any force. As usual, touch screen finger features like the previous one this pair will also become handy on a long ride.  
If you are sure there is no chance of rain, then it's a superior choice. Its breathability, lightness will give you comfort all through the ride.
Which sizes and colors are available?
Alpinestars SMX-1 Air Motorcycle Gloves are available only in black.
But these breathing gloves are available in six sizes, from the small size S to the large up to sizes 3XL.
6. SCOYCO Motorcycle Gloves MC29
SCOYCO ltd brings you tons of gears, accessories, and other sports stuff. But they present all those lucrative products at the minimum possible price. Their summer motorcycle gloves are a rare piece that features almost everything at such a low cost. And, this is the main reason for it to be on the list for the best summer motorcycle gloves.
3D synthetic fiber air-mesh passes a lot of air into it. All the finger joints, backhand, and knuckle are protected by ergonomically molded hard plastic. Non-slip small plastic jaws over the palm area make the grip balance stronger.   
Such a unique look product is also featured with touch screen finger compatibility at such a low price.
You need it because it is not only cheap, but also it has almost everything you need. You can afford it anytime, and the pair is durable too. Maybe it will be your best cost-saving decision for the summer.
Which sizes and colors are available?
SCOYCO gloves are designed with four color variations; black, blue, green, and red for summer style. It is available in three different sizes; medium, large and extra-large.
7. Protect the king Motorcycle Gloves 'VENTURE'
Protect the king is a renowned brand for motorcycle gloves and other accessories. An attractive combination of premium quality leather and breathable air mesh fabric made this design. 
A strong, plastic molded knuckle guard would protect your knuckle from blunt impacts. A thick rubber pad under the protector absorbs the hit and protects skin and bone tissues.
Pre-curved fingers will let you grip easily. Palm surface area reinforced with non-abrasive pads. Strategic padding in the stretches absorbs vibration and drives away fatigue and pains.
Protect the king features the best touch screen technologies for their products. They launched 'Golden touch' technology, which supports long-lasting, precise touch screen compatibility.
The upgraded touch-screen feature made it one of the best summer motorcycle gloves in many rankings.
PTK gloves are durable and reliable for your summer-long rides. Standard safety features and quality leather-mesh construction makes the pair very desirable at such a low price.
If you take frequent short pauses on your journeys, then you should pick this model for using a touch-screen without removing gloves.
Which sizes and colors are available?
Protect the king gloves are found in two different colors, full black and black-silver combination. Both colors are available in five different sizes, starting from the small one S to the largest 2X size.
8. Fuyuanda Motorcycle Gloves
Fuyuanda Co ltd brings you a set of unique design hot weather motorcycle gloves. Camouflage, stealth designs are suitable for adventures or jungle riding. If you can't find any match for a customized bike, these gloves might be a similar choice.
3D Layers of air mesh provide maximum air for hands to keep dry. Knuckle protector situated under the mesh makes a smooth design and protects from impacts. The Palm area is covered with a rugged microfiber sheet, which gives a leathery outlook.
Shock, skid, and wear-resistance palm feature developed by PU pad reinforced over mid-palm part.
Both index and thumb fingers consist of precise touch screen compatibility.
Beautiful camouflaged outlook,extra protection, and non-slip material make this brand a desirable one. And available at a minimum cost made it attractive to the riders. If you are on an adventure or riding over rough terrains, these gloves will perfectly go with them. For maximum comfort and every other thing, it can easily be your best summer motorcycle gloves.
Which sizes and colors are available?
Fuyuanda brought three camouflaged designs and three stealth look designs for adventure-loving riders.
All the samples are available in Medium, large and extra-large sizes. 
9. Superbike Motorcycle Gloves (G-11)
A charming pair of half-finger leather gloves are perfect for riding on a hot summer day. Skin fit perforated leather with open fingers assembles the best summer riding gloves.
Molded hard plastics are placed under the leather skin work as knuckle and finger protectors. The additional leather patch is stitched over the palm surface for absorbing excessive shocks and vibrations.
Leather tips are a little extended upon the middle and third fingers. It helps to pull the gloves easily and remove them from hands without forceful, leather damaging attempts.
Both gloves can be kept securely by button joining together. The chance of missing one will be reduced if they remain in a pair.
Superbike's half-finger gloves are mainly featured for breathability. Besides, this superbike model assembles other safety, anti-shock attributes. And the original goatskin leather gloves are available at an unbelievably cheapest price. So, you shouldn't have one!
Which sizes and colors are available?
Superbike's hot weather motorcycle gloves are made out of black leather only. Five different sizes starting from small to 2XL sizes are available for this product.
10. Seibertron Motorcycle Glove
Seibertron Company has designed the best summer motorcycle gloves for customers. The products are available at a very low price. It has an outstanding unique design. High-quality summer gloves with fiber mesh fabrics and 30% synthetic leather made this good-looking combination.
Both knuckle protectors and logos are molded through inject process. It gives a stone solid structure for the materials. Besides their ergonomic design, they protect the backhand well.
Anti-slip silicone coating and padded sponge give better grip and smooth shock absorbance ability. Pre-curved fingers are featured with a touch screen feature.   
You need a pair of Seibertron gloves because of the design, quality, and price. The product's mesh and the synthetic leather quality are much higher than the price range. We've chosen it as our best budget pick.
Which sizes and colors are available?
Seibertron represents their gloves in three stylish colors; white, black, and red.
Each color sample will be found in six different sizes from two size categories; adult and youth.
While the adults have sizes from Extra-small to XXL, and the youth's sizes start from Extra-small to XL, with an extra medium size in between.     
A Complete Buying Guide for the best summer motorcycle gloves
The above summer gloves reviews would provide you with a clear market view. You can easily see how different brands come up with their specifications. Improvised designs and materials enhance the performances of various key features. Each brand did its R&D and introduced its innovations to the customers.
Finally, it's your ride, your track, and ultimately your hands at the steering end. So, you shall decide on your best summer riding gloves. Almost every company applies its updated touch screen glove techs. But you must be more focused upon the basic needs. Which has comfort, durability, breathability, shock absorbance, etc. Read more about cold weather motorcycle gloves.
Materials: Will it be leather or mesh fabric?
Be sure of your requirements first. Examine your possible summer tracks, check the travel time day or night, and finally know your local environment. For example, even in the summertime, the windy mountain routes will become cold after the sunset.
Maximum Aeration:
Maximum ventilation is mandatory for usual hot weather motorcycle gloves. Multiple layers of Air-mesh fabric net are the best possible solution for breathability and integrity at the same time. Perforated leather could be the second-best choice with higher durability.  
Impact resistance:
Gloves are a vital component of 'Safety First' riding. You need maximum protection for your fists in case of an accident. Those can be either made of molded solid materials or carbon fibers.
Anti-slip:
The better slip resistance will let you control your biker more easily. Rugged leather or similar synthetic materials have good slip resistance. Dotted lines of flexible plastics like the CHCYCLE brand are also preferable. 
Shock Absorbance:
If there is no shock absorber in your gloves, the shocks and vibration from the handlebar will make you fatigued on a long ride. Reinforcement by rubber, leather, or fiber will absorb much of the vibrations. In our list, the Milwaukee brand introduced the leather sealed Gel pad technology. 
Padding inside:
Strategic padding with soft rubber or foam sheet inside makes the gloves fitted and comfortable. It will keep your hands relaxed and pain-free by resisting the vibration.
Touch Screen:
Sometimes, you need to navigate on your mobile in a quick break. Or might emergency parked on the roadside. In such a case, removing and re-wear is a troublesome process. A good touch screen capability would be a nice feature. Our listed brand 'Protect the King' developed their 'Golden Touch' tech to respond better on the touch screen.
Perfect size:
Before ordering, please be sure about your hand size. We shall provide you with the guideline to measure your hand size. You better order one size bigger than the result you found.
Suitable Color:
Most brands offer multiple colors. You can choose it matching with your bike or other gear. Fuyuanda Co comes with various camouflage and single-color stealth designs. 
Easy Repairable:
After heavy-duty, gloves might need some repairing at the season end. Though all of the listed brands left no lacking on their stitching, one or two threads might crack. If you don't want a replacement and if you are handy with the tools, you better choose the gloves stitched outside.
As per mentioned guideline, you will be able to find out your best summer motorcycle gloves
How to measure your hand size
Rather than being confused on 'which size should I order?', you better measure your own hand size. Take a tap, and measure the circumference of your hand. The tap will pass between the thumb and index finger while measuring. 
Now find out your hand size by matching with inches you got for your hand. We again suggest you purchase one size bigger than your measured hand size. 
XS-7 inches, S-8 inches, M-9 inches, L-10 inches, XL-11 inches, XXL-12 inches
Why spare is another name for safety?
You might have already realized how summer weather can influence your style. If the gloves aren't water-resistant, you better not wear them during rain.
If somehow the non-resistant gloves are soaked by rain, and you don't have dry one anywhere. Then you might need to cancel your journey further. Driving with wet hands is very risky. So, keeping a pair of water-resistant leather gloves will be a great savior by then.
If you ride a mountain or dirt bike, always keep an extra pair of hard-knuckled, hot weather motorcycle gloves.
Where to buy it?
If you go around shopping, you will find the gloves sections in the sports accessories department of super shops. But unfortunately, you will find our listed gloves very expensive there.
So, to obtain it at the best price, you have to purchase it directly from manufacturers online. Only they can offer a hole-sale price. All the products are available at famous online market platforms like; Amazon, E-bay, u-buy, etc.   
Which one is more durable, leather or mesh layer?
Leather is more durable than fabric in nature. But multilayer mesh fabric is strong as leather. Without brute friction and abrasion, mesh gloves can last long as leather ones.  
Which size should I order?
You should order one size bigger than your measured hand size. It will help to avoid extra tightness and discomfort. Most of the previous users of our listed brands found this way very effective.
Can I wear these gloves in winter?
Our selected products can also keep your hands warm until 60 degrees Fahrenheit. Which can maximumly protect until late autumn?
Is there any return policy?
Yes. Every company has its return policy within a 30-60 days time frame.
Does any material cause skin problems?
The materials in these products are also used to make a lot of other daily products. These are very safe, non-reactive polymers or leathers. So far, no such complaint has been dropped by any of these product users. If you feel any problem, you can return it to the seller.
A perfect summer is the best way for reincarnation. What isn't available on nature's summer offer list? For so many, riding on a bike from coast to coast is the most desired opportunity. Mostly summer will put no limit on your destination. But you should never forget, summer comes with the scorching sunlight and rains too.     
For a comfortable and uninterrupted, long journey, you must choose the most suitable gears for the track. Apart from others, gloves are not only safety gear. It also needs to be fully functional and operable at the same time.
Hope our guidelines will help you to find out the suitable products for the perfect summer. If you could pick the best summer motorcycle gloves for you, that will ensure your safety, time, and money.