People often pick up their phones while riding a bike to make calls or find a location in the GPS. Considering the risks involved, that's never an ideal option.
Many people continue to engage in this behavior. Luckily, thanks to phone mounts, that number has gone down. Perhaps you should join the team seeking a phone mount.
But why get any ordinary mount when you can have the best motorcycle phone mount with a wireless charger. That's right,  a phone holder that can even charge your phone.
Now, that's exciting.
If you're curious, you might want to check out the article below.
Here are the three best mounts according to the following categories.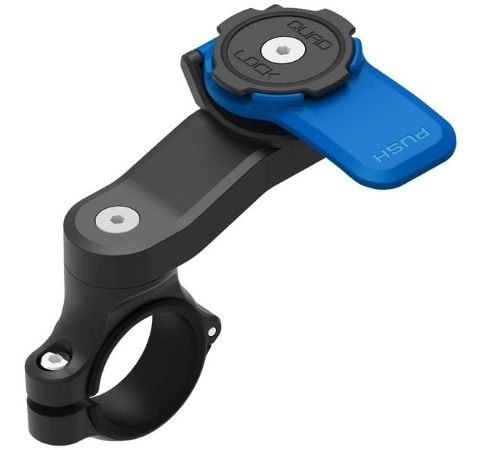 Quad Lock motorcycle mount
Hands down it has to be the Quad. The ease of installation, the secure attachment, and those additional vibration dampeners really make it worth having on your bike. You can have your phone attached to the thing without worrying for a second it might slip out of it. It's that reliable.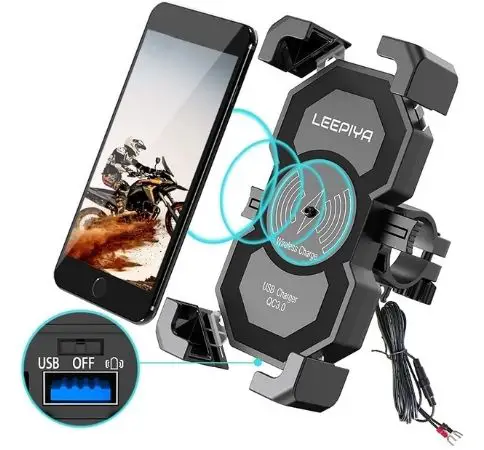 Leepiya Universal Phone Holder
The Leepia with its wireless charging system wins me over. You can now have your phone or GPS mounted right in front of the handlebar while having it getting charged. It got both wireless and USB port charging options for the users to benefit from it.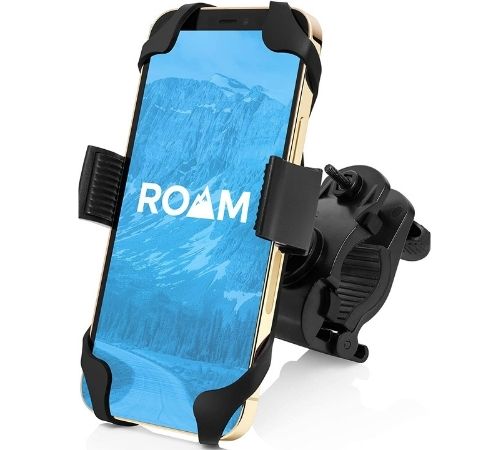 Roam Co-Pilot Handlebar phone mount
There were a couple of options. But I had to go with the Roam Co-pilot. Made out of durable silicone, it offers exceptional grip to keep it placed on the mount at all times. Plus, the 360° rotation clamp makes it easy for you to have the right viewing angle using it.
Quick Comparison: Top 10 Best Motorcycle Phone Mount
10 Best Motorcycle Phone Mount with Wireless charger
Take a look at some of the best phone mounts with wireless chargers right below. There are also some without the charging option if you don't care about them. Just check them out.
1. Bovon Premium Silicone waterproof motorcycle phone mount
From the other motorcycle phone holders, the Bovon is by far more superior. This holder is not made from cheap plastic like most others. So, that's already an improvement over most such accessories.
They're scratch magnets, that's why. Bovon, meanwhile, makes its mold using a soft silicone that does not scratch.
Nevertheless, it is how steady it stays on the bike that matters the most. And even in this department, it even passes with flying colors. Thanks to its adjustable, full bundled holder design, it keeps it firm—no shaking. On top of that, the silicon belt makes for easy installation. Bovon says it will feel like putting on a wristwatch. And from what's been experienced, I can't agree anymore. It can be mounted on any handlebar in an instance.
Plus, it moves full 360°, so you can keep the phone at any angle you like. By the way, you don't have to worry about fitting your phone on the holder. The silicon used to make it is so flexible that it can hold any device between 4.0″ to 6.7″ with ease.
Can it mount large Samsung smartphones?
Yes, it is suitable to hold the latest Samsung series smartphones alongside devices from other brands.
What's the feature that stands out from the rest?
To my surprise, it takes in shock very well and keeps the devices mounted on it super steady.
2. Roam Off-road motorcycle phone mount
Other than a sportbike, you can fit the Roam phone mount on any small and large handlebars. That's why it's universal.
That and the ability to fit any cell that's up to 3.5″ wide. You can still check the sizing guide to be sure.
Now let's talk about the mount. Like the earlier one, it also uses silicon to build the holder. This means it will last for a long time. It won't break or crack. And this one holds its structure even in extreme conditions.
The other benefit of having a top silicone motorcycle phone mount is that it stretches. The case can stretch five times its size to fit almost all the phones.
To keep mobile devices safe, the Roam features two contact points. That's not all. It uses a premium quality grip made out of hard plastic that goes on the handlebar. So, it remains steady too. Besides, it comes with a silicone net that tightly holds the phone from all sides, preventing it from falling out of the holder.
You don't have to worry about it fitting on the ride's handlebar. Its clamp will fit any size bar. As for rotation, yes, it offers full 360-degree rotation. So, you can place the phone on the mount at any angle.
Can you use it on a mountain bike?
Yes, you can use it on a mountain bike as well as most rides except the sportbike.
What's the feature that makes it special?
The phone holder got a secure grip. It got silicone net on all corners to ensure the phone doesn't slip out of it. While riding on off-road, that gives you more confidence to roam around your phone mounted to the Roam.
3. LamiCall motorcycle phone mount for harley davidson
Some phone holders might not suit off-roading. Not the Lamicall one. Your device will grip tightly to the holder to keep it steady even on the bumpiest track.
Even before getting into more detail, I would want to add one thing, it's super easy to use. The holder latches on your phone from the top and bottoms tight. With just one hand, you can remove your phone or place it there.
No need to worry about the device falling out. The grip is super tight. Even without the lock. And when you switch on the rear lock, it is even more secure.
Now, as mentioned earlier, this one is perfect to use with your off-roading vehicle. That's because it got silicone pads that help to absorb the vibration to keep the phone from shaking.
Plus, silicone helps it prevent those scratches. Like any other best cell phone holder for off-road, the holder also allows it to adjust angles. So, vertical or horizontal, you can have it mounted the way you prefer.
In terms of installation, I would say it is one of the easiest. No tools are needed to mount it on. With those extra four silicone pads, you can fit it on any diameter handlebar with ease. So, it is perfect to use on a wide variety of rides or your shopping cart.
The only complaint I have is with the extending bar at the back that somewhat obstructs the rear camera view. If you plan to video yourself riding on the bike, it would be a problem.
Can you mount your phone with the phone case on?
Yes, you can. It will allow a device thickness of 15mm with the case.
What's the best feature of the phone holder?
Its ease of installation is by far its most attractive feature. You do not have to fiddle with tools to get it installed, unlike others.
4. Boyimu Smartphone Holder Mount
Boyimu phone mounts are among the most innovative phone holders. The gear is filled with features that are smart and useful.
Beginning with a 360° rotational joint that enables the phone to be mounted at any angle. But that's not a new concept. The majority of phone holders nowadays allow this.
However, its clamp knob secure system is something you might witness for the first time. It too rotates 360°, like the joint. Using it, you can tighten or lose the phone holder on the bike to ensure it remains firm and stable.
But the most brilliant part of the holder is the charging port built into the mount. With the holder, you will get a  5V 2A charging port. Using your charger cable there, you can have your device charging while you ride the bike. That's something the users can benefit from for sure.
And for holding your phone, the Boyimu offers an X-type grip alongside the four brackets. Rubber bands wrap around the device's four corners to hold it in place. Unlike cheap mounts, they won't cause your phone to wear.
All things considered, this is a good deal.
What's the material used to make the phone holder?
This best motorcycle GPS mount got made using rubber material.
What is the most notable feature?
My favorite feature is the charging port. With the charging holder, you can charge your phone while you ride the bike.
5. TiaKia motorcycle gps mount
Taking things to the next level is the TiaKia bike phone mount. And this is evident by the 0% drop rate of the gear. The flawless double fixation design of TiaKia is the sole reason behind this.
Here, the phone gets secured from both left and right sides with the telescopic arm clamp. Meanwhile, a mechanical lock secures the smartphone to the holder from the back. But there is more. For that 0% drop rate, silicone corners are added to all four corners to keep your device from slipping out of the frame.
All that doesn't get in your way in any way. There won't be any inconvenience like obstruction of view whether on the screen or back of the rear camera. You can take calls, go through GPS to find the location, or have that awesome riding montage through the rear camera of your phone. Plus, using the mounting bracket, you have better viewing angles with the phone since the mount rotates 360 degrees.
Assembling it is easy as well. All it takes is just 3-seconds to have it fixed or removed. Even its build quality is top-notch. Made out of 6063-T6 aluminum alloy, the phone holder is as twice hard and more durable than most such gears.
And to my surprise, the phone holder doesn't let your device shake much either. The stainless steel screws connected to the bracket truly keep it stable, even riding through the off-road tracks.
Is it suitable for use on the treadmill?
Yes, besides having it on your bike, you can have it installed on your treadmill too.
What's the one quality that makes it better than others?
The phone holder doesn't get faded. Thanks to the anodized surface, it retains the color and looks like new for a long time.
6. Leepiya motorcycle phone mount with wireless charger
If the Boyimu's charging port phone holder got you all excited, then wait until you see the Leepiya.
As you can guess, this best cell phone holder for a motorcycle can charge your phone. But there is no need for cables here. If your phone supports wireless charging, you can benefit from the 15W Qi wireless charging of the bike mount system.
For others, there is a QC 3.0 USB to use. If you don't need charging, you can turn it off.
Other than the charging option, the secure hold of it impresses me the most. It got rubber and foam pads that offer grip to keep the phone from sleeping out of the holder. The 4-high clamp arms at the corners tightly hold the smartphone on the mount. Besides, it helps to reduce the shocks to keep the holder and your phone stable.
But above all, the fact that the holder clamps don't leave any scratch damage is something to be appreciated.
What diameter handle does it fit on?
You can have it fitted on any handlebar with a diameter of 0.7 to 1.3 inches.
What's the standout feature of the mount?
Hands down it is its wireless charging.
Another quick-charging phone mount makes the list. This time it is coming from Twinto.
Similar to the earlier model, this one also provides wireless charging to the users. The one thing that I loved, it got a LED indicator on it that makes it clear when it is charging and when it's not.
Even the universality of it is something I enjoyed. Any phone within the 4.7 to 7.5 inches range would fit right on it.
The build quality doesn't leave you wanting for more either. Its aluminum alloy takes on the bumpiest of the road. Meantime, the drop resistance net makes sure to have your phone securely attached to the holder at all times.
That said, one of the most attractive features of it is its charging capability. With this bike mount, you will have fast wireless charging. The users can also charge their devices with a USB port. If you are not using it to charge the phone, you can simply turn it off using the power off switch. That way you can ensure the battery from get damaged.
And like any great phone holder, it got a 360° rotation to allow you to have your phone at the optimum viewing angle.
Does it obstruct the rear camera view?
Not at all. Front or rear, no view gets obstructed by the mounting frame.
What's the one feature that makes it special?
There are a couple. Wireless charging is the obvious one. That aside, the durable aluminum alloy build also will have a lasting impression on you.
8. Quad Lock anti vibration motorcycle phone mount
From Quad comes one of the easiest and more reliable motorcycle phone holders. There is no frame or anything. All you have here is a secure dual-stage lock from Quad that holds your device without letting it slip.
And they make that possible with a bit of ingenuity. The mount lock attaches to a specially designed phone case. As a result, it can be attached easily and detached easily from the mount.
To make the mounting system even more effective, Quad offers a vibration dampener. That's not included with the deal. But I would suggest going for it.
With that damper in place, you will see 90% less vibration caused by those engine rumbling. By using precision grommets along with the dual chassis suspension, the mount manages to absorb a lot of the impacts to offer you better stability.
Even without that, the Quad mount system on its own is too good to pass up.
Does it have separate phone cases for iPhone and Samsung?
Yes. You will get different phone cases depending on your device.
What's the best feature of the lot?
For me, it will be the easy attachment and detachment system of the mount. You can operate the thing using just one hand. That's neat.
9. caw.car universal motorcycle phone mount
This out and out universal mount, as they like to say it is perfect for most bikes. It fits on all handlebars from 0.2 to 1.6 inches.
And like most other ones on the list, it got a great grip system for the phone. There is a simple, adjustable rubber grip that secures the phone from all four corners.
That and the 360° rotational mount makes for the best combination as you can have the device angled anyway. No chance of the phone dropping out of it.
But the one thing that impressed me the most is how well it tackles the shocks. The rubberized clip along with the silicone belt keeps the phone stable even while riding through bumpy tracks.
Besides that, the mount doesn't get in the way of your phone screen, buttons or camera is another thing for which you will like it even more.
Does it require tools to install?
No, you won't need tools to install it.
What's the best feature of it?
The adjustable grip really makes it easy to have fit a wide variety of smartphones on the mount.
10. CAW.CAR sportbike motorcycle phone mount
Most phone holders obstruct the screen or the side buttons on the phone. Not this one. It got a top and bottom mounting grip that keeps it from getting in the way.
That with its incredible handlebar clip that helps to reduce shock makes for a deadly combo. There is no more trembling when you use the mount.
No matter what bike you've got, this one will go on any tubular bar without any problem.
I love the fact the slings on the mount stretch quite well. It will allow holding large phones with cases on with ease.
That 360° rotation and tilt system allows for a mounting system that has your phone set up on the handlebar just the way you want. Still, if that's not enough to make you happy, you can always get a refund back from them.
That tells you about its quality.
Does it have a charging port?
No, it doesn't offer any charging option.
What's the one feature that stands out?
Its fitting is one of its key selling points. No matter what size handlebar you got, the mount latches on to it with ease.
Heavy Duty motorcycle phone mount Buying Guide
A bunch of things should be on your checklist to ensure you're getting the best motorcycle phone mount with wireless charger. Wireless charging is the obvious one. But there are other things aside from that. The following buying guide might help you learn more about them.
Compatibility:
First and foremost, make sure the phone holder you choose works with your phone. If it doesn't fit the phone, there is no reason to have it.
Besides having a compatible mount for the device, you should also make sure it fits your handlebar.
Grip:
The grip is what makes or breaks the game. If it can't hold the device firmly and let it slip out of it, then the mount is of no good. For the best grip, consider having rubber or those solid aluminum alloy side clamps. Both of those will hold your phone securely so that it does not fall out. Finally, the clamps or grip should not be too tight as they might leave scratches all over the device.
Waterproof:
You never know what the weather has in store for you until you experience it. You can have a beautiful, sunny day and suddenly it starts to rain. Keeping that in mind, you should always opt for mounting systems that can withstand all weather conditions. Neither the rain nor the scorching heat should cause your mount to become slippery or loose, which would compromise the grip.
Easy mounting:
Even if the grip is excellent, it is useless if mounting or removing your phone on the holder is difficult. You shouldn't have to struggle to complete this simple task. It should also be easy for you to do so with just one hand. Take the quad lock motorcycle mount review for example. Mounting or removing your phone on it can't be any much simpler than that.
Shock absorption:
When you're riding on the bumpy roads through the wild terrains, the mount might tremble like crazy. Not if the one you've got has effective shock absorption. Then even with terrible riding conditions, the phone holder will make sure the device doesn't shake a lot to ensure you get a clear view of it.
360° rotation:
Having your device mounted on the right angle is something that might be different for every rider. Therefore, having the luxury of a 360° mounting system will come to your rescue as you can have it set up the way you want.
Others:
Besides the above ones, other factors should be on your agenda. For instance, the material used to make the phone holder should be on your priority list. The choice of material would tell how long it will last. Other than that, a great, secure clamping system on the handlebar is something that should be on your checklist. In addition to all that, if you can get charging features wireless or cable, that would be an added bonus.
Benefits of Motorcycle Phone Mounts
There are a lot of benefits of using a motorcycle phone mount. If you're not aware of them, then this is something you might want to take a look into for sure.
Hands-free operation:
You don't want to stop and take out your phone to see where you're going when you're on the road. And in no way do you want to do that while riding. That's where the mount comes in handy as you can have the phone right in front of your view without ever needing to use your hands.
Secure:
Using a phone mount will ensure to have your device safely placed on the holder. In no way, it will fall out of it, unlike you trying to get it out of your pocket while riding the bike.
Shock absorbing:
On those bumpy tracks, the mount will absorb most of the shock to keep your device all still.
Right angle:
You can have your mobile at any viewing angle you like. Only with a mount installed on the handlebar that's possible.
How do I adjust a universal mount to hold my phone?
Use the clamps to tighten the mount on the phone to have it securely placed. It should be tight, but not too tight that might damage the device.
What is the best motorcycle phone mount?
All the accessories here are great. But I love the Quad for its exceptional secure hold.
How do I install my phone mount?
Most mounts today require no tools to install. Just put the clamp on the handlebar and tighten it to have it installed.
What is the best mobile holder for a Royal Enfield?
You can go and get the Quad for your Royal Enfield.
Conclusion
There you have it. You've got the best motorcycle phone mount with a wireless charger. All the options here are all different from each other with only having one thing in common. That is, all of them have superior quality to offer.
So, take your time, go through them again, and pick anyone you feel happy with. Whichever you pick, there is no way you can go wrong here.