To have fun on two-wheelers, there are none better than dirt bikes. But you sometimes feel like they're just meant for the trails, not for the street.
But that thought of yours will change after looking at the Apollo 250cc dirt bike review.
Like any other dirt bike, they got that shock-absorbing suspension, tires that bite into the unreliable surface, and acceleration to move fast in a flash.
However, not just on the mountain terrains, you can get to enjoy this on any road in the world which changes the game.
Getting interested?
Then take some time and go through the review of this street legal Apollo 250cc dirt bike.
Apollo 250cc dirt bike full specifications
What's waiting for you with the AGB-36 dirt bike is a 250cc, single-cylinder, 4-stroke engine. It's a beast of a motor that can move at 115 km/h.
That can turn the heat up inside the engine real fast, but thankfully it got the air-cooling technology in place to keep things in check.
Besides those numbers, the other thing that interests the rider the most is the bike's torque. It won't fail to impress you as it offers a 17.5 / 5500 Nm /(r/min). You might be thinking why having high torque is so crucial. It matters because you can get quick acceleration at any speed. And that's what this piece of a 4-stroke engine is famous for.
On top of all that, the bike provides 440 pounds of weight capacity. So, it is perfect to ride for most riders. Not to forget the fact the 8L fuel tank lets you drive it for real long unlike other dirt rides.
Ok, you've got to know about what the 250cc Apollo AGB-36 dirt bike has to offer a bit. But now, let's take some time and go through some of its key features that will help you get more insight into the enduro.
So, if you're ready, then let's get this enduro review of the Apollo 250 going.
Apollo AGB 36 250cc dirt bike specification:
Engine: 4-stroke.
Displacement: 250cc.
Cylinder: Single.
Cooling system: Air-cooling.
Bore Stroke: 67mm x 65mm.
Ground clearance: 11″
Tires: 80/100-21 (front) and 110/90-18 (rear)
Suspension: Front and rear.
Starter: Electric and Kick-start.
Seat height: 36.6″
Fuel capacity: 8L.
Max speed: 115 km/h.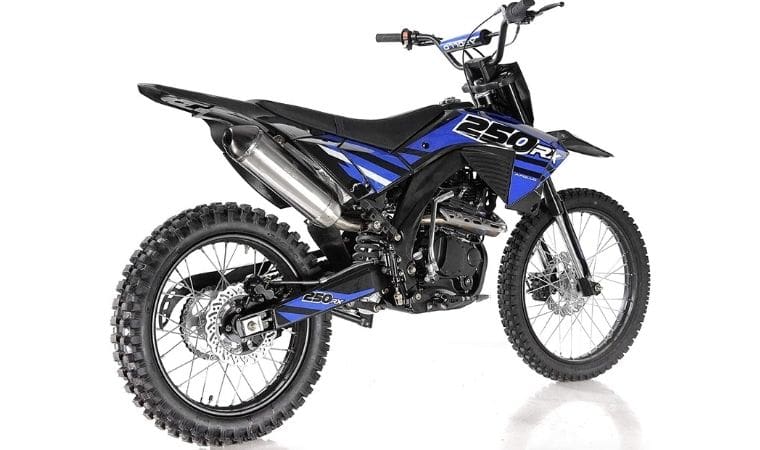 Why will you like this product?
Design:
Before indulging in the obvious questions, let's first look at the bike's design. And my gosh, how good this bike looks. Whether it's the color, the material, or the cut out of the frame, everything comes together to create a piece of art.
You see a colorful frame in front of you with red, blue, white, and black. That 250RX logo at the body pops out and looks fabulous. But it is the glossy texture of the dark black color that is the true essence of the ride.
No doubt it looks good, but how good it is while shaking off the impacts from crashes. Not bad at all. The aluminum frame can endure the collisions; you've got to give it that. But that doesn't describe the beauty of the chassis on the bike. This one is so lightweight that you get superb control while handling it. You feel like the bike is a part of you, and that's the highest compliment you can give to any ride.
Engine:
That's the part that you're most excited about:
The engine.
You've already got a peek at what the enduro sportsman 250 motorcycle from Apollo got encased inside that frame.
It's a 250cc engine that is 4-stroke, single-cylinder with an air-cooled system in place. So, one thing for sure, you can expect from it is reliability and stability.
Yes, there are more moving parts involved with the 4-stroke motor here. When it comes to maintenance, that can cause some trouble. But when it comes to working for longer periods, this is more efficient than the 2-stroke engines. Plus, it is quieter, more fuel-efficient, and produces less carbon emission. And that's why the Apollo 250cc dirt bike you see here is street legal.
On the other hand, the single-cylinder engine is compact. It lets the airflow go through all sides. That makes it easier for the air-cooling system to reduce the heating, unlike the multi-cylinder engines.
It is one of the reasons you get to enjoy the 15.64 HP with a top speed of 72 mph at a constant level whenever you want. No power dip or anything at all.
Brakes:
The next thing that you want to review in the Apollo 250cc dirt bike is the brake. When you've got a fast bike, you need to have brakes to get those wheels moving fast stopped right away to avoid any unwanted accidents.
Knowing that better than anyone else, they've onboarded 2-disc brakes in the ride. That's alongside with a clutch transmission, you can get assistance in slowing down those spinning wheels on demand. No abrupt stopping that might throw you off the ride. Apart from that, it gives you more control over acceleration.
Dual-start:
To get the engine running, you need a short burst of power right away.  That is what the CDI ignition system of the bike offers you in the AGB-36.
What piques your interest is the fact you get a dual-start system with the bike. If you love the manual kick-start in your bike, you get that. But if you don't want that much work, then a simple electric start button is also there for you to use.
Maneuverability:
When you review the Apollo 250 dirt bike, you get thrown off by its weight. The 270 pounds weight seems like a lot at first. You expect it to be a hard ride to control. But it isn't. You don't feel like it got any weight as you can maneuver it however you like.
Those who love to do tricks and flicks riding their bike will appreciate it more. Even regular dirt bike riders can see its advantage while cornering riding it.
Dual suspension:
The top speed of this Apollo 250cc dirt bike isn't the only exciting part of it. For many, the most thrilling bit of this machine is its dual suspension system.
That's right!
There is a front and rear suspension here. No matter how fast the ride can go, it is the compression and the rebound of the suspension that make it easy to ride a bike. Even on those bumpy trails, it will take in the shock to let you feel none of it.
No matter how horrible the tracks might be, the ride will be always smooth for you thanks to them.
Tires:
You can't help but say how insane the tires are on the Apollo dirt bike. On those muddy tracks, they provide better grip to keep it from sliding too much. And on the loose sand, it jets away like a fighter plan thanks to those large tires of it.
They play an enormous role during braking with the traction they provide. And when it comes to enjoying the power of the engine, the tires spin fast without bogging you down.
It is the tires that add great comfort to riding this bike. And there is no exaggeration in that.
Pros:
The frame is lightweight.
Has a sturdy build.
Mighty 250cc engine.
Stylish design.
Good top speed.
Offers high torque.
Tires offer great grip.
Easy to maneuver.
Street legal bike.
Cons:
Can't get spare parts easily.
It isn't suitable for riders below 16.
Why get the Apollo AGB 36 250cc dirt bike?
You've already got an insight into Apollo 250 dirt bike review to see what's great about it. But maybe, you're still having second thoughts about it. No worries.
 I will take you through some other aspects of it that will help you make the decision.
Quick and Secure delivery:
If you want the bike within the States in a couple of days, then you can get that. The AGB 36 gets delivered real fast. They come assembled for the most part of it inside a metal crate to make sure there is no damage. Just order it without any worry. 
Reliable:
The 4-stroke engine is reliable. You know that already. But not just the motor, all the parts of it is genuine. They don't come off loose nor they get damaged easily unlike some of the other bikes.
Dual Fuel:
You get a dual fuel option to produce the power using that engine. It is not that common in rides. So, that's another point in favor of Apollo.
Customers review:
Last but not the least, seeing positive reviews about the bike gives you more faith to consider this as your next ride. What has been noticed so far, people have great things to say about the Apollo AGB 36 aside from those minor lackings of it.
Room for Improvement:
No doubt, looking at the Apollo 250cc dirt bike review, you will consider it a picture-perfect ride. And it is, at least, taking everything into account.
Yet, like any other thing, the bike's maker left some room to improve the ride even further.
The first being the assembly of the two-wheelers itself. Though it requires minimum assembly, it can be a tall task for many even with that instructional manual that comes with it.
Plus, the regular oiling of the chain-driven motor might drive some of the user's nuts. You need to make sure to oil it after every couple of rides, or it does hamper your riding experience.
With these minor fixes, Apollo can make it an even more impressive ride.
Who is this Apollo 250cc Dirt bike for?
Clearly, the Apollo 250 enduro review indicates this is a ride for more matured riders.
So, it is perfect for adults.
But besides them, teens can also get a hold of it to ride it. Those aged 16 or over are the perfect candidate for the bike.
If you know how fast this 250cc dirt bike can go, you might not feel comfortable handing it to the young riders.
But to be honest, it is the best way to introduce them to the 2-wheeler world. That's because it gives them the chance to be acquainted with manual transmission. Yes, there are a bunch of other rides that offer that. But the speed level of it will excite them more than those.
Plus, the luxury of being in control is what you offer them with the motor ride.
Not to forget, it doesn't require you to splash a lot of money. That makes you appreciate the 250cc even more.
You can enjoy this ride as an adult and later can pass it along or lend your teen kid or younger brother.
Check our dirt bike recommendation for kids and teenagers
Best Gas Powered Dirt Bikes For Kids Of All Ages
Best Electric Dirt Bikes For Kids And Teenagers Motocross Rider Reviews
Dirt Bike For Teenager- Choice The Best Trail Dirt Bike Of All Time
FAQ:
Is it got room for two people to ride at once?
Yes, you can have another person ride on with you on the Apollo 250cc.
What colors is it available in?
There are three variations available right now. YOu can get it in midnight black, then there is the red, blue, white, and black color combo one. Besides that, there is another with blue with a bit of white and black hint on the frame.
Is it CARB approved?
Yes, you can see that as it got a CARB green sticker certified on it.
How much does it come assembled?
The bike comes almost 95% assembled. You need to just attach the handlebar, tires, and the battery.
How fast can a 250cc dirt bike go?
The bike got a top speed of 75 mph which can even go up to 80 mph based on the driver's weight.
Conclusion
Dirt biking is something you can enjoy alone. Just getting on the track and riding it will get the adrenaline rushing through your body. It makes you feel alive. And if you want that, then the Apollo 250cc dirt bike review shows how to get that.
The dirt ride is one of the few anomalies in the biking world. It is fast, reliable, and budget-friendly. And there aren't many better than the Apollo.
Trust me on that.