Do you need to replace your scooter battery?  Don't you know how to replace and what the electric scooter battery replacement cost is? Here we are!
An electric scooter can give you the happiness to go anywhere you want. You can make your convenience roaming through an electric scooter whenever you want. 
But the thing is that you have to replace your scooter battery while it will not work as before. Although most riders try their own to repair the battery, the scooter motor requires a periodical battery replacement.
However, you will know how to replace an e-scooter battery, replacement cost, types of e-scooter battery, etc., in our content. So, let's not be late, to begin with our step-by-step guide!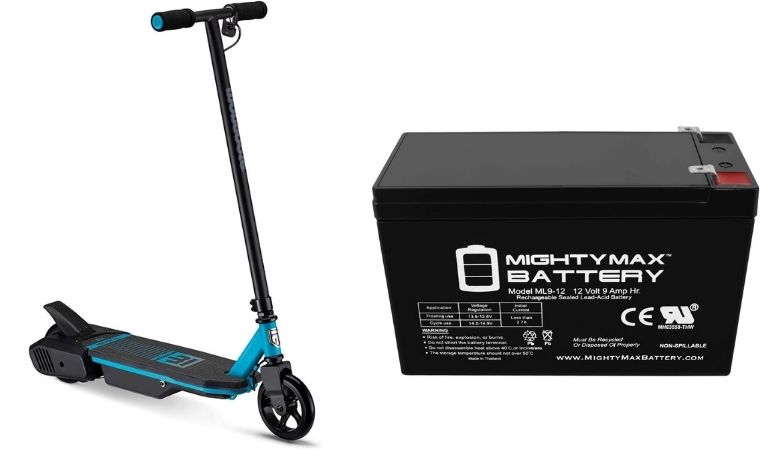 E-Scooter Battery
An e-scooter battery is a kind of fuel tank for your scooter that will store energy. The bigger the battery packs, the more the battery capacity. 
The battery is always the costly part of an e-scooter. And the cost of an e-scooter is also so high to afford. That is why you need to take care of your e-scooter battery to avoid unwanted costs.
Types of E-Scooter Battery
While you talk about an e-scooter battery, you will find three significant battery types.  And, these three types of batteries are:
Lithium-ion Battery or Li-ion or LEP
Sealed-Acid Battery or SLA
Nickel-metal hydride or NiMH
Lithium-ion Battery or Li-ion or LEP
The Lithium-ion Battery is the popular e-scooter battery among users. Also, it is the most expensive e-scooter battery of all other types. But in case of its performance, you will get it in the high ranking. 
Besides, it is too light in weight and does not require any recurring charge. Also, you do not need to pay more attention in the case of this battery maintenance. So, the durability of a Lithium-ion battery is beyond question.
Sealed-Acid Battery or SLA
You can call this Sealed-Acid battery the primitive battery as it has been used for long before the LEP battery. Many Razor e-scooter riders still use the SLA battery still today.
It will ensure the highest performance with minimum cost. But if you don't like to get a weighty battery, skip this battery. The weight of this battery is much higher than the LEP.
But still, it is pretty popular among users because it is capable of producing a high amount of current.
Nickel-Metal Hydride or NiMH
NoMH is an e-scooter battery that is light in weight. Although the NiMH battery is light, it is not that much like the LEP battery. And, if you compare the NiMH battery with the LEP and SLA, you will find it in the middle. 
As well as in the case of popularity, it ranks third compared to the LEP and SLA.
The lifeSpan of an E-Scooter Battery
There are specific issues that reflect on "How Long Does a Scooter Battery Last?". It is a common thing that an e-scooter battery needs a replacement after a certain period. 
But, if you maintain some essential practices, you can prolong your e-scooter battery lifespan. Let's see how-
Don't charge your e-scooter battery for a long time
Make sure the charger is okay to charge the battery
Maintain a good room temperature while storing your e-scooter
Make sure the voltage is optimum while charging the battery.
So, if you want to take care of your e-scooter battery, you must follow our instructions.
Electric Scooter Battery Replacement Cost
Replacing the cost of an e-scooter battery differs in many things. Unfortunately, it doesn't mean the scooter battery prices will always be the same. 
For instance, the types of battery, quality, and brands will bring a massive difference to your scooter battery replacement cost. Sometimes it will cost you less, and sometimes the replacement cost will be much. 
However, the price of a battery for an electric scooter mainly focuses on three important key variables. Let's see the variables-
Variable-1: Types of Battery
The first variable of the replacement cost of an e-scooter battery is the type of battery you will use. Different types will cost different amounts of money. Let's see the difference in replacement cost based on the battery types-
Lithium electric scooter battery starts from $100 to $500. It will vary in which brand quality you go for.
The cost of a Nickel-metal hydride battery will be a bit less than the Lithium. It will be from $80 to $100. You can afford this battery even below $80. And, most of the riders find it suitable for an e-scooter.
And if you replace your e-scooter battery with the Nickel-metal hydride, it will cost only $6 to $8 maximum. It is called the cheapest battery of e-scooter ever.  
The quality of an e-scooter battery depends on different brands. So, if you decide to spend a bit more to get a quality battery, your replacement cost will be high.
In terms of e-scooter, you cannot think of a cheap quality battery. A low-quality battery can damage your scooter. So, you need to focus on quality first.
We suggest you check the manufacturer's manual for more quality info before you spend money to get a quality battery. 
 Brands like- Unagi Model One, Segway Ninebot Kick scooter Max, Glion Dolly always offer good quality e-scooter batteries. But, the e-scooter battery replacement cost will vary in the case of brand selection.
However, many renowned brands will offer you a quality replacement service without cost as part of their warranty. So if you get this service, you will be a lucky swan.
Besides, the cost of electric scooter replacement batteries will depend on how high-quality performance you want to make sure of.
Where to Buy Your E-Scooter Battery Replacements
Users often get confused thinking about where they can buy e-scooter battery replacement accessories. Before going to outside stores, make sure whether your scooter company has its battery replacement available. 
If you find it available there, we recommend not going outside. But, if you don't find it there in the scooter company, go to a bike or moped repair shop. 
Bike repair shops will often fail to provide you with scooter battery replacement accessories. In that case, the moped repair shops will be your only option. But, in the moped repair shop, you will get everything available. 
No Worries!
3 Best Electric Batteries
Let us introduce you three best electric batteries below-
1. Mighty Max SLA Battery for Razor MX350 MX400 Dirt Bike
As long as you want to get high performance from your e-scooter battery, the Mighty Max SLA Battery will be your right choice.
This battery is SLA proof including a high discharge rate feature. Also, the Mighty Max is a promise of durability and a wide operating temperature mode. Also, you can mount in any kind of situation.
More to the point, this Mighty Max brand will offer you a 30 days full refund policy service with a year battery servicing warranty.
Specification
Brand: Mighty Max Battery
Battery Cell: SLA
Voltage: 12 Volts
Reusability: Rechargeable 
2. Sea-Doo Dolphin E-Scooter Battery 
Its super premium component made this battery most exclusive for your e-scooter. What's more, this battery is designed to adjust the Sea-Doo underwater scooter. 
And, you will find it well-rechargeable that contains its charge up to 2 hours of your scooter running time. 
The Sea-Doo Dolphin Sea Scooter Battery is too lightweight. Therefore, if you find your scooter battery is not running in the middle of your trip, you can still dive on the shore safely.
Specification
Brand: Sea-Doo 
Battery Cell: SLA
Voltage: 12V7 Volts
Reusability: Rechargeable 
3. Mighty Max 6V 4.5AH Battery Power Wheels Harley Rocker 
Mighty Max 6V 4.5AH Battery is a UL-certified e-scooter battery that will promise you a durable lifespan. It will ensure a safe and deep recharge recovery. 
In addition, it will not bother you with unnecessary cabling that you can often experience with other types of ordinary batteries.
However, the Mighty Max 6V 4.5AH Battery will also give a one-year battery servicing opportunity like the Mighty Max SLA Battery.
Specification
Brand: Mighty Max Battery
Battery Cell: SLA
Voltage: 6 Volts
Reusability: Rechargeable 
Can I Replace The Battery Of My E-Scooter?
Yes, you can. You can robustly install the battery. 
How Much Does It Cost To Replace An Electric Scooter Battery?
An e-scooter battery will cost from 150 to 300 dollars on average. But it is not inevitable. Instead, it will vary depending on the different features.
How Long Do Electric Scooter Batteries Last?
It can last for 1 to 3 years.
What Kind Of Battery Does An Electric Scooter Use?
The type of battery of an e-scooter is an electric battery. Users often use Lithium-Ion batteries.
how long does an adult electric scooter battery last?
Electric scooters are a great way to get around, but they can be expensive to maintain. One of the most important parts of an electric scooter is the battery, and it can be difficult to know how long the battery will last.
The average battery life for an electric scooter is about two years, but this can vary depending on how often the scooter is used and how well it is maintained. To prolong the life of your battery, it is important to keep it charged and avoid leaving it unused for long periods of time.
If you take good care of your electric scooter and its battery, you can expect it to last for many years. Read more about electric scooters for heavy adults.
Conclusion
We have explained how you can replace your previous e-scooter battery and other relevant issues. Also, you have got ideas about the types of e-scooter batteries and the electric scooter battery replacement cost. 
You could observe the cost of replacing your e-scooter battery is not that high, which makes you unaffordable.  Hopefully, you've got your best guide to know about e-scooter battery types, where to buy, battery life span, etc.
So, we believe our content gave you clear instructions to replace your e-scooter battery as well as regarding the replacement cost. But, still, if there is something that we couldn't focus on, please let us know. And, we will try to cover it in our next content.