Are you confused about Roost Deflector VS Chest Protector? Read this article and clear your confusion.
Motocross riding is a very risky task, and injuries are the most inevitable issue for a rider or an athlete. Safety gears play a crucial role in this factor. You must wear protective gear to shield your body during hard falls whether you race or ride for fun. Chest protectors and roost deflectors are some sorts of safety equipment that a rider should wear.
Sometimes, people buy them assuming the same thing, and it's a great mistake that could cause serious injury. The truth is that Roost deflector and Chest protector are two different things. Don't get panicked because we aim to minimize your toil by providing you the correct and relevant information about Roost deflector vs Chest protector. Once you are finished reading this effective guide, you would be able to select whether the Roost deflector or Chest protector is perfect for you.
Roost deflector vs Chest protector
A chest protector covers the entire upper body and can be a little uncomfortable or harder because of its heavyweight, but provides the maximum protection in the event of a crash. On the other hand, a roost deflector is lightweight and offers more free movement while riding but comes up with less resistance against a fall.
What is a roost deflector?
A roost deflector refers to a sort of protective garment that is meant to deflect roost (rocks, dirt, mud, and debris) thrown from the opposite riders' tires. This form of the device is not strong enough to protect the rider's body from a serious hard fall. It does not work well for anti-crash purposes.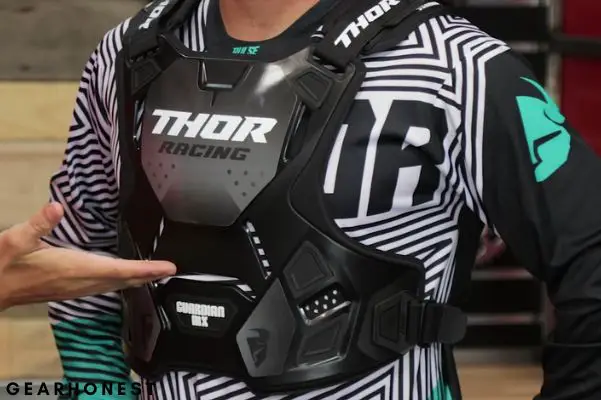 This is mainly used for blocking the roost and keeping the riders' upper body cool and safe. Its main job is to save the rider's body of getting cuts and bruises. It additionally permits the rider a free range of motion on the bike.
What is a roost guard?
A roost guard is known as an under jersey protector that can also serve the purpose of a roost deflector. It protects the upper body from rocks, dirt, mud, and debris along with providing the riders a free range of motion on their bike. It also keeps them cool temperature-wise.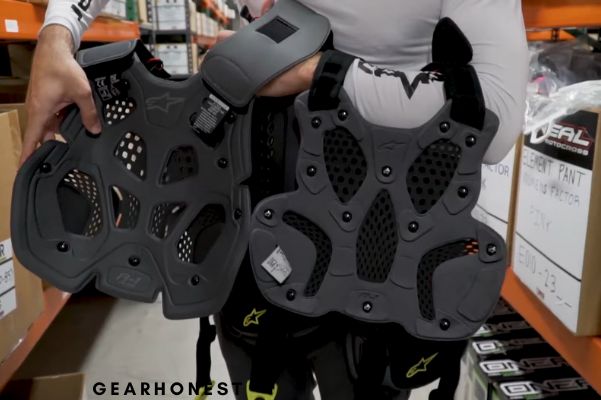 It is reported that different body armors may slow you down while riding, but roost guard will never let you have that feeling. Though it offers minimal protection in the event of a crash, it is used to its maximum potential. It covers the maximum but doesn't offer maximum protection.  It directly gives small impact protection to the ribs and chest. It provides better comfort with less restriction than a fully covered chest protector because of its lightweight.
The riders who prefer to wear a roost deflector instead of a chest protector, often report that the roost deflector is much cooler than a regular chest protector. The roost deflectors are designed with innovative, extensive, and natural venting air channels so that they can keep a rider's body temperature down while riding. Many riders are found to be interested in wearing root deflectors because of all these features.
How to size for a roost deflector?
At first you have to measure around the fullest part of your chest under the arms with a tape. If you're on the borderline between two sizes, you should order the smaller size for a tighter fitting or the larger size for a comfortable fit.
What is a chest protector?
A chest protector is a safety gear that a rider must wear while riding in every dangerous outdoor sport. The name itself clarifies the purpose- it covers and protects the chest area. We know that our vital organs like heart, lungs, etc. are located in the chest, which requires special protection, and a good quality chest protector may minimize the seriousness of the injury.
Chest protectors help to prevent life-threatening damages. The main purpose of wearing a chest protector is to protect your shoulders, chest, back, ribs, and all of your internal organs from injury caused by various types of impact. Another amazing feature offered by Chet protectors is the free-floating shoulder system, which allows the shoulders to move freely and comfortably while riding. In spite of being heavy, chest protectors will allow your body to follow the movements of your specific riding style. In fact, you should pick a chest protector that balances comfort and protection.
You should buy the best chest protector for enduro that is designed with advanced technology to meet the highest safety standards. 
How should a motocross chest protector fit?
A chest protector is designed perfectly for protecting your chest and back, but it doesn't shield your shoulder and hands as full-body armor does. You should notice carefully whether the chest protector covers your chest and back entirely or not while wearing the gear.
You should put the lower part of the chest protector right between the bottom of your ribcage and your bellybutton. After wearing the device if you can breathe properly and, if it doesn't feel tight, it is sure that the protector fits properly.
How to Size for a Chest Protector?
A chest protector is measured from the base of the throat to the waist. This should equal distance from the bottom of your throat to naval. The length for an adult should be 17", for intermediate 15", for youth 13", and for junior youth, it should be 12".
Final Thoughts
In the light of the above description, we can say that body protection is a must whether you race motocross or enjoy a weekend dirt bike riding hobby because even a slow-speed accident may snatch away the rider's life. Though the accident is out of our control, we can reduce the severity by using a roost deflector and chest protector. Besides, we should not sacrifice protection for comfort. We are not saying that one is better than the other, but it's proved that roost deflector permits a bit more freedom where the other provides more protection. Now, it's your time to judge the winner between Roost deflector vs Chest protector and select the one that is perfect for you.