If you want to buy a new scooter, your first and crucial question might be "how much does an electric scooter cost?". Isn't it? Okay, let us give you a clear idea about the pricing of the electric scooter today. 
An electric scooter costs depend on many variables, such as performance, brand, features, whether it is for an adult or kid rider, etc. In a word, the pricing of an electric scooter varies on many factors. 
So, in our content, you will know all the top noticeable factors that reflect the cost of an electric scooter.
About Electric Scooter
You can define an electric scooter as a motorized bicycle as well. An E-Scooter generally runs based on an electric motor. Using an electric scooter is suitable to use in the hilly sides. Riders find the electric scooter easy to run. 
For adult electric scooter riders, the average speed of an electric scooter is 20 MPH. But you can run it up to 40 MPH too.
An Electric scooter works through its battery power and the battery requires electricity charge. And then it transmits the produced electricity to the motor through cables. 
The motor sometimes keeps rotating the front wheel and sometimes both to push your scooter forward. But it depends on the type of your electric scooter model.
Reasons the E-Scooters Used For
In general, riders prefer to use electric scooters instead of bicycles and walk as well. Besides, they use it in terms of comfortability and time-saving management. Also, the exclusive features are another reason behind using E-Scooter.
Variables for Electric Scooter Cost Variation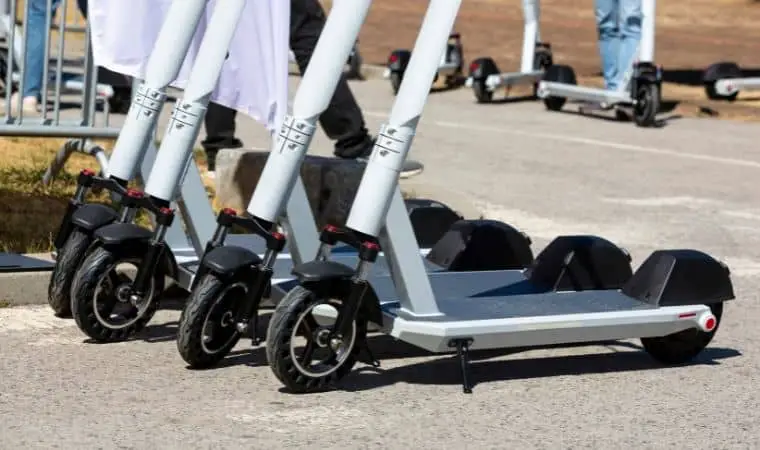 A battery is the most essential and expensive part of an electric scooter. It is a must to make sure of a quality battery to get a quality service. A good portion of your scooter performance will depend on how the battery performs. So, the better the battery in quality, the higher the cost of your E-Scooter will be.
A battery of an e-scooter consumes around 30% of the total cost. So, visualize what kind of E-Scooter you would like to buy. Read more about electric scooter battery cost.
While we talk about construction materials, you can understand how essential it is to focus on E-Scooter materials while buying. The materials you want in your scooter will also indicate the performance of the vehicle. 
And, if you want to buy a high-performance electric scooter, you have to consider the best materials. At this point, keep your concentration on the amount of budget you can spend. 
The reason to focus on your budget is a good quality material that will cost you high while buying an E-Scooter. For Example- if the material is aluminium, it will ensure the long durability. Also, you can carry your scooter easily even while not using it.
But, in the case of aluminium, the cost of an E-Scooter will be much higher to afford.
On the other hand, if you want to spend less money, you can consider plastic components. But the plastic equipment will not give you any guarantee of good performance and durability.  
A good quality motor can also focus on the cost of an E-Scooter. You can consider the motor the heart of your vehicle, where a quality performance will depend on how excellent the motor has. 
If you want to get an exclusive performance and advanced features like-
Electromagnetic Brake
Regenerative Brake
Special Bearing
You have to keep your budget big before buying your dream e-scooter. The motor is also another variable to increase or decrease your scooter pricing. But, generally, a motor of a scooter will not cost much more than a quality battery.   
Some of the premium electric scooters are there that will offer you the benefits of super features. For instance- 
Key Controlling
Speed Controlling
Journey Tracking 
Light Controlling
The manufacturers include those exclusive features on the E-Scooter in terms of all the additional software. And, you can use those fantastic features using your Smartphone app.
Many riders dream of these features while wanting to buy an E-Scooter.  It is because these types of scooters will give you additional convenience. Also, you can manipulate your scooter to adjust your requirements.
By the way, while you will buy your scooter focusing on those Smartphone app features, you will have to pay a much higher cost than a normal E-Scooter.  So, an E-Scooter with supplementary software is also another variable of scooter cost. 
Brands of the scooter you choose will focus on your E-Scooter cost too. Reputed brands are always committed to providing you with quality service. When you focus on the cost of your E-Scooter while buying, the brand is an essential point to consider.
You will find renowned brands that charge high prices due to their productive investment in materials and product standards. 
But, of course, they will ensure the product quality based on the experiments by their expertise. A premium brand will also promise you higher safety.
If you want to get the best quality electric scooter, you have to choose any of the market-leading brands, for Example-
Unagi Model One
Apollo Explore
And, in return, you have to pay extra money compared to the general brands in the market.
However, it doesn't mean that you can never have a quality electric scooter from a reputed brand with fewer prices. Still, many renowned brands provide their quality service with minimum costs. 
For Example, we can introduce you to Xiaomi which offers their world's leading E-Scooters at a minimum cost. Here, most of their scooter's price range is below 400 dollars. 
So, you have nothing to get frustrated with to buy a quality scooter from a premium brand while your budget is low.
Electric Scooter vs. Petrol Scooter
When you decide to buy an electric scooter instead of a petrol scooter, it means you have to pay higher. The cost of an electric scooter is much based on its electric motor and battery. 
Furthermore, consider the maintenance cost while buying your scooter. Besides, you will get all the expensive parts in terms of electric scooters.
However, while you are talking about the petrol scooter, the price is much less than the E-Scooter. It is because the petrol scooter doesn't always require all the expensive parts. In addition, you should be happy not to get any maintenance cost in terms of petrol scooter.
But, you have no option to wonder whether to choose an E-Scooter or a petrol scooter. Comparing those two scooters, the E-Scooter is the best.
How Much Does an Electric Scooter Cost?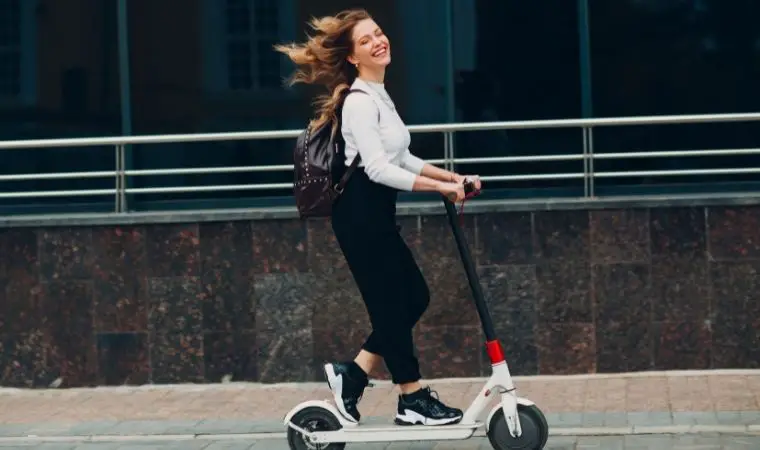 Well, while you go to buy your E-Scooter for various purposes, it will bring different questions in front of you. Like-
How much is an Electric Scooter for adults?  
In that case, the answer is- $200 to $400
How much is an Electric Scooter for kids? 
The answer is – $130 to $300 for electric Scooters for kids.
How much does a normal scooter cost?
And, here the answer is- $300-$400
How much are motorized scooters?
It is- $100 to $500
How Much Does a Seated E-Scooter Scooter Cost?
A seated e-scooter, also known as an electric stand-up scooter, is a type of electric scooter where the rider sits on a small seat instead of standing. These scooters typically have a higher top speed and longer range than standing scooters, making them ideal for longer commutes or trips. Seated scooters also tend to be more comfortable, as the rider can lean back and rest their arms and legs while riding.
The cost of a seated electric scooter will vary depending on the brand, model, and features. However, you can expect to pay anywhere from $150 to $500 for a quality seated scooter.
FAQ
How much money does a razor scooter cost?
Well, most of the Razor scooter will cost from $30 to $150. While your kid can keep balancing using a three-wheel scooter, you can give him or her a two-wheel scooter.
What is the best scooter for the money?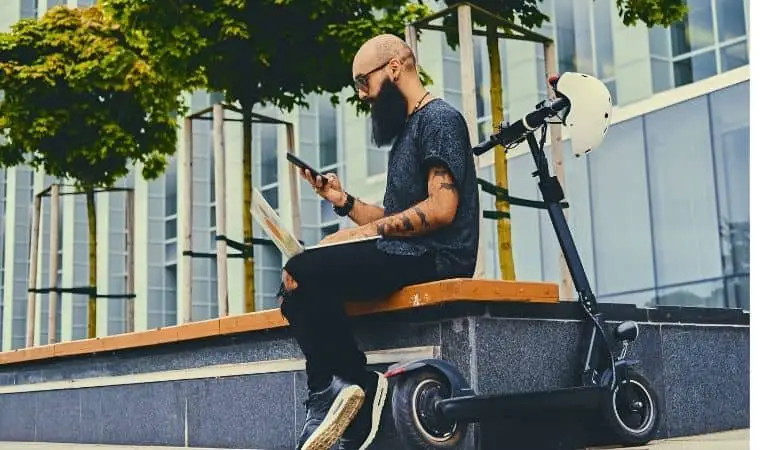 We found five scooters there in today's market that you can consider the best. Let's see what they are-
Ninebot Segway E45E
Unagi Model One E500
Decent One Max 
Ninebot Segway E22E
How much does a cheap electric scooter cost?
You can buy the cheapest scooter at any price, beginning at $100. And, if you want a specific brand name that will offer you the cheapest scooter, then our recommendation is Xiaomi Mi.
How can I get a cheap electric scooter?
Well, you can follow the given list below to get your cheapest electric scooter-
Amazon
Walmart
Newegg
Best Buy
What is a good cheap electric scooter?
As the result of our market research, the top quality and cheap electric scooter are the followings-
What is the lifespan of an electric scooter? 
For a good quality scooter, the life span of an E-Scooter should be approximately 3000 to 10000 miles of a battery. But, in the maximum case, the life span of your scooter will depend on two basic things- 
On the size of your scooter and 
On the weight of the scooter battery 
In the maximum case, a scooter lasts for 3 or 4 years.
Conclusion
The cost of an electric scooter doesn't just depend on one or two things.  There are plenty of reasons around for the variation of E-Scooter price. And, we already have discussed all the possible and most common reasons why the price range of E-Scooter varies. 
So, we hope we could make you answer your question "how much does an electric scooter cost?". Hopefully, you have no more confusion in terms of the price range of an E-Scooter anymore.