Are you thinking of painting your motorcycle but don't know how much to paint a motorcycle? Well, you're at the right place. But before starting, you need to know that the painting cost of a motorcycle depends on some factors.
Not everyone wants to custom paint their motorcycle. It's for those enthusiasts who like to have a customized and unique bike. However, it's cool to paint your bike but know that it's not cheap. In fact, it's quite expensive to paint your motorbikes.
For your motorcycle, you can get a professional painting and a regular service. They both are painting jobs, but the difference is in the final result and cost. You can even paint your motorcycle by yourself t home. That has a different cost as well.
Custom Paint jobs for motorcycles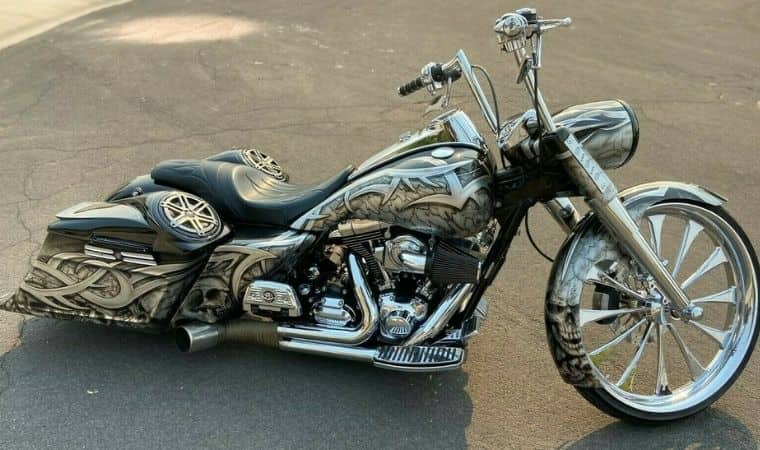 First, your bike will be restored with a fresh coat of paint. The paint job gives a new look to your old, rusty bike frame.  Likewise, painting a motorbike removes different damages like dents, discoloration, and bents from the bike's body. But this needs to have a professional bike painter to accomplish.
Geeting service from a professional painting workshop also gives better aesthetics and long-lasting protection to your bike. But you know good things come at a price. So the cost of painting your bike from a professional will be more than doing it on your own or doing it from a regular shop.
 Motorcycle Painting Prices and Processes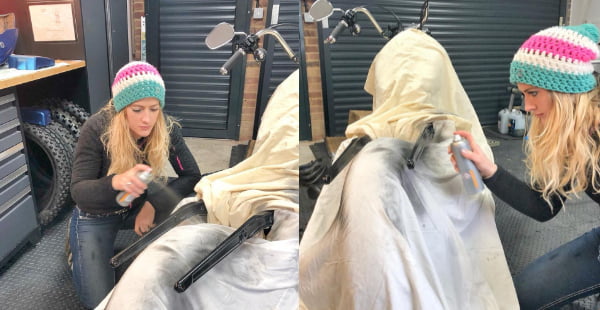 Here's a detailed guide on how much does it cost to paint a motorcycle by which you can get an estimated idea about the processes and costings-
1.    Regular Painting
Some people want to go for a whole motorcycle paint, while others want just to paint the fuel tank. So you know obviously the cost of both won't be the same. So if you're thinking of regular paint, the cost can be anywhere between 300$ to 1200$. This pricing depends on the amount of work that the expert has to put into your bike.
Remember that painting portions of the bike are only a small phase of the project. The major work that your expert motorcycle painter will complete is sanding down the bike. It's not possible to do new paint on your motorcycle until the old motorcycle paint is removed. So before the painting job starts, the painter or workers will sand down the old paint, fix any dents or bents, and then apply several coats of paint. Don't mix up between the cost to repaint the motorcycle and sanding and fixing the dents.
For sanding the motorcycle parts or chassis, the worker needs to do it manually. Sanding cannot be done with a robot or automatically. As a result, this increases the physical cost and painting/restoring cost as well.
If you want to save money on the paint job, you can do the sanding of the frame by yourself. It's not that difficult. In the long term, that saves you a lot of time and money. Similarly, you may remove your bike's fuel tank and casings and simply have them painted. Those sections generally require a fresh painting job, so that just those that may be painted could be a good idea. However, just ensure that you know how these pieces are removed and reinstalled again.
If you're handling the preparations alone, you can take off the tank and the rear fender and bring them to the mechanics for paintings. Bringing the parts separately will help you both save time and money.
 2.    Professional Painting
A custom motorcycle paint jobs cost around $900 to $2,200. If you want your bike to be customized via paintwork, you must check that you really can handle this expense. The price is not included for painting the saddle bags, oil tanks, and other flanks.
For a more customized painting in the budget, you can check in different factories or workshops. The point is, the gorgeous finish you want, the more you'll have to spend. So the cost of paint depends entirely on the result you want.
A custom job is significantly more costly than a standard task. Furthermore, repairing the paint may cost you far more. Because the factory paint job procedure is often complex and accurate, it takes time. Furthermore, only a handful of people do the custom motorcycle paintings. So this customize painting is really expensive.  
If you want more than just a simple paint layer on your vehicle and wish for a personalized task with elaborate work such as sparks and other complex designs, the costs are, of course, significantly more. The entire process can go as high as $30,000, depending on the amount of work, design, a number of parts, and exceptional bike models.
3.    DIY
How much does it cost to repaint a motorcycle by yourself? It would likely cost you approximately $100 if not less to repaint a single motorcycle. But that implies that you will do yourself all the labor, including the unpleasant task called sanding.
To avoid hiring a professional, you have a key to understand how to sand and detail your bike. While you generally do not require too much experience, some are recommended. Still, you will probably be able to perform the painting job, even if you are an amateur.
All you need is tools for paint and motorbike parts and general understanding. Because it is a DIY project, all you need is real paint and various equipment like a paint gun to aid you.
The main disadvantage is that you must handle the project's filthy details. That means you do the sanding of the bike, prepare the paint, and put the coat on your motorcycle. 
You may always use extra suggestions from a YouTube video tutorial to DIY.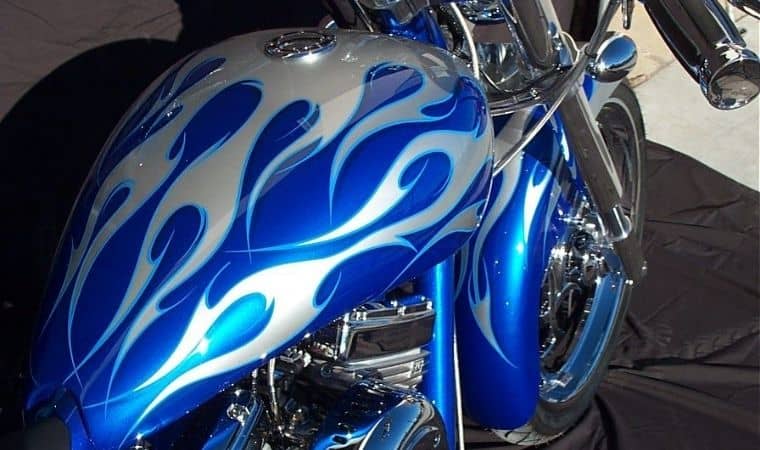 FAQs
Is it expensive to paint a bike?
Ans: Yes, if you don't wish to repaint the bike by yourself, it's expensive. On the other hand, it'll save money if you do the painting job by yourself. Depending on the type of bike and specifications, it can cost about $30,000 to paint a motorcycle.
How much to paint a motorcycle?
Ans: Well, it depends. Some motorbikers like to give a very funky look to their entire motorbike, whereas others just paint the oil tanks. Alongside the number of parts, the designs, painting process, and motorcycle model are also important to determine the painting cost. But on average, the cost to paint a motorcycle is between $300 to $2500.
How long does it take to paint a motorcycle?
Ans: The entire painting process can take from 1 to 10 hours. Again, it depends on the no of parts, designs, and other factors of the motorcycle. Painting the motorcycle by yourself can take a long time than doing it by professionals.
How much does it cost to paint a Harley Davidson?
Ans: A custom painting job on a bike may cost anywhere from $300 to $2,500, depending on the level of detail. Based on the paintwork, the cost of high-end bikes and excellent custom paint jobs may range from $15,000 to $30,000.
Can I spray paint my motorcycle?
Ans: Yes, you can. To do this-
Take the motorcycle parts in a well-ventilated room and apply a base color paint at first
Apply three to four layers of your selected paint on the motorbike with the spray paint gun.
You'll need to sand the bike down before applying the final layer.
Allow the last layer of paint to dry.
After applying the last layer of paint, carefully clean the spray gun once again.
 Conclusion:
Finally, knowing how much it costs to paint a motorcycle will rely on the method you pick and the money you set aside for the project. The above guide will come in handy to easily determine where you can paint your bike and how to handle your task alone if your funding is not solid.
Use the suggestions in this book to enlighten yourself and maintain your knowledge up to date throughout time. So now, if someone's asking, how much to paint a motorcycle? You know the answer, right?