Powdercoating the rims enhance their looks and work as a protection against corrosion at the same time. This can be of different types based on your choices and vehicles. So powder coating process involves low to high costs.
Generally, the cost for powder coating the rims depends on the process you'll be using, no. of wheels, and the vehicles' type as well. As the process and types vary, the cost for powder coating varies as well.
So how much does it cost to powder coat rims? It highly depends on the process of powder coating the rims. That's why, alongside the costing, we'll also have different kinds of powder coating processes in this guide. Read on…
What is Powder Coating the Rims?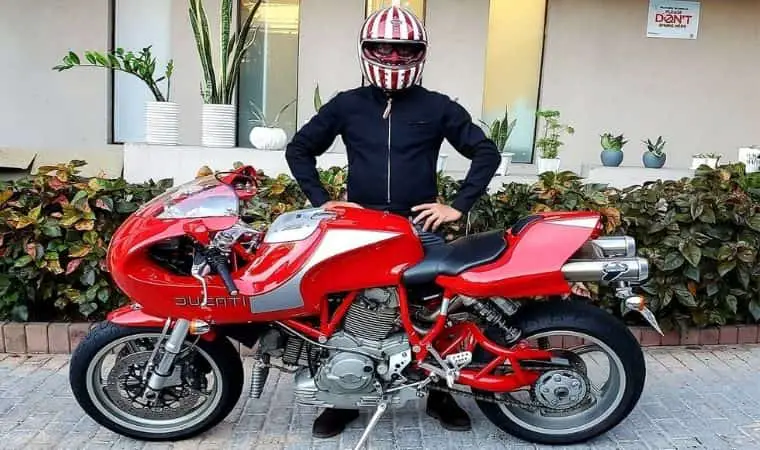 Powder coating is a layering or covering given to an object or rim. The special type of power (electrically bonded) adheres to objects when sprayed by a process known as "electrostatic attraction." When atomized paint molecules are "misted" on an item, they form a coating that may be treated into the surface using high heat. A kiln, or oven, is frequently used to do this.
Once the material is cooled, the second layer of electrically charged media is covered with a transparent coating. The item is then treated again before it can fully cool and is ready for use. You can add custom color to the rims with the help of a powder coater as well.
Powder coat adheres best to a clean surface, as it does to nearly any other coating agent. This is why the majority of professional powder coating businesses use an acid bath to remove any old paint, use a protective coating, or oil off an object before powder coating motorcycle rims or any other rims.
Cost to Powder Coat Rims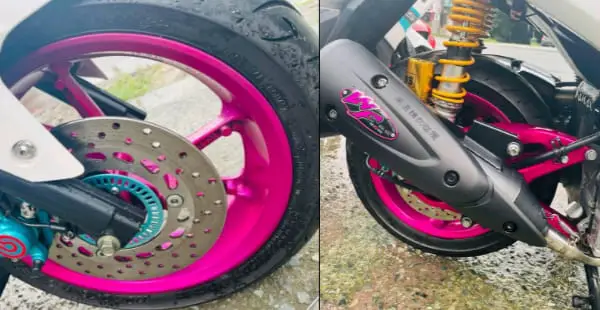 When seeking solutions to how much does it cost to powder coat rims, keep in mind that it all depends on the length and diameter of your rims. It will also depend on whether you plan to undertake the work yourself or take the help of an expert.
Anyway, Powder coating rims can cost anything from $250 to $550 for a base coat. However, this rate will only apply to sizes ranging from 13 to 26 inches and styles such as racing, knock-off, and regular wheels. However, for a base coat with a glossy or candy finish, you'll have to spend an extra charge of around $125 to $260.
If you don't wanna coat the rims by yourself, there are alternative ways as well. You can send your rims in to be coated. In this situation, you have to bear the funds to cover the costs of transporting the rims to the powder coating companies and returning them to you.
Another option would be to powder coat motorcycle rims by yourself. The expenses will vary greatly based on the equipment and tools you currently have and those you will need to purchase in this situation.
You'll have to spend between $300 and $5000 starting from scratch. Powder coating the rims take some special tools and equipment. If you don't have them, you'll have to buy them to powder coat rims on your own. In that case, this cost will add as well.
| | | |
| --- | --- | --- |
| Size of Rim | Cost for 1 Wheel | Cost for 4 wheels |
| 13 inches | $65 | $260 |
| 14 inches | $70 | $280 |
| 15 inches | $75 | $300 |
| 16 inches | $80 | $320 |
| 17 inches | $85 | $340 |
| 18 inches | $90 | $360 |
| 19 inches | $95 | $380 |
| 20 inches | $100 | $400 |
| 21 inches | $105 | $420 |
| 22 inches | $110 | $440 |
| 23 inches | $115 | $460 |
| 24 inches | $120 | $480 |
| 25 inches | $125 | $500 |
| 26 inches | $130 | $520 |
| Extra-Wide Racing Wheels | $87.50+ | $350+ |
| Knock-Off Wheels | $50 | $200 |
| Steel or Aluminum Wheels | $62.50+ | $250+ |
| Wire Wheels | $90 | $360 |
Cost of powder coat rims Chart
Reasons Behind Powder Coating Being Expensive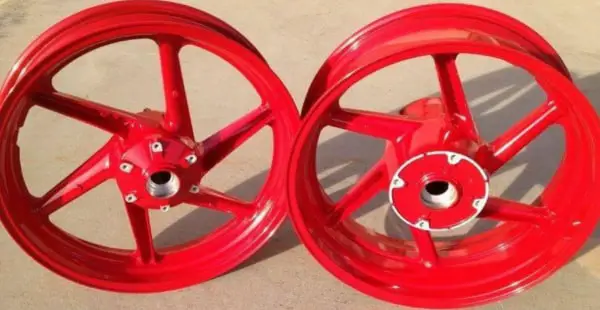 Many people think that cost to powder coat rims is very high. Most of them would want to have their wheels coated because they want them to appear better or just want a fresh look. However, the procedure and, more importantly, the expense may not be as simple as just painting.
As a result, before selecting whether or not to powder coat the wheels, you should be aware of some of the reasons why it is believed to be costly.
1.   Difficult to Handle
The wheels on most modern cars are likely to be heavy and large, making them difficult to maneuver. Along with that, there would be the cost of some rims and the particular care that would be required after the wheels were coated.
There are some rims available in the which have an 18 to 20-inch diameter. Working on these big rims is difficult as they require bigger hocks and mounts. These wheels or rims are difficult to maneuver as well due to their large diameter. Generally, the average cost to powder coat 20-inch rims is around $100 for one wheel and $400 for four!
2.   Complex Process
Not everyone can actually complete the work if someone says they can powder the wheels. A top-notch preparation is needed for an excellent powder coating or other coating applications.
First, it is necessary to identify the metal because the aluminum and steel rollers might respond differently to the processing and could affect the coating procedure of the rims.
For powder coating, all non-metal parts must be removed. Then it is necessary to process the wheels so that nearly all oils and other residues are removed. Not doing this can result in cracks or pitting in the rims. As a result, the coatings will not adhere to the surface properly.
The second process involves sandblasting your motorcycle or vehicle's rims. The sandblasting make sure that the powder coating adheres well with the rim. The wheels also need to be treated in the heater or oven at the correct temperature.
3.   Primers Are Expensive
For a powder coating wheelset, a decent primer is absolutely a requirement. Powder coating can damage the rim's metal sometimes. That's why primers alongside other powder coating materials are used as the primer will safeguard the steel railings.
A primer must be applied on each wheel to protect them and cover them with an additional protective coating and durable finish. As a result, the whole process becomes expensive. And overall, the overcoating process becomes costlier.
4.   Quality and Choice
The majority of people prefer a rim coated in black powder or color. There are a handful number of shops or firms who would bring the wheels in and rapidly etch and powder coat them in black for a small charge. However, due to cheap quality coating, the money might be squandered if anything bad happens within a few days.
To avoid such situations, it's is necessary to pay a little extra for a more professional and high-quality powder coating to the rims. As a result, it'll last longer and have a unique texture, durable finish and top-notch protection. True, a high-quality powder coating will increase the cost of powder coat wheels, but it's worth it!
5.   Maintenance Cost
If you have your wheels coated, you must make sure that you take proper care of them. Maintaining the rims is also essential alongside coating them. If not, you'll see there are scratches, dents, or fractures in the rims as they remain exposed. As a result, you'll have to fix rims again, which would cost more. Maintaining the rims well and upkeeping them will surely keep them serving for long.
When you have your rims powder coated, make sure you pick a coating that will last as long as the wheels. You could either spend less for a cheap, quality job and pay more in the long term, or you could spend more initially for an excellent and long-lasting coating.
Breakdown of the Powder Coating Cost on Rims
Powder Coating from a Local Company
Basically, this is the most common way car owners get their powder coating on their vehicles. The reason being, it's less hassle compared to sending your rims to companies or workshops located far away. And another reason is, a local powder coating shop is also affordable.
In local companies, the powder coating rims cost is less than that of others. People generally go to these shops and select a cheap coating method. So if you're one of them, search for a local powder coating rim company, and get your rims powder coated!
Powder Coating from Another Region
You can even mail the rims to a powder coat in another region of the firm. Before shipping the rims to you, the company will abrasively sandblast, remove the grease, powder coat and give a stunning look to your rims.
In case you owned aluminum rims, but the rims lost their shiny-ness or glossiness, you need to buy a chrome plate at first.  After that, you need to chemically remove the nickles on it as they can damage the wheel or the rim.
You must ensure that the whole rim is covered while powder coating the rims. However, before sending the rims, make sure they are well wrapped with triple bubble wrap. You can protect the rims from damaging in this way.
If you're wondering how much to chrome motorcycle wheels, well, it's $450 with a processing time of around 4 to 5 weeks.
Powder Coating the Rims: DIY
There is no reason you should not undertake the job on your own. Give the powder coating ago if you know how to paint motorbike rims and have all the necessary materials and equipment!
Moreover, many people have set up their own businesses to powder coat the vehicle's rims by themselves. Taking on the powder coating job as a DIY project will save you from having to hire someone to powder coat the rims on your behalf. But still, if you attempt to work on the rims on your own, there are charges to consider.
To calculate the cost to powder coat wheels on your own, consider the following things-
 Coating powder
Amount of powder
Cost of tools and equipment like Powder Coater, Hanger
Cost of heater to treat the rims
Gathered all of the materials and tools needed to properly powder coat rims on your own? Now watch a few tutorials on powder coating DIYs to paint motorbike rims at home!
So how much does it cost to powder coat rims? Well, you can now answer this question depending on the calculation that you made earlier.
Read more
Air Cooled Vs Liquid Cooled Motorcycles
Best 2 Stroke Dirt Bike Oil For Trail Riding Air Cooled Engines
Best 2 Stroke Dirt Bike For Trail Riding
Best 4 Stroke Dirt Bike For Trail Riding For All Skilled Level Riders
What Is Considered High Mileage For A Motorcycle
Conclusion:
Overall, knowing how much does it cost to powder coat rims will be beneficial in the long run. These answers will allow you to predict your future powder coating needs, in addition to assisting you in deciding either to perform it locally, via mail order or as a DIY job.
Hopefully, the preceding guideline has supplied you with the necessary information to allow you to decide. Good Luck!