If you are avidly expecting an A to Z guide on how to install bar end mirrors, yes, you are in safe hands. Here, I will try to depict a crystal clear scenario regarding everything that you are supposed to know- including a step by step tutorial.
What a bar end mirror actually is
First, I would like to draw a definition of a bar end mirror. It's a short form of "Handle bar end mirror" as the mirror is installed towards the end of a handlebar, either above or below the bar depending on a person's proneness and the model of a mirror.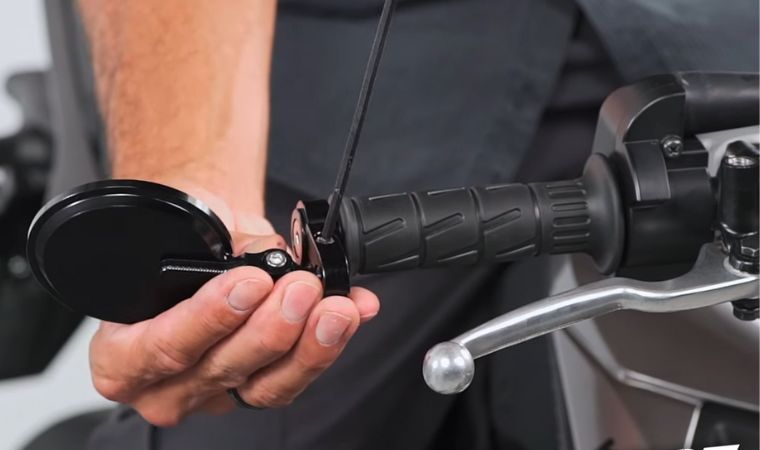 In the latter portion of this article, I'll go deep by illustrating the step-by-step process of installing a bar end mirror followed by the reasons people use bar end bike mirrors, the safety and other significant issues.
Why do people use bar end mirrors
The popularity of bar end mirrors is following an upward trend day by day for multifarious causes. Please, let me explain the key points one by one why people are emphasizing on bar end mirrors so much.
In some countries or states, they will give you the permit to drive between two car lanes in order to avoid traffic jams. Since the bar end mirrors usually don't increase the width of a bike, rather make it thinner, therefore, splitting the lane becomes more flexible without hitting any car on the way.
The outlook of bar end mirrors is a way more gorgeous than that of stock bars. I think this is one of the prominent reasons. The contemporary bikes have awesome looking bike mirrors i.e. high-quality bar end mirrors, HD glass convex mirror etc. compared to the old-modeled bikes.
For some bike riders, it becomes significant to have mirrors that fit into the garage. From my personal experience, I have a bike which comfortably fits through my storage door, but it's negative for the mirrors. This compelled me to fold the mirrors inside, and this is one of the reasons behind my writing of this article.
Quick and easy installation of bar end mirrors
What equipment do you need for the installation?
So, it's obvious that you will require a couple of mechanical instruments to fix the bar end mirror at the skirt of your bike handlebar. Though you may have a temptation to call in a mechanic or go to a repair shop with your bike to do so, I think you can do it by yourself without any hazards. It's just a simple process which requires the following things:
Bar end mirrors
5mm Allen Wrench
3mm Allen Wrench
Step-by-step Instructions
1. Purchase or Collect the Mirrors
First of all, you have to buy the bar end mirrors without making any consideration of the quality. You can make a primary ground work here prior to purchasing your bike mirrors like you can check reviews, social media posts and so on. Of course, you can take the anti-glare features of bar end mirrors into account which will help you during the straight riding under the sunshine. For online purchase, you can keep faith on amazon. Even sometimes they provide healthy discounts to the amazon customer.
2. Prepare The Handlebars
In the following stage, the plugs of the ends would be pulled out of the handlebars of your motorbike.
3. Expansion Sleeve
Now, it's time to figure out the perfect expansion sleeve for your installation process. From my personal experience, I can suggest that you can try the smaller one.
Here, you may follow a trick. You have to tighten the nut till it is impeded against the expansion sleeve of your bike. Of course, it will start inflating, but it won't exceed the length of the handlebar.
4. Main Installation
In the next stage, you should tighten the bar end mirrors with the expansion sleeve using your 5mm Allen Wrench at the end of your handlebars.
At a certain point, you will not have the option to turn the 5mm Allen Wrench. On the off chance that you check, you will see black rings standing out from the ends of your handlebars. Keep fixing the mirrors with the goal that they append to the rings.
Exchange the 5mm Allen Wrench with the 3mm Allen to appropriately set up the rings. Now, you should position your bar end mirrors prior to fixing. The remaining work will be more suitable with the 3mm Allen rather than the 5mm one. Just a recommendation here is, you should keep the black segment of your end cap as it is because it may allow the cap to expand as needed.
When you are completely done, now you can pull out the old mirrors.
Are bar end mirrors legal and safe?
When anyone makes an inquiry about the safety and legitimacy of the bar end mirrors, the answer is, it depends on several factors. I'm going to make a plausible and laconic description before you.
Safety issues
In most cases, people prefer smaller mirrors as they look good. But, one undeniable thing is, the smaller the mirrors are, the less you will be able to see through. Therefore, if the safety issue is your first concern, then go for the larger ones which will provide a larger view about the obstacles and other vehicles on the road.
If you want to make your bike safer, then choose the adjustable bar end bike mirror. According to your height and correct position, you'll be required to settle it down. That's why it will be difficult for you to deal with provided that the mirrors are rigid.
Another important thing to be considered is, your bar end mirrors should not vibrate while riding the bike. It can put you at a grave risk. So, don't compromise with quality when you purchase mirrors, and choose those ones that are designed to tackle the tremble. Avoid appending cheap mirrors with the handlebar. Here, you can also consider blast-resistant & shockproof convex mirror for your bike.
Legality issues
It's quite tough to answer directly as there are states in the world where you are allowed to use only stock handlebars. Hence, you have to check the specific rule about bar end mirrors in your country. But, it is grossly accepted all over the world eliminating some exceptions.
In my opinion, bar end mirrors are safe and legal if you consider the aforementioned issues. Just utilize your money wisely, and have a balance among your budget, bike's stylish outlook and safety.
Are these suitable for any type of bike?
Of course. Bar end mirrors suit any sort of bike, but cafe racers can be found more widely than the latter bikes with bar end mirrors. At the same time, off-road motorcycles, sports bikes, and naked bikes can go with bar end mirrors smoothly as well.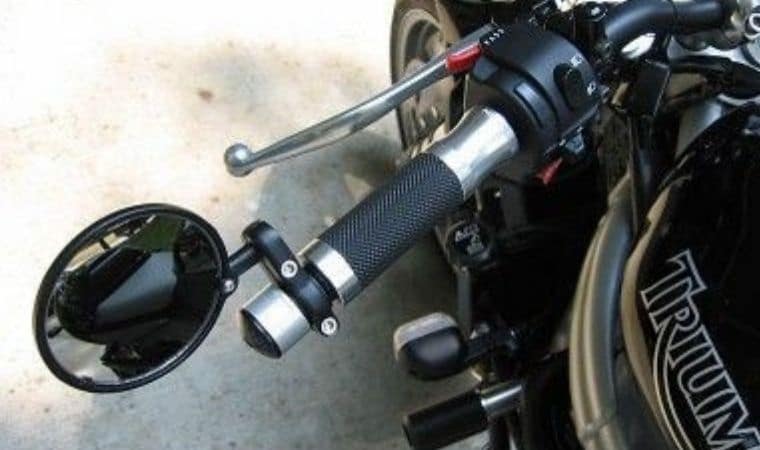 To sum up, bar mirrors are safe as long as you are not compromising with the quality, and you can make a quick and easy bike mirror installation by following the above easygoing installation steps. I hope this article could enlighten you with some unknown pieces of information. Still if you have questions, leave it as a comment below. If you find this article useful, feel free to share.