People consider buying a scooter because they think it's less risky. But people tend to go for the looks of their motorbikes rather than considering the risk factors. Due to this, the majority of the people(especially the young ones) prefer a motorcycle instead of a scooter.
Although scooters are easy to operate and are comparatively safe, as told above, people prefer the look of their motorbikes. They think motorcycles are more cool and adventurous. Besides, the design of scooters is somewhat old that gives a negative vibe to the young generation.
But what to do with riders who prefer the sporty look of a motorbike and the safety factors of a scooter? Well, for them, some scooters that look like motorcycles are available. We're gonna talk about those scooters in this article.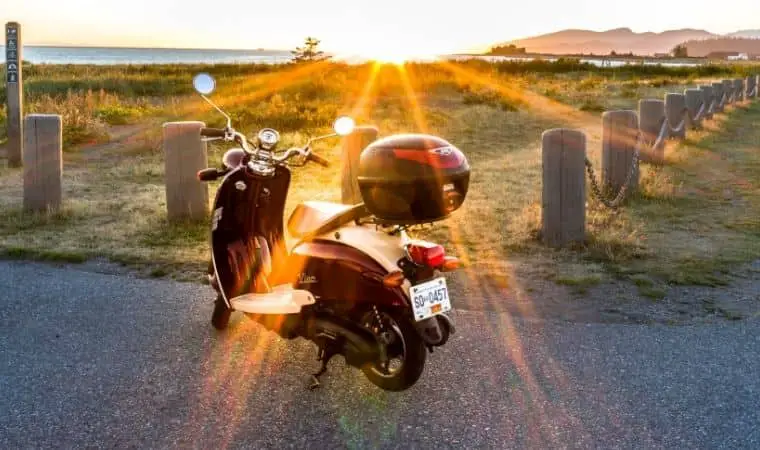 Scooters That Look Like Motorcycles
Now that you know about the differences between motorcycles and scooters let's head on to the next segment. We've picked the top scooter that looks like a street bike considering the looks, features, and safety concerns.
 The best thing about these scooters or Mopeds is that they have a powerful engine as well as they can be operated like a scooter. So let's start.
1. Yamaha TMax 500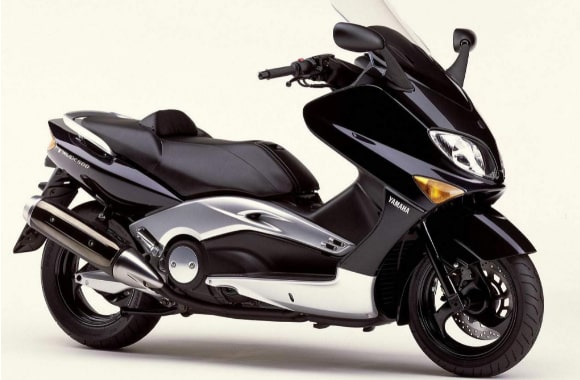 Seeing the Yamaha TMax500, you might mistakenly think that it's a scooter. But actually, it's not. The look, the power, it has nearly every function a motorbike would have. Other than common scooters, it has a massive 499 cc engine to power the whole system. Moreover, the elegant chassis will leave you stunned as well.  
Although it's a scooter that looks like a street bike, it has quick and excellent acceleration. It also comes with a windshield to protect the rider's eyes from dirt and pollution.
2. Kymco 700i MyRoad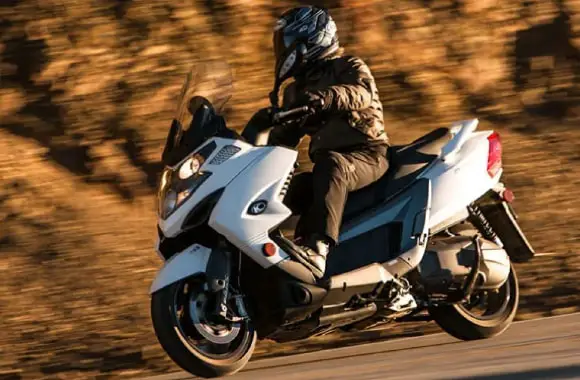 Believe it or not, the Kymco 700i MyRoad is the scooter that you're looking for. It's a blend of both classical and sporty looks. In no way can anyone find out it's a scooter! But it's another scooter or mopeds that look like motorcycles
Alongside a whooping 699 cc engine, the scooter with many more features like keyless ignition, adjustable suspension (electric), and ABS (Anti-Lock Braking System). The ABS is obviously the deal-breaker here! Another superb feature is the top speed. Unlike regular scooters, you can reach a peak speed of around 155mph. That's insane in the case of a scooter!
3. Suzuki Burgman 650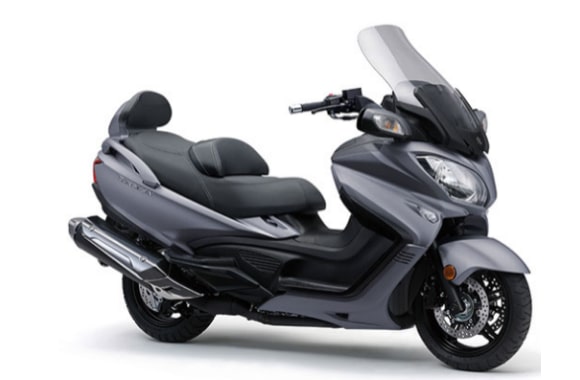 At first impression, you might think that the Suzuki Burgman 650 is a bulky bike. But actually, it's not. This is a very comfortable scooter to ride. The scooter seats are spacious, and the passenger seat is an almost 22 or 24-inch wide seat which is comfortable as well.  This might give a bulky feeling rather than a sporty one. So if you're looking for scooters that look like motorcycles for adults, this will be the perfect choice for you.
The Suzuki Burgman 650 is equipped with a high-powered 638cc engine which can provide more than decent performance. It also has a push-button transmission facility, a big fuel tank, and ABS as well.  So it can deliver an adventurous feeling with proper safety factors as well.
This scooter has a lower height compared to other conventional motorcycles. The seat height is 755mm, which is not a deal-breaker for many!
4. Gilera GP800
Who'd say this is a scooter? It's more like a racing, sporty motorbike that has more safety features and a windshield to protect the rider. But it's one of the best and coolest scooters that look like motorcycles.
An 839cc, which is a larger engine,  powers the Gilera GP800. Because of its twin-engine, the monster has a faster speed and can reach 75bhp effortlessly. While it's very large and appears like a motorcycle, it's really light at 248kg. However, the scooter is capable of reaching 120 miles per hour.
5. Honda Silverwing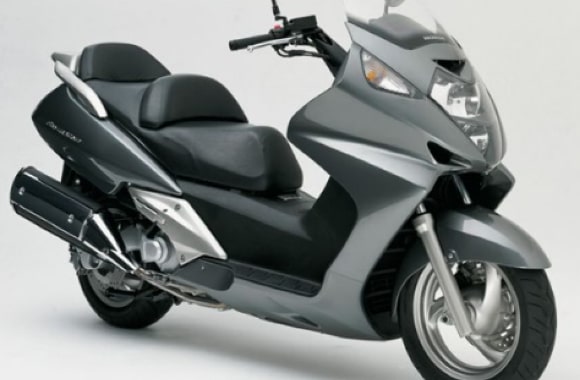 The 5th and last scooter on our list are the Honda Silverwing. The Honda Silverwing has a 582 cc engine. Although this scooter may feel like one of the heaviest, it's not! This scooter has a solid build quality and is heavy at the same time. It is almost 250kg in weight. So controlling and handling this scooter may be an issue to some.
However, no safety was compromised in this scooter. It has ABS to ensure the rider's safety. Also, it has a big fuel tank. Besides, it has a pillion armrest, heated handles, and a top box of 45L. This scooter offers great mileage as well.
A Scooter and A Motorcycle: Difference Between them
At present, both motorcycles and scooters come in engine-powered and electric-powder ones. As ar result, one can think that both of them are the same. The differences have become more narrow with the introduction of motor scooters that look like a motorcycle in the market.
Although manufacturers have copied the looks of motorcycles in scooters, the major differences in power, acceleration, and handling still prevail. So what are the differences between a motorcycle and a scooter? Let's find out-
What is a Motorcycle?
As you are all aware, the standard motorcycle is a two-wheeled vehicle. There is a seat for the rider to sit so that he can ride and control the bike. There are three-wheeled motorcycles on the market from time to time. On a motorcycle, the legs are needed to be positioned sideways. This helps to apply the brakes and also operate the manual gears in need.
The rider needs to operate the brakes and clutches properly to accelerate and decelerate the bike. Because of increasing pollution standards across the world, motorcycles changed to four-stroke engines before scooters. A motorcycle must meet certain standards in order to be legal. A headlight, taillight, indicators, and side mirrors are present in almost all motorcycles.
What is a Scooter?
There was a time when people considered motorcycles to be more elegant and strong. Today, however, some scooters are so attractive and fashionable that they appear considerably more glamorous than motorcycles. At present, an electric scooter is the most common choice for a rider. A scooter is essentially a motorcycle with a different frame than a motorcycle. One can place his or her feet on the scooter's frame.
Scooter engines are generally auto-geared, making riding more convenient because riders do not have to worry about gears. Even the brakes are provided on the handlebar, so there is no need to engage the clutch when slowing down.
Today, almost all girls and ladies go around on scooters and mopeds with ease and pleasure as they have less speed limit. Scooters are so pleasant to ride that even males have turned to them. It is common to see youngsters and men riding scooters rather than traditional motorbikes.
Key Differences Between Them-
1.     Learning
For both motorcycles and scooters, there are two distinct types of gearboxes. In the case of a scooter, the rider will find it far easier to learn and operate them than motorbikes. In the case of motorbikes, you need to use the clutch and brakes with your legs to accelerate and stop them. On the other hand, legs have no function in scooters. You can apply the gears which remain in the handles. Moreover, the brakes remain on the scooter's handle as well.
Furthermore, the bigger weight of a motorbike makes maneuvering methods at modest speeds difficult. Whereas scooters are lightweight and allows riders to have better balancing and drive slower without toppling over.
2.     Power & Acceleration
In general, Scooters have small and less powered engines compared to regular motorbikes. 50 cc to 150cc is the most common engine in scooters. 50cc scooters are the most common ones. Whereas, 150cc scooter is a rare find in most cities. On the contrary, regular motorbikes start from 125cc to 250cc engines. They have great sped and mileage. There are also 250cc scooters that look like motorcycles. But they aren't capable of performing like regular motorcycles due to their lightweight body and other characteristics.
Scooters are perfect for driving in less traffic and on regular roads. But if you wish to drive them on highways at high speed, it can be hazardous. Compared to motorcycles, scooters engines are incapable of producing quick acceleration and sometimes fail to keep up with the traffic rate.
3.     Wheels & Tires
Handing a bike or scooter is highly related to its wheels and tires. Due to different tire diameters and wheel specifications, you can operate a motorcycle at high speed. On the other hand, scooters are easier to handle at lower speeds or in traffic.
In a regular motorbike, the wheelbase can go up to 70 inches. This travelling distance will depend on the tires and the motorcycle's model. The longer chassis allows motorbikes to drive safely on rapidly moving highways with greater control and stability compared to a scooter.
Opposite to motorcycles, scooters have both short wheelbases and tires. As a result, they can take quick turns easily, even at moderate speed. But the whole scenario differs in highways.
4.     Storage Options
The scooter's engine remains in the frontier part. As a result, you can use the open or free space in the back to store any essential tool or equipment like a helmet, gloves, protective gear, etc.
Most motorbikes have no built-in space available. So in the case of long tours,  drivers have to fasten soft or hard saddlebags on either side of their motorcycle to stores items. However, as scooters are lightweight, the rider is unable to tow any type of items or luggage. In comparison, motorcycle riders can easily carry moderately heavy equipment hanging with the bike's frames.
Conclusion:
While choosing a scooter that looks like a motorcycle, first, you need to understand the differences between them. Recognizing the key distinctions between scooters and bikes will help you to distinguish between scooters that resemble motorcycles and genuine motorbikes.
This guide was meant to help you understand the subtle differences between them. So next time, if you're going to buy a moped that looks like a street bike, use the knowledge you gained from here!