A lot of us love motorcycles and can't wait to get our first one. The exhilarating feeling and the rush of wind when you're gushing at high speeds on the highway is unlike any other.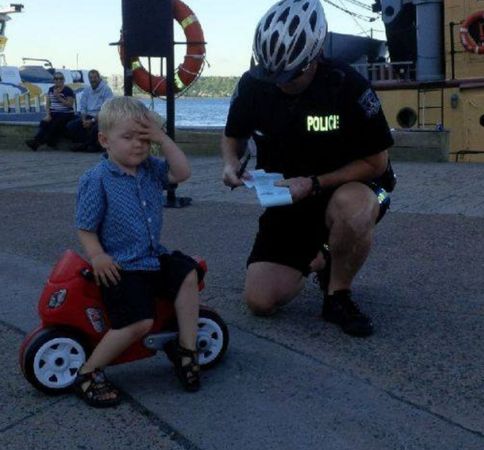 But you can't get impatient. A lot of youngsters go out on the roads not knowing what happens if you get caught without a motorcycle license. 
Although laws differ from state to state, getting fined is a constant. In extreme cases, you risk the bike getting confiscated, or even serving some jail time. 
There are some traffic laws you must be aware of before getting your first motorbike to ride it without any worries. I'll walk you through the essentials today. 
Laws For Motorcycle Licenses In The USA
Let's get right into it. In the US, having a legal license or permit is absolutely crucial for riding a motorcycle. The laws are divided for people under the age of 18, and above.
For people under 18, you must have a motorcycle permit. This is issued to riders under the age of 18 under the supervision of a guardian in most states. To obtain it, you need to go through an eye exam and a general motorcycle knowledge test. 
The exam process should be a breeze if you're a bike enthusiast, so don't worry about it. After you're issued a permit, it'll be valid for around one year in most states. 
The minimum age for applying for this permit is around 15-16 up to 18 years old in most states in the US.
For people over the age of 18, you're now legally allowed and also obligated to get a license for your motorcycle. To obtain it, you'll first need to go through the same process as getting a one-year valid permit. 
Afterward, you'll need to pick a motorbike of your choice and go through a road skills test. If all goes well, you'll receive a completion card and be issued your license. 
What Happens If You Get Caught Without A Motorcycle License?
Now that you're aware of the US laws relating to motorcycles and licenses, let's go over what happens when you don't exactly follow them.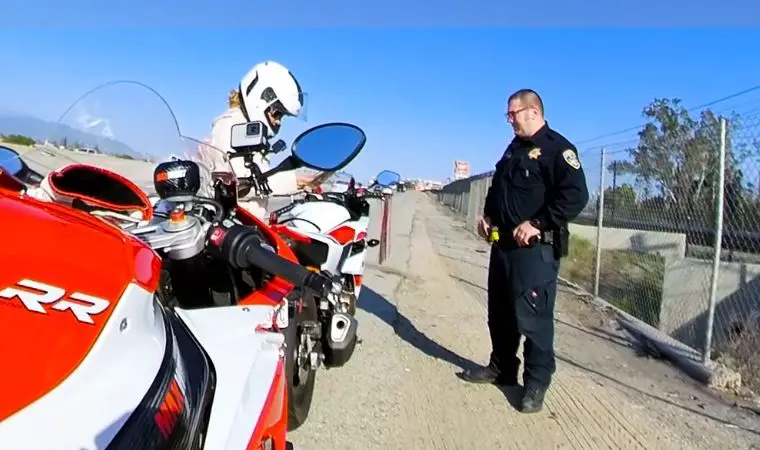 You Can Receive A Hefty Fine
Motorcycle laws in the US are pretty strict. If you get pulled over by a cop for riding a bike without a license or motorcycle permit, you can receive a fine upwards of $1000. The fine depends on what reason you were pulled up for. 
Your Bike May Get Impounded
By law, a police officer is allowed to send your motorcycle to the impound if you're caught driving without a valid motorcycle license. The bike is sent to the impound at the expense of the motorcycle rider.
Therefore, not only will you be fined heavily for riding without a driver license, but you also risk losing your bike altogether and future fines to get it out of the impound.
There are a few reasons why the bike gets impounded. Motorcycles aren't the same as cars on the road. There are extra places they can ride on, which poses risks to pedestrians and other vehicles on a public road. 
If you're found without a license, it's assumed you're not aware of the unique motorcycle laws riding a bike. For this reason, the bike gets confiscated. 
Driving a motorcycle without a license can also cause serious jail time. Depending on the offense, you can expect anywhere from 48 hours to upwards of 6 months in county jail for riding a bike without the right documentation. It's no joke, and there are of course additional costs and fees involved. 
Jail time might be the worst-case scenario, but it isn't one that can be ousted altogether. If you're caught in a motorcycle accident or any other issue, jail time becomes more apparent. It's a nasty predicament. Hiring motorcycle accident attorneys are difficult, too, and can cost you a fortune. 
Your License May Get Revoked
In some cases, after you've shown you do have a valid license or motorcycle permit, officers may choose to revoke it based on the severity of the crime.
It's much more difficult to get a permit or license again after one has been revoked. The documentation and legislation get much harder to reissue a license after one has been revoked.
Getting insurance coverages becomes trickier with revoked licenses as well. So this is a situation you don't want to face at all. 
Tips For Riding By Following Motorcycle Laws
You should now be well aware of the consequences of riding a motorcycle without a license, and the motorcycle laws that are in place in the US. It should be enough to motivate you to get a license as soon as possible if you don't have one, and keep your license on you at all times.
In the end, I have two crucial tips for you to maintain traffic and motorcycle laws in the US properly, so you don't get into any trouble. 
Attach A Small Bag To Your Motorcycle
This tip is one that car drivers follow without exception. It's tricky to keep your license always inside your laws. If the wallet gets lost, you have to go through the entire process of renewing a license, which takes more time if you've lost one.
The best practice is to keep a small bag on your bike and keep necessary documents there for safe keeping. That way you'll never lose them, and if you ever get pulled over, you can show it in the quickest way possible. 
Always Have Safety Gear On!
Helmets, eye protection, and safety gloves aren't an add-on, they're necessities. Besides driving license laws in the US, almost all states also have laws against driving without the proper gear — especially when it comes to helmets and eye protection. 
Therefore, always go out on a ride properly geared up. In case you get pulled over, this will also help leave an impression on the police officer that you're experienced and know what you're doing.
That way, you may get a pass and avoid your license getting revoked or your bike getting impounded. 
How To Get A Motorcycle License In The US?
Getting a motorcycle license is as necessary as motorcycle endorsements. The process may take time, and the time differs according to the state. However, before you apply for the license, you must make sure you meet the requirements of a motorcycle license.
Before I explain to you the process of getting a motorcycle, let's learn the requirements first.
Age Requirements
Age is an essential requirement as it determines how many states are you allowed to ride your bike. If you're 16 years old or older than 16, you can ride your bike in any state of America.
However, in some states, only motorcycle permit holders can ride bikes until they're over 18. Here are the criteria for getting the motorcycle permit:
You have to be at least 16 years.
Qualified in vision exam and written test about motorcycle riding.
Complete motorcycle driving course.
However, the age criteria for getting a motorcycle permit in California are a bit different:
Junior motorcycle operators who are 15 years and 6 months, must have a basic driver education course certificate, training, and instructor permission. At this age, you're forbidden by the motorcycle laws of California to carry passengers and ride your bike at night.
If you're 17 years and 6 months, you don't necessarily have to have a driving education and motorcycle training certificate, but the rest of the law is similar to the above one, like motorcycle instruction permit, no passenger, and no bike riding at night.
When you're under 21, you need to have solid papers and certificates of completing a "motorcycle safety training program."
Training Requirements
Completing a motorcycle training course before getting your motorcycle driver license will help you to sharpen and exercise your bike driving skills.
The class of driver license is a maximum of 5 days, and you'll have an instructor who'll teach you things such as traffic motorcycle law, motorcycle anatomy, safety equipment guidelines, strategies for safe bike driving, etc.
If you take a governmental course, you may receive a waiver and receive the license without giving the road and written test.
Test Requirements
Usually, the test requirements involve 3 steps; again, it may vary depending on the state. Here are the general test rules of this requirement:
Written Test
After taking this test, you get permission to practice riding your bike on the roads. The test is about the basic techniques and terminologies of bikes, safety, state motorcycle laws, and road rules. You have to gather information and prepare yourself for the test by yourself.
Practice
Now you have to practice biking on the public road, and you can't carry passengers during the practice session. Also, you have to practice only during the daytime.
However, the practice rules may vary; therefore, you should visit the local DMV website to know the specific rules about your state.
Skill Test
The last step of completing the test requirement is taking a skill test. After completing this test successfully, you can get a motorcycle license. During this test, you have to present your motorcycle skills like maneuvering quick turns, accelerating, braking, and safety techniques. 
You may even need to do a motorcycle road test with other motorcycle drivers. However, you'll be asked to bring some papers and documents with you before the test, which you must bring; otherwise, they may reschedule your test. 
Basically, the exam office will ask you to bring the followings:
A motorcycle that is in a good state
Riding safety equipment
Your successful written exam proof
A passenger vehicle with a license
Evidence of insurance of both your motorcycle and a passenger vehicle.
NOTE: Make sure you still check the list that you receive from the driver testing center for what you need to bring for the test.
Apply For Motorcycle License
So you now know what your age should be and what test you have to take in order to get valid motorcycle permits. If you met those requirements above that I mentioned, you're good to apply for the license.
Here's what you have to do to apply:
Filling a form to apply for a motorcycle driving license at DMV
Submit the papers and certificates of your successful test and training program
Submit a copy of your passport or ID card issued by your state as proper evidence of your identity
Complete a written knowledge test successfully.
Pay the registration fee.
The Overall Cost Of Getting A Motorcycle License
The cost of getting a motorcycle license is relatively low. However, depending on the state, you may need to pay a different scale.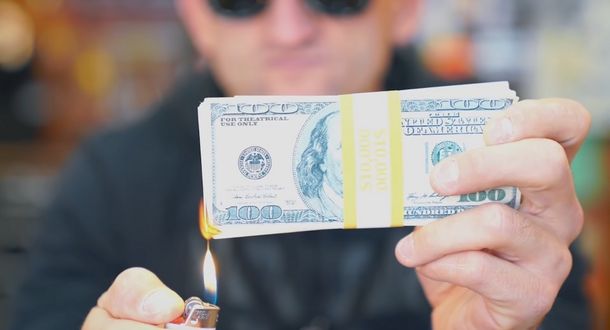 For example, in California, you can get your "learner's motorcycle permit" for $35 and issue motorcycle licenses for $36. In case you want to change your name or make a duplicate copy of your license, you can do it for $30 only.
On the other hand, motorcycle license applicants need to pay fees between $10 to $15, and can amend their license for $13 in Empire State, NY. And when you first get your motorcycle license in Illinois, you need to pay only $10 and $5 to renew the license. 
Benefits Of Having a Motorcycle Driving License
There are many benefits that you can enjoy after getting a motorcycle driving license, just like motorcycle endorsements. Such as:
You can get insurance coverage for your bike from insurance companies since the motorcycle accident rate is high.
Holders of motorcycle permits and licenses can ride their bikes in most of the states in the USA.
No need to worry about legal actions or breaking motorcycle laws when you have a valid license.
While applying for the driving license, you'll get to learn about safe riding techniques.
Frequently Asked Questions (FAQs)
What's the average penalty for riding without a motorcycle?
In the US, it's anywhere from $100 to upwards of $1000. It depends on why you were pulled over. If there was an accident or something criminal involved, you might face jail time too.
Should passengers wear helmets if they ride on my motorbike? 
We recommend wearing a helmet on a motorbike regardless if you're the passenger or the one in the driver's seat. That being said, there are no legal laws for passengers to wear a helmet on a bike as a must.
Are eye protection alongside helmets legally required to wear on a bike?
Yes. In some states, having the right eye protection and gloves is also required by law. But even if it's not in your state, we'd recommend you to do it anyways, just for your safety. 
Final Words
Hopefully, you're now well aware of what happens if get caught without a motorcycle license. Laws here in the US are pretty strict, but if you keep just a few key points in mind, you can keep yourself out of trouble without any issues.
As a final tip, I recommend being cooperative with the police officer if you get pulled over. Be humble and show him that it was an honest mistake.
Most fines are allocated on the subjective opinion of the police officer on you. So if you're cooperative, he may give you a pass and even guide you on how to progress with the situation. Good luck and safe travels.