No matter whether it is winter or summer, helmet visor fogging can happen in any situation. It is because the visor fogging doesn't occur depending on the weather. Instead, there are some more reasons behind this severe problem.
However, if you're facing the problem and want to know how to stop helmet visor fogging, then we can assist you to overcome the challenge. Our content is to guide you in terms of all the Anti-Fogging solutions.
We will tell you the possible causes of visor fogging along with the solutions. So, keep reading our content to get the best answers. 
Visor Fogging and Its Causes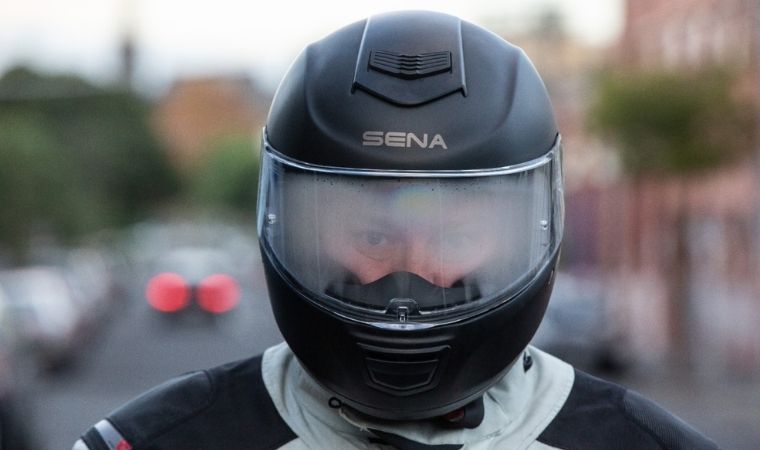 Visor fogging means when the moisture keeps gathering inside your helmet and the visor gets unclear to see outside. It is a severe problem considering your riding safety.  
In other words, we can say that the rainy or windy weather keeps decreasing the temperature. And, the moisture you exhale will start making the visor surface unclear. And its result is a visor fogging.
However, visor fogging happens for quite a few reasons. Let's see what those reasons are-
No Air-Flowing System 
Rainy Weather
Cold Weather
Windy Weather
No Breathing Guard
No Nose Guard, etc
In all kinds of modern helmets, you will find new features like a nose or breathing guard, air vents, anti-fog visors, etc.
But, if your helmet has no such features, there's nothing to get worried about. You can solve this problem effortlessly following our guidelines. 
It is essential to make sure of your visibility while you're riding. Most importantly, when it is night or winter, you need to be more conscious. So, let's get the best safety tips to Stop Your Helmet Visor from Fogging Up.
How You Can Stop Your Visor Fogging Up Problem
There are lots of solutions to how you can easily prevent this problem. But, talking about all those factors is not possible in all ways. So, we have researched the top and critical factors that will solve your visor fogging problem from the root. 
Anti-Fog Inserts Thin Sheet
Using anti-fog insert sheets, you can reduce this problem.  While you use these plastic and thin sheets inside the visor, it keeps the inside developed and free from condensation. 
This anti-fog inserts sheet has a hydrophilic layer that can absorb the visor inside's moisture. And keep the visor screen clear to see. We found it the best way to prevent the visor fogging problem.
And, this is the reason why we have kept this solution on our priority. Now you might have a question about where you will get these anti-fog inserts thin sheets. Well, you will get it available on the market.
And, you also will get all the instructions (on the manual) on how you can fix these sheets on your visor. 
Ventilation
Ventilation can be an excellent solution for visor fogging. It can take the air away from what you have exhaled. As a result, it will not create any more moisture inside your helmet. And the helmet screen will remain clear to see.
Temperature Maintenance
If you don't want the moisture to be condensed on the visor surface, you have to make sure of the temperature. 
Anti-Fog Sprays Using
There are lots of anti-fog sprays you will get in the market. And, almost all of them are significantly productive. These sprays are ready and able to remove your moisture from the insider of the visor screen. 
But, in the case of a spray, you have to use them after every 24 hours to get better results. However, we recommend you to use such spray on the visor screen right before you use or get outside. 
Most importantly, we can assure you that you can use such spray as long as you ride in a kind of wet weather and it is for a rear case.
Foggy-Mask
Besides using sprays, you can use a mask too. Some people do not feel okay with spray. In this case, you can use a mask. As you keep breathing, it will keep causing fog inside the visor. 
So, the better solution is if you wear a mask and try to stop getting foggy. However, as long as you want to wear a mask, our approval is – Respro Foggy Breath Guard Mask.  (If you have any money content on foggy mask then you can make an internal link here)
This mask is a neoprene type of mask that is perfect for covering your mouth and nose. Therefore, wearing a mask is also another novel way to stop your visor from getting fogging up.
In addition, this mask is well suitable for full-face helmets.
Water Repellents
It is a straightforward solution for your visor-clean job. While you clean your visor using these water repellents, your visor will bring you a transparent view.
Besides, you can also use this chemical for cleaning your spectacles.
Increasing Ventilation
It is the most common and precise way to prevent foggy visor problems. Increasing ventilation means keeping your visor a bit open to get your exhaled air outside directly. 
This method is especially applicable for your high-speed riding. Now, you might be thinking about the rainy day, right? Okay, if it is a rainy day, keep the visor slightly open through the notch of your helmet visor. Then your face will not get wet from rainwater.
Here again, you can increase the ventilation through the vents. That means if you keep the vents open, then your ventilation will increase tremendously.
FAQ
How to clean a foggy motorcycle windshield?   
Besides several solutions, you can clean your windshield through the following steps as well-
Get a mixture ready of dishwashing and water 
Now soak your windshield and dry it.
Rub and apply a compound to the scratch area 
Now your windshield will be clean right after getting dried. 
How to keep snowmobile helmet visor from fogging?   
It will be a bit less terrible if you make your go with helmet air vents. It will help you stay safe from whipping from a snowmobile trail.
How to prevent face shield from fogging? 
We have already discussed all the possible solutions. Then again, we want to assure you that you can focus on masking. 
Read more our helmet related information and review
Conclusion
We have discussed all the best and easy solutions in our content to assist you to be trouble-free. So, hope that you have got a fantastic idea on how to stop helmet visor fogging. 
Visor fogging is undoubtedly a significant problem due to which a serious accident can occur. And, the helmet manufacturers also consider this problem by giving utmost importance. Therefore, they supply a variety of solutions in the market.
So, try any of those seven solutions that suit you well. You will surely be amazed at our guidelines if you apply them accurately. Have a Safe Riding!