Are you a dirt bike lover? Bikes are not on the list of our need anymore. It has become more like a passion. Specially, dirt bikes have huge popularity for this generation. Teenagers and adults, both are being crazy about these bikes.
Dirt bikes are used to be off-road vehicles. And, that's why there are restrictions, rules, and regulation on riding them. Dirt bike enthusiasts have full knowledge about them. But what about you? Do you have a proper idea on the facts about dirt bikes?
If you're planning to get one, it's a must to gather all the basic information about it. Otherwise, it might be just a waste of your money. Want to get the most basic knowledge on dirt bikes? Well, there you are, in the right place at the right time. So, let's start knowing dirt bikes from the core.
What Is A Dirt Bike?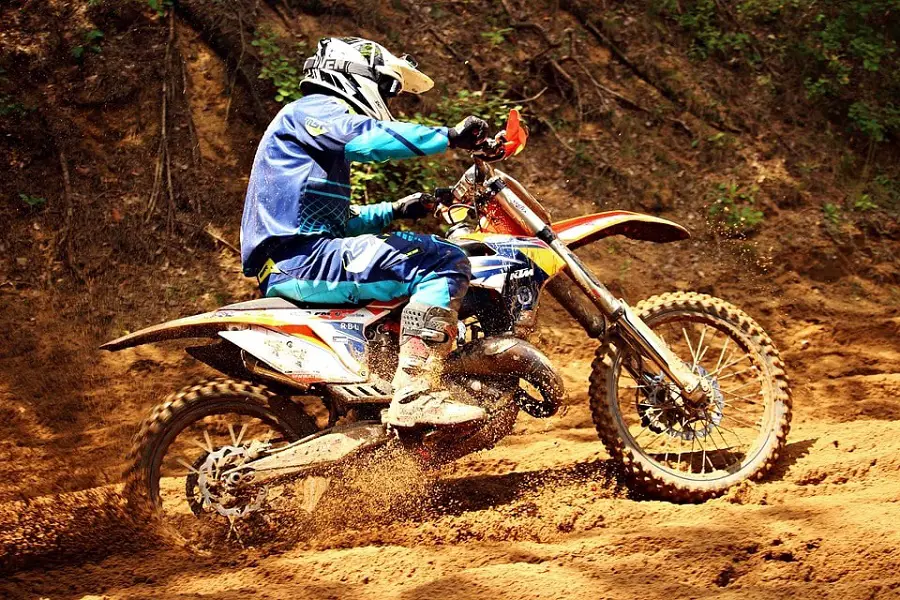 Well, of course, it's one kind of motorcycle. But, dirt bikes are different regarding their construction and design. It's not like a regular motorcycle.
Dirt bikes are specialized for riding on the rough terrain like rocks, unsurfaced tracks or roads, mud, and dirt. That might be the reason behind calling them off-road bikes.
Like the regular motorcycles dirt bikes are also two-wheeled vehicles. But they are lightweight and come with way more rugged suspensions and tires than a regular bike. As they are off-road vehicles you can't ride on them on the street.
But regarding the demand for such bikes now there are available the hybrid of those off-road and regular bikes. These hybrid bikes are allowed riding anywhere.
What Makes Dirt Bikes Different From Other Bikes?
Well, there are a lot. Only the dirt bike enthusiasts will understand them all. But there are some highly noticeable differences which will be easier to understand for the newbies. So, here are those significant facts which make dirt bikes different.
Tires
If you've ever seen a dirt bike even in a picture, you can easily notice their tires are different from the regular bikes. These tires come with aggressive nobs and treads for rough traction.
Even they are called knobbly tires. You might have noticed they have a narrow profile. This aggressive and narrow profile helps them to navigate easily across the rough surfaces.
In short, it's entirely different from the wide and slick tires of regular motorcycles in design and style.
Suspension
For off-road bikes, the suspension is one of the most crucial qualities. Regular bikes usually don't need higher suspension. But, the dirt one comes with a better suspension system including hydraulic and spring shocks.
The valving and the spring rates are also different than regular motorcycles. Dirt bikes are designed with an advanced suspension system to tackle heavier impacts and absorb shocks on the jumps of the rougher surfaces, roads, and tracks. The common bikes also have suspension but not like the dirt ones.
Frame
First of all, it's a must for the frame to be as light as possible. For better suspension and flexibility, dirt bikes are usually designed with light and small frame. The frame is made of hard plastic using limited metal. These frames are lightweight but highly durable and can tackle any obstacle and stress during a ride.
Seating Position & Saddle
Surprised? Yeah, dirt bikes are different according to their seating position. Even it's different from sport bikes too. To have better steering control and visibility the dirt bikes have forwarded seating position with a wider and low set of handlebars.
Such a seating position helps the rider keep their weight forward. That's because the back wheel of the dirt bikes should have less weight to get out of the mud easily. That's the difference between the dirt bikes and other bikes.
That's not all. Standing up on the pegs is a very common fact of riding off-road bikes. And so, such off-road bikes come with the amazingly comfortable saddle.
How Many Types Of Bikes Are There?
There are a lot of dirt bikes for kids and for adults as well as available online. You will get a variety of dirt bikes with different attractive features. But basically, the types of such off-road bikes depends on the stroke feature; either 2-stroke or 4-stroke.
There are dirt bikes available which are both known as off-road and on-road bikes. You can also have electric dirt bikes or gas dirt bikes. So, let's see the different types of dirt bikes available in the market.
Enduro Bikes
Enduro bikes are usually for longer races including both off-road and street racing. That means they are street legal. But for long-distance casual road travel, they are not pretty much a good choice.
These lightweight bikes come with so many features like headlights, mirrors, silencers, and turn signals as well. They are capable of reducing the noise of the engine. They might be the best dirt bike for beginners.
Trail Bikes
This type of high tech dirt bikes is long rides through dirt and rough surfaces. But if you're looking for a dirt bike for high-speed racing. It's not a good choice for competitions. But if it's just for fun, you will enjoy riding this type of bikes.
These bikes provide longer suspension and better ground visibility because of their higher seat position. For better comfort and speed control, the trails come with amazing foot-pegs and handlebars.
These bikes are lightweight and comfortable. There are available different models of trails including Yamaha WR series, Husqvarna TXC series, Honda CRF – X series, and so on.
Recreational Bikes
These bikes are perfect for the newbies. Want to give dirt-bike riding a try? You can start with this kind. These bikes come with 4-stroke air cooled engines. They are highly comfortable, reliable, and too easy to learn. So, for the first ever dirt bike, it can be your right choice.
You don't even bother about the money. Kawasaki KLX140; Honda CRF230F, CRF150F; Suzuki DR-Z125; these are some of the models of such type of dirt bikes.
Motocross Bikes
If you are looking for a specialized dirt bike for motocross competition, these types will give you better performance with rigid suspension. Motocross bikes are designed for closed-course racing or riding on dirt tracks and rough terrain with jumps, or even in the wood.
These bikes are lightweight because there are no kickstands, speedometers, electric starters, lights, nor mirrors. Such bikes provide with fast speed and acceleration using single-cylinder engines. Riders can easily give more traction around corners by shifting their weights because of the flat and long seat. Enjoy motocross racing with outstanding motocross off-road bikes.
Pit Bikes
If you're in a search for cheap bikes or mini dirt bikes, here come the Pit bikes. These are great for shorter persons and also for kids. If you're just a beginner and want to start learning dirt bike riding with fun, this is for you. 
Dual Sport Bikes
Well, this category has so many sub-categories. Along with the off-road bikes these bikes are also street legal. These bikes can run on a street, rough terrain, asphalt surfaces, or even dirt.
Dual-sport bikes are a little heavier and come with single-cylinder engines, speedometers, turn signals, headlights, and mirrors as well. These features mainly make these bikes street legal. If you're totally a beginner and trying to get started with dirt bikes, such type is a good choice for you.
They are easier to start learning off-road bike riding. Even their control systems are also easier for maintaining the balance. And, you don't even spend too much money on it.
Supermoto
Well, beginners, just back off. These bikes are not for you guys. They are for more like professionals. These bikes can run on streets as well as on the rough dirt tracks with rough jumps. For your off-road riding career, you can go with a Supermoto.
Electric Dirt Bikes
There are not only gas dirt bikes available in the market. Manufacturers are making eco-friendly electric dirt bikes. These bikes are just the same as the usual ones without killing our environment. There are electric dirt bikes available not only for adults but also for kids and teenagers.
How Much Does A Dirt Bike Cost?
Either your budget is limited or limitless, there are so many options for you. There are so many dirt bikes of different types with different features available in different price ranges. You can get a dirt bike for an adult starting from around $150 up to $3000 or more.
The price will vary with the brand, model, design, and features of the bike. Meanwhile, the price of the dirt bikes for kids starts from around $80. No matter what is your budget, you can get a dirt bike of your choice according to its price.
Are Dirt Bikes Dangerous?
Dirt bikes are lightweight two-wheeled rigid motorcycles with tough suspension, knobby tires, and specially designed for rugged terrain. These off-road bikes are full of fun only if you're a pro. For a beginner, this can actually be dangerous.
A silly mistake can make a huge accident. All your fun can turn into serious damage if you're not prepared and focused enough. Before riding a dirt bike on open rough terrain, you should be properly trained. Enjoy riding dirt bikes on your own risk. But be sincere, or you can put others at risk. 
What Are The Dirt Bike Laws?
You already know dirt bikes are off-road vehicles. Even, they can be adventurous and dangerous at the same time. You might wonder if you can ride your dirt bike on the street.
Well, like any other vehicle, these bikes also have rules and laws for its riders to follow them strictly. So, let's check out the laws.
Dirt Bike Safety Laws:
There are a lot of safety rules for driving a dirt bike on either road or rough terrain. Here are some of the basics.
Usually, dirt bikes are legally forbidden to drive on the roads.
You can drive bikes on the road only which are street legal.
If you want to drive dirt bikes on roads or public properties, they have to be registered and tagged as a motorcycle. Also, you have to get all the proper license.
Even for driving a dirt bike on any private property, it's a must to have the written permission of that property owner. The rider has to always keep that written permission with him.
Driving dirt bikes on private property without written permission can cost trespassing charges.
Within 300 feet of a residence, no one can drive a dirt bike as an off-road vehicle.
Riders have to wear eye protection while riding a dirt bike. Kids and teenagers have to wear headgear.
What About Dirt Bike Insurances?
Don't confuse dirt bike insurances with motorcycle insurances. Dirt bikes are categorized as off-highway vehicles (OHVs). Usually, they are not street legal. It's possible to get a dirt bike registered as a street legal motorcycle.
For that, it should have some required features like turn signals, headlights, tail lights, and more. Riding these bikes on rough terrain, dirt, or trails might be dangerous. It's always wise to have dirt bike insurance with full coverage. This insurance might vary according to your local area.
So, make sure about the dirt bike insurance law of your locality. Well, there are different types of dirt bike insurances. Now, according to your bike, area, and other criteria, you can choose from those options. Let's see what you got.
Collision insurance for your bike damage by hitting other riders or any object.
Theft and comprehensive insurance cover theft bike from the trailer, home, or transport vehicle. 
Medical payment insurance covers for your injury by dirt-bike accidents.
Property damage liability insurance covers the cost when you damage someone's property.
Bodily injury insurance for the expense if you cause any injury to others. 
Roadside assistance can help you out when your bike breaks down or gets stuck in mud or sand.
How To Choose Dirt Bike? 
As an off-road vehicle, your dirt bike should be from a well-reputed brand. For just cheap bikes, don't waste your money on an unknown brand. It might perform well for a while, but sooner you'll realize your mistake.
A top-class brand and its manufacturers never compromise with their reputation. That's why they never compromise with their product quality. It's possible they might cost a little.  But, you won't regret when you'll see its performance.
If you're just a beginner, don't jump on a costly bike. For learning, you should choose from the lower priced dirt bikes. And, also pick a bike that'll be easy to get started with for the first time. When you have enough training you can raise your budget and go for a rough dirt bike.
Final Words
Of course, there are thousands of dirt bikes out there with various types, designs, features, and prices. You can choose any of them. But, you should pick according to your requirements. Before choosing your dirt bike, go through all of the specifications thoroughly. But, first, gather sufficient knowledge on dirt bikes. And, also pay attention to your skill.