As a bike rider, you should keep a clear conception of every single thing regarding your dirt bike. There are many questions about dirt bikes, for instance- how far can a dirt bike go on a tank of gas? 
As with the question above, there are lots of essential matters that you should know before making your move. So, today, we will talk about all the vital issues that will help you get your answers.
You can know about the dirt bike riding style, suitable terrain to ride, maintenance, maximum gas consumption, etc. And these facts can increase or decrease your bike running time based on a tank of gas. 
We hope our guide will give you fantastic assistance to get quarries on how far can a dirt bike go on a tank of gas? So, let's begin!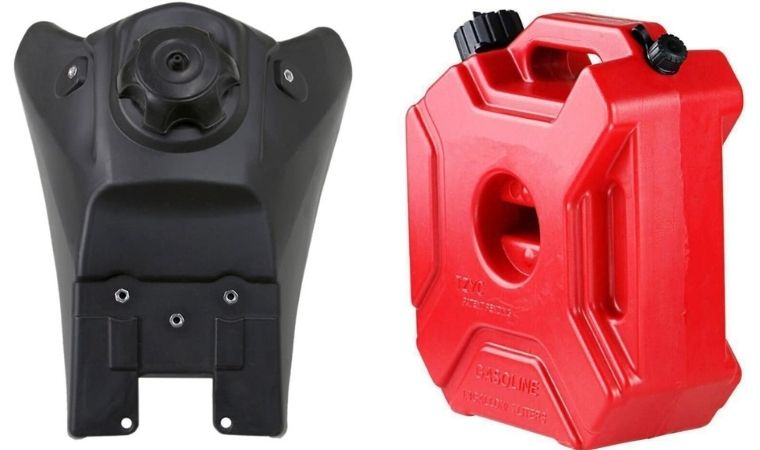 Riding Style to Follow while Using Dirt Bike
Consumptions of fuel will also depend on how you are riding your bike. That means, if you keep riding smoothly, your dirt bike will consume less energy. 
But if you go for aggressive riding, it will consume more fuel. And, your bike starts consuming a maximum amount of fuel meaning it is affecting the MPG (Miles Per Gallon).
Usually, the higher the RPM means the lower the MPG. However, a good amount of MPG comes out through 45 to 55. And, if the MPG is in between 20 to 30 MPG, you have to understand that the MPG is low in amount.
The Size of Your Dirt Bike Tank
How long you can go with a tank of gas also depends on the size of your bike tank. It is because the size of a bike's gas tank differs from bike to bike. So, here, the big the size of the tank, the maximum amount of gas it can preserve. 
For example, if you ride a Sposter bike with a 2.1-gallon tank, you can ride for 110 miles on a full tank. If the bike is of Honda CB500X, on the other hand, the gas tank will be of 4.6-gallon tank.
However, there are some motorcycles that have a gas tank with 6 gallons, e.g., KTM1190.
And, if you need to ride the maximum distance, you can choose even the bikes that have a reserve system of fuel to use. In addition, you can reserve gas for extra 10 or 20 miles on your bike tank.
So, the size of your dirt bike is also another concern to give you an approximate distance ride.  
The Size of Your Dirt Bike Engine
It is effortless to think that the bigger the size of your bike engine, the more the amount of gas it will consume. Nevertheless, there's no worry about that because the manufacturers always focus on the size of the engine. 
Therefore, if the size of the engine is bigger, then the fuel tank's capacity will also be more extensive. 
In this case, you cannot think just a big engine is for a general ride purpose or a short distance. So, choose the big size engine bike while you necessitate traveling or riding to cover a long distance. 
Consequently, generally a big engine bike will let you ride around 220 miles using your sustained gallon of fuel on the bike tank.
Let's get some examples of the bikes designed with a big engine- Triumph Rocket III Roadster carries its engine at 2294cc. And, this bike consumes an amount of fuel, approximately 35 MPG, including a 6.3-gallon fuel tank. 
And, riding this big engine bike like Triumph Rocket III Roadster, you can go nearly 220 miles.
Here is an example of a dirt bike with a smaller engine- The Kawasaki Ninja300 is a smaller engine dirt bike containing a 4.3-gallon fuel tank. And, using this bike, you can cover around 75 miles with each gallon. 
Terrain or Riding Zone
If you ride your bike on the highway, it will consume more RPM as well as MPG. But in the case of a city or smoother road, it will increase your bike fuel efficiency.
Aging
Whether your dirt bike is old or new is also a significant concern regarding its fuel consumption. We meant to say that if the bike is too old, then it will cover a little distance on a full tank of gas.
In the case of a new one, by the way, you will get an outstanding performance compared to the older one.
Cold Weather
Needless to say that the colder weather can bring an extremely negative effect on your bike fuel economy. For example- MPG can decrease from 12% to 22% while your ride between 20 degrees F than 77 degree F(According to the research data of the Dept. of Energy, US)
So, try avoiding the colder weather unless it is an emergency.
How Far a Dirt Bike Can Go On a Tank of Gas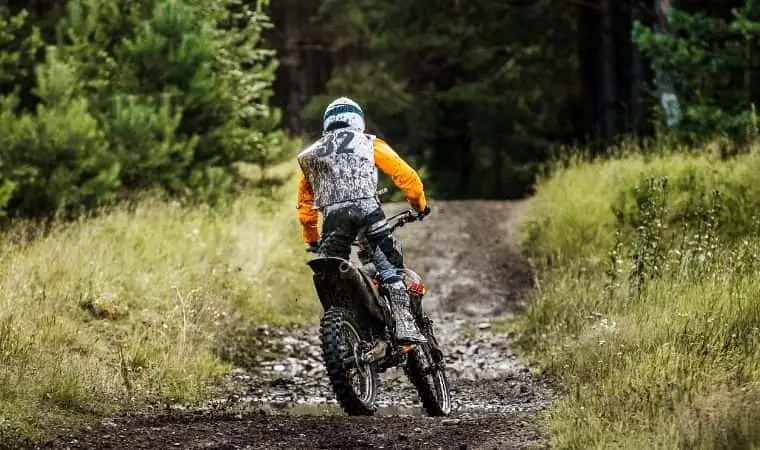 You already have known that whether your bike can go for a long or short distance will ultimately depend on specific facts.  And, we have discussed all these possible facts above.
So, let us give you ten specific examples of dirt bikes, including the miles of distance. That means we will introduce you to a few different bike models that will tell you how many miles per gallon a motorcycle gets. Let's see-
| | |
| --- | --- |
| Motorcycle list | miles per gallon |
| 1. Suzuki DL650A V-Strom 650 | 313 miles |
| 2. Honda CBR250R | 235 miles |
| 3. Triumph Sprint ST | 210 miles |
| 4. Triumph Street Triple | 211 miles |
| 5. BMW F800ST | 220 miles |
| 6. Ducati 899 Panigale | 160 miles |
| 7. KTM 640 LC4 Supermoto | 80 miles |
| 8. Honda CRF250X | 55 miles |
| 9. Kawasaki Ninja 300 | 270 miles |
| 10. Yamaha FZ 09 | 140 miles |
Way You Can Calculate Your Dirt Bike Average MPG
You can calculate it yourself and get the amount of your bike's average MPG following the given steps below. After that, if you observe your bike is covering less distance than your calculated MPG, there must be a problem with your bike mechanism. 
In this case, go for good maintenance of your dirt bike. However, let's learn how you can find out the exact amount of MPG of your dirt bike-
Fill your bike tank full of gas
Set the odometer to zero.
Start riding your bike until the gas tank is empty and fill the tank again.
This time you have to remember/note down the gas you have taken for the second time.
Now, you have to note the total number of miles you have ridden.
And, get the MPG by calculating through the following formula-
Total Miles Driven ÷ Total Gallons Used= MPG.
If you can get the real MPG, you will get a clear idea of how far your bike can go using a full tank of gas.
Dirt Bike Fuel Efficiency
Motorcycle fuel tank capacity also depends on bike fuel efficiency. So, to get good results, you also focus on improving your bike fuel efficiency. Let's know how you can improve it-
To make a quality grade gasoline, you have to pay a few dollars extra, but it will ensure your bike's fuel efficiency and a long run after all.
Notice that you're not taking any heavy load on your bike, for instance, while out camping. The lighter you can pack your baggage, the better the fuel efficiency will be.
Lay off the throttle in terms of decreasing the riding speed. It is because fast riding is another reason to reduce your bike's fuel efficiency.
Taking good care of your bike will be an effective way to increase your motorcycle run time with a tank of fuel.
How far can a motorcycle go on a tank of gas?
Your motorcycle can go minimum 140 miles and maximum 313 miles on a tank of gas depending on different brands. So before choosing you can consider this Croatia to pick the right choice as per your preference, budget, and comfort.
How far can a Sportster go on a tank of gas?
A Sportster can go around 110 miles on a tank of gas.
How many miles per gallon does a Harley get?
It is 46 miles around.
What is the Harley Davidson Fuel tank capacity?
It depends on the model of Harley Davidson, for example- if you talk about the Harley-Davidson Iron 883, then the fuel capacity will be 12.50 Litres. Here again, the fuel capacity will be 7.90 liters while you speak about Harley-Davidson Forty-Eight.
Read more:
Check our dirt bike recommendation for kids and teenagers
Best Gas Powered Dirt Bikes For Kids Of All Ages
Best Electric Dirt Bikes For Kids And Teenagers Motocross Rider Reviews
Dirt Bike For Teenager- Choice The Best Trail Dirt Bike Of All Time
Conclusion
You might have understood how far can a dirt bike go on a tank of gas? It depends completely on the type of bike you have been using. It is because the amount of fuel consumption of dirt bikes varies based on different key factors and bike models.
However, we recommend you to know more about your bike's model, engine size, tank size, and also the style of how you ride. 
Then you can easily get the answer to your question, for instance- how long does it take for a dirt bike to run out of gas?
If necessary, keep a note of how many miles you can cover per tank of fuel per. It will then help you decrease confusion for the next ride.
Besides, you should keep regular maintenance to get a better outcome as well.