Triumph is a motorcycle maker that manufactures its motorbikes in three different countries or factories. The manufacturing or assembling factories are selected based on the motorbike models.
Thailand tops the list with almost 85% of the total manufacturing capacity among three manufacturing countries. Brazil holds the second position by manufacturing 8.5% Triumph motorbikes, and the rest are assembled and manufactured at the Hinckley plants.
Although we mentioned all the manufacturing plants or companies, there's a catch! Triumph motorcycles have stopped their manufacturing at the Hinckley plants and moved to other areas. So why did Triumph Motorcycles did it? Well, let's find it out by knowing the brief history of where triumph motorcycles are manufactured!
Triumph Motorcycle Ltd.'s  History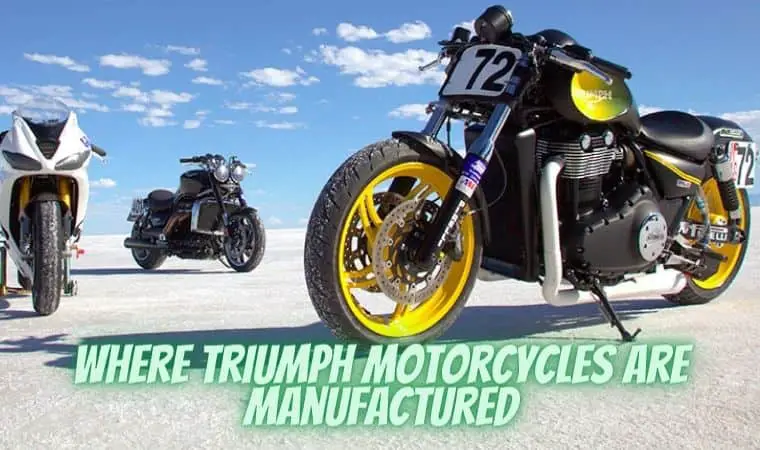 It's mandatory to know the history first before you want to know where triumph motorcycles are built. The British motorcycle manufacturer has gone to considerable efforts to establish this motorcycle brand. Although they started from the bottom, they soon reached the height they have always wanted to.
One interesting fact about Triumph motorcycles is that they were a small and unknown name in the automobile sector even a couple of decades ago. In the motorcycle or automobile business, where age and history are important, the new-generation Triumph is one of the best instances of brand rebirth.
Siegfried Bettmann founded Triumph in Coventry, England, in 1887 as a bicycle production company. However, when the popularity of motorized transportation grew, Triumph switched its focus and, in 1902, created the first motorized bike, the Triumph 1.
Triumph Motorcycles ltd, the motorcycle brand, is owned by Bloor Holdings Limited, a private corporation. In 1983, successful British businessman John Bloor bought the Triumph brand and established Triumph Motorcycles Limited. And the rest is history!
Triumph initially started to manufacture its motorbikes in Hinckley in 1993. Ultimately, the headquarters of Triumph was in Hinckley. John Bloor is the owner of one of the major house construction firms in the United Kingdom.
According to history, he purchased the site in an auction on which the ancient Triumph plant was initially formed in Meriden. And as a result, Triumph Motorcycle Ltd. was formed.
The firm is a reputable British brand that operates and competes globally. Although Hinkley is the primary center of operations, three additional production sites are located in Chonburi, Thailand.
Production Methods
Triumph Motorcycles first started manufacturing different motorcycle parts like chassis, frames, and oil or fuel tanks. They even used injection molding methods to produce plastic parts and other frames.
It also features a functioning assembly line. After that, Triumph sends these models to other countries for a final assembly and quality check.
 The third and final part of the production process is manufacturing different engine parts like camshafts, cylinders, and casings.
So simply put, Triumph Motorcycles complete their production in 3 steps-
Manufacturing bike's chassis, Frames, fuel tanks, etc.
Assembling the parts by sending them abroad and quality checks them.
Manufacturing the engine parts like cylinder and camshaft.
Triumph employs a dozen Brits to manage its overseas manufacturing facilities in order to maintain quality control. Other workers supplement the workforce, bringing the total to more than 1,500 actively involved employees worldwide. The majority of them are returned to Hinkley for retraining.
Triumph Motorcycle Factories
After knowing Triumph Motorcycles' brief history and production process, you must be wondering now where triumph motorcycles are manufactured!
Well, Triumph doesn't manufacture all the bike's in a single place. Rather, it has six excellent Among these six, the two manufacturing or production factory is in Hinckley, England. In addition, three and one Triumph manufacturing industries are in Thailand and Brazil respectively.
Although there are different manufacturing factories in different parts of the world, there's a similarity among all the triumph Motorbikes.
No matter which motorcycle's model is, the design and prototyping are done in Hinkley, England. After that, they are sent to different factories for further production and assembling.
 Why did Triumph Production Move From England To Thailand?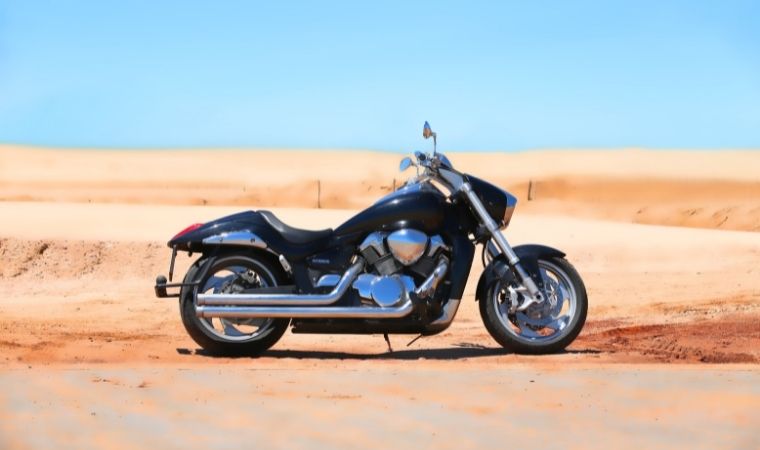 Triumph believes that in order to keep developing, they must compete on a worldwide scale. 9000 Triumphs motorbikes of total are sold in the UK, and around 56000 are sold overseas. So it's clear that Triumph is able to penetrate the worldwide market by shifting overseas.
After surveying the motorbike market, it was found that the south-eastern Asian market is the area most likely to grow. Besides, if they manufacture a production plant in Chonburi, Thailand,  the motorbikes' distribution cost will decrease. They can avoid 60% export duty.
Another reason to choose Chonburi, Thailand, is because Thailand has a free trade agreement between India, China, and Vietnam. It means they can generate more profit and low distribution costs at the same time which resulted in a strategic growth.
Triumph pushed itself to the limits and opened the first of three Thailand facilities in 2002. Triumph is now selling 8000 units of motorcycles per year but hopes to make it 24000 in the next 3 years. They are much capable of mass production capabilities.
The idea of Bloor was to manufacture the Triumph Motorcycles Company parts in Thailand (low production cost0 and then assembling them in Hinckley, England.  
The number of factories in Thailand was increased to 2 after Bloor became impressed with the Thai workers and their quality of work. Following this, they set up another plant in Thailand in 2007!
Thailand has become Southeast Asia's Mecca for motorbike production. Because of its key position and corporate tax benefits, it has grown to become the area's largest vehicle manufacturer and the world's 12th biggest.
FAQs
Is Triumph American Made?
Ans: No, Triumph is a British motorcycle brand that started its journey in 1887. Initially, they used to manufacture bicycles. But when the motorized vehicles came into the market, Triumph shifted to manufacturing motorbikes in 1902.
Later in 1990, they set up their factory in Hinkley, England and a new era started from then. Although Triumph has factories and production facilities in Thailand, Brazil, and other countries, they are originally a  British Company.
Who Makes Triumph Motorcycles?
Ans: The main ower of triumph Motorcycle is Bloor or Bloor Holdings Limited. This is the parent company of John Bloor.
Initially, all the triumph motorcycles were manufactured in Hinkley. But with time, Triumph has widened its business. At present, the triumph Motorcycles are manufactured in Thailand, Brazil, and England, where Thailand produces 85% of the total production.
Where are Triumph Motorcycle Factories?
Ans: Triumph Motorcycle has a total of 6 production facilities around the world. Among the 6, 2 are in Hinkley, England, 3 in Thailand, and the 6th manufacturing plant is in Brazil.
In 2002, Triumph first opened its production house in Thailand and gone on to build 2 more. Even though they have 6 factories tall, the design and prototyping of their motorcycles are done in the factory of Hinckley, England.
read more
Conclusion:
It really doesn't matter where triumph motorcycles are manufactured. Whether they are manufactured in Thailand factories or in Brazil, the sole owner is Bloor Holdings Limited.
The history of Triumph Motorcycle is a perfect example for the other motorcycle or automobile manufacturers. They have indeed widened their horizon and made themselves one of the best in the motorcycle market!