Motocross riding is fun and exciting, but with the best ride. And if you're thinking about getting some action, then get started with the best motocross bike: Yamaha.
In the world of biking, whether it's on-road or off-road, Yamaha is a name that reigns on top of others. That's why I've thought of doing a Yamaha YZ250X 2021 review. If you're new to the world of off-road riding, start on the right foot with it.
Even if you're a pro who is looking to upgrade to a new ride, the latest 2021 YZ250X will be a great choice. Just check out below to know more about it.
Yamaha YZ250X Size Chart:
Engine: 249cc  liquid-cooled 2-stroke; reed-valve inducted
Fuel delivery: Keihin PWK38S
Ignition: CDI
Transmission: 5-speed; multi-plate wet clutch
Final Drive: Chain
Front Suspension: KYB speed-sensitive system inverted fork; fully adjustable
Rear Suspension: KYB single shock; fully adjustable
Brakes: Hydraulic disc 270mm front and 245mm rear
Tires: Dunlop AT81F front and AT81 rear
Fuel capacity: 2.1 gal
Key Features:
I know the first question you've is what is the YZ250X top speed or what's the YZ250X horsepower. But that's not everything in a bike. You can get a high-speed bike, but if it isn't controllable, how will you enjoy that speed?
So, keeping the horsepower and top speed questions for later, try first to see the key features the bike has to offer.
Available colors:
If you know anything about motorbikes, it doesn't matter whether it's off-road or on-road, then this concept will be easy for you to apprehend. The YZ250X is available in just one color, and that's it.
And that's because they want it that way. They deliberately make the bike in one color to set an image in people's minds. When you look at this rich, glossy blue chassis with a bit of matte black far from a distance, you will be able to recognize it.
It has that iconic look to it.
So, in simple words, just like the 2020 Yamaha YZ250X, you will get your hands on the same blue and black combo with the 2021 model.
Are they good in quality?
Now comes the part when you need to get deep into the bike parts that make it. So, let's check them out here.
Engine:
The YZ250X uses a 249cc liquid-cooled engine. And not just any 2-stroke engine, it's a reed-valve inducted one. The reed-valves are something that gets used in high-performance 2-stroke engines.
What difference does it make?
If you know about 2-stroke engines, they combust air-fuel to get the piston moving for the engine to run. What the reed valve will do is it will direct the mix in just one direction. So, it comes from the carburetor to crankcase, but can't go the other way like the regular ones.
It improves the reloading in the chamber. That's because the combustion happening is between fresh air and fuel all the time. Therefore, you get better power output with the engine. You're thinking how much YZ250X top speed that is? It's 144km/h. That's scary fast for cross-country actions.
Braking:
Going at such top speed, you need to have strong braking power. And with the Yamaha YZ250X, you will get that in the shape of a front and rear hydraulic disc brakes.
Hydraulic brakes are much more efficient than your regular mechanical ones. They are lighter and more sensitive. So, when you apply brakes, they react faster. That's because instead of cables, it uses fluid to force the pad against the rotor. The higher pressure ensures the bikes stop on the spot.
Plus, the 270mm and 245mm disc brakes are self-adjust to wear. Unlike your regular brakes, they won't let you down.
Suspension:
While riding through cross-country trails, you will come against a lot of potholes and high ground. The tracks aren't smooth at all. And the bike has to take a lot of hit from such an uneven and unpredictable surface.
But with KYB spring-type forks on the bike, the YZ250X has no such issue. The damping pistons on the motocross are speed-sensitive. So, the piston speed of the fork controls the damping force based on your riding force. The fork absorbs most of the shocks to keep you seated stable on the bike. That's why it handles so better.
You will love the fact; you can adjust the 12.4 inches travel depending on the high or low damping compression individually. That ensures you better comfort and more excellent wheel traction.
Warranty:
What I've found out from the Yamaha YZ250X review, the cross-country racing bike comes with a 30-day limited factory warranty. Currently didn't find any other dealer offers that extend the period.
However, they've got some insane installment program. One for 36 months and the is 60 months through Yamaha Financial Services, that's something you can check out.
How does the Yamaha YZ250X work?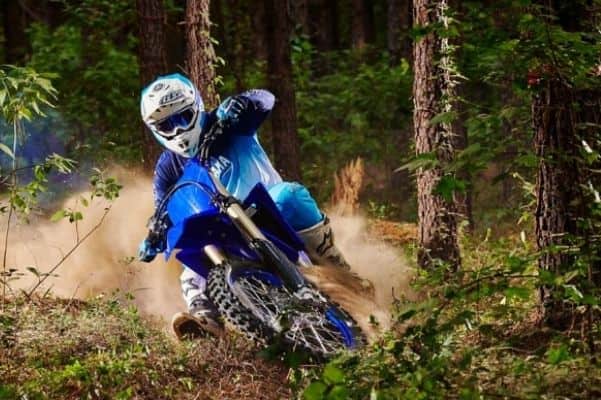 To get a quick start without any effort, the YZ250X uses a CDI ignition system. So, all you need to do is press on the button, and the combustion chamber will start mixing the air-fuel to get the engine up and running.
Pros:
You've got to look into the bike's critical aspects. But that's not enough to get you satisfied. If that's the case, you might want to look into some of the other great features of this bike.
Transmission:
The YZ250X has 5-speed transmission. Now, from moving from 4th to 5th gear, you will get a top speed of 144 km/h, which is quite good for the cross-racing scene.
Here, the first and second gear is on the same ratio. Moving from first to second to third, you won't feel a massive change in speed. It takes things up slow and nice.
In the fourth and fifth, the change in transmission can be surprising. So, be a little careful to accelerate while you're riding through tracks with lots of obstacles. Unlike others, the clutch system doesn't feel jammed. The wet clutch is smoother in action.
Chassis:
The bike on hand offers you an aluminum frame. It's lighter at the same durable enough to handle the falls. If you compare it to the YZ250FX 4-stroke, this one is 20 pounds lighter. That's one of the reasons; the bike moves so fast. And cornering with it is so enjoyable as it's super agile thanks to the frame.
The swingarm also gives you better handling, keeping the bike in its position while you take off on it. Don't forget about the subframe, either. Just like the main chassis, it gets made from aluminum to keep the weight as less as possible while giving proper protection and balance to the bike.
Comprehensive protection:
As a rider, you want a bike that's safe to ride, and this one is. To start, the lightweight bike would be easy to handle. Balancing won't be an issue.
Then the suspension system at both front and rear absorbs the shocks to keep you on the bike. The hydraulic brakes give you stopping power when you need it. It takes no time to react.
But the best part is the bike's tire. The Dunlop AT81 is the best enduro tire in the business. Its tread-block shape bites into the dirt to give the rider the traction to be in total control. And it's more flexible to the surface, so it absorbs most of the blows from the track to make the riding smooth.
Everything is in place to make it the safest ride on the planet.
Cons:
The YZ250X got fantastic features. It's worth the praise it's getting from all around. But there might be some issues too. So, let's take a look at them also.
Out of control:
The transmission is incredible, and with the wet clutch, it has never been smoother. But there is an issue that I think needs to be addressed.
When you move from 4th to 5th gear, you can't be ready for the acceleration. If you get used to riding it, then that's a different case. But when you are riding off-road in courses, sometimes the track is clean and straight while there are times there are too many obstacles.
And if you don't know when to go 5th gear in those moments, then you're putting yourself in risk. That's why the sudden surge of speed can be a bit of a problem.
Warranty:
When you're spending a handsome amount on a ride, you expect to get some assurance that if you face some problem, you can take it for free service. Most bikes offer a year's warranty. But with this, you get a 30-days limited warranty. Not acceptable.
Check our dirt bike recommendation for kids and teenagers
Best Gas Powered Dirt Bikes For Kids Of All Ages
Best Electric Dirt Bikes For Kids And Teenagers Motocross Rider Reviews
Dirt Bike For Teenager- Choice The Best Trail Dirt Bike Of All Time
Additional Feature:
Is there anything else that you need to know? Maybe there is, take a look at it.
Chain:
It won't matter how much horsepower the engine has to offer if the chains can't translate them on the wheels.
Thankfully, the sealed O-rings on the YZ250X won't make you worry about such an issue. The chain on the bike moves without any interference. Even in high pressure and temperature, it doesn't lose its smoothness, therefore you can go about riding the bike in dirty tracks without cleaning the chains often.
Seats:
The bike's seat is perfect. It offers a comfortable cushion to let you sit for hours. You will love the gripper seat. Even if it rains hard, the traction on it will make sure you don't slip and lose control.
You also may like
Conclusion:
If you look back at the Yamaha YZ250X review, you can see, the cross-country racing bike has many great features. Yes, there are some minor issues. But those things are nothing in comparison to what the bike has to offer.
So, if you've set your mind on getting an off-road bike to enjoy, try out this one. You won't be disappointed. Trust me.